1966 Cadillac Eldorado Convertible
19K Original Mile
Matt Garrett - Dallas Texas - 214-878-3823
SOLD but Click Here for Current;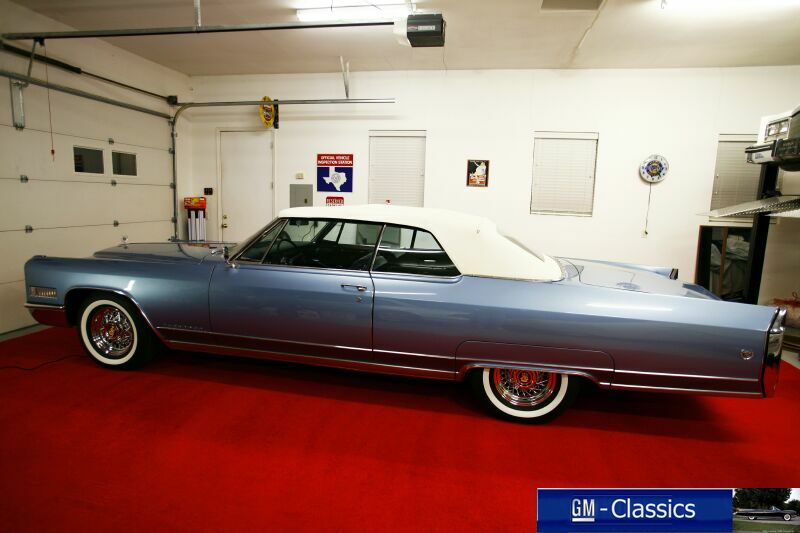 Click here for a Video of The 1966 Eldorado!
Click images for super high resolution photos of each!
1966 Cadillac Eldorado, 429CID/340HP, TH400 variable pitch, 3:21 controlled diff. 19K miles. Collector car since 1971 with the pedigree to go with it. 2250 total Eldorados were produced for the final RWD low production years of the Eldorados 1953-1966. If you have followed my past 66 Eldorados, you know that these are one of my favorite models and a model that I open up my wallet to buy the best examples the world has to offer. If you think 66 Eldorados are 20-30K cars, you are right. Just not the examples I deal with. These are the top examples there are and I have done years of leg work to locate them and then after that, sometimes near a decade to acquire them. As many know, I sold my last 66 to collector Joseph O'Connell and he gives it a great home with his exceptional cars. I would say his is still the best and most crisp original 66 Eldorado on the planet. This one here as I received it may be in the top 5 and is another interesting example that should show to be more than expected. This one was owned from 1971 to 2008 by a CLC senior member and collector who is unfortunately deceased. The photos with the bias ply tires are photos of the car with 60s tires on it. Take a close look at them by clicking the photos, and you will see. Not exactly what I would put on the road, but the photos are there to show the car as I picked it up from his place and how he kept it.
This car is a 19K original mile car. That is 19K miles original and total since the car was made in 1966. The Color is Cobalt Firemist with a dark blue interior. It is a loaded example with cruise, twilight, auto dimming, vacuum operated power locks, truck release, trunk pull down, AM/FM, Power Antenna, 6 way power seat, power vent windows and all the other standard things like AC, power windows, power top that these cars had. The only option this car does not have is the bucket seat option. Beggars of the best example of these cannot be choosers, and I am a quality and condition collector before anything else. I wish it had buckets, but then again I'd rather have near perfection first vs rare options on a lesser car. As I mentioned, I do not think anyone will ever see one like the last one I owned unless they invent it, but this one here is nothing to sneeze at either and it will show to be something to be a rival.
What makes this car interesting other than its low #1 condition rating is its history. This car actually is a Cadillac Grand National winner... In the 80s! I would think in 80s not many people really gave a whole lot of appreciation to a 66 Eldorado, but the owner of this car kept its preservation up through its life to the level of a show car. This was not his only car, he had dozens, but this 66 was one of two he kept all through the 3 decades he was heavily involved with cars. I would say he kept it because it probably was the single best condition car he ever had and the other was a 59 Biarritz. This condition is the history of this cars life, it has been this nice for a very long time. Prior to 71, I have not personally talked to anyone that owned or was involved with the car but I know the car was purchased in 1971 with 7500 miles on it and I would say that the prior owner only bought the best he could find. The first owner was Audra Young as displayed on the owner identification and Protecto-Plate. It was sold by Cal Wible Cadillac of Medina Oh on 3-3-66 to the Youngs. The second owner from 71-2008 was CLC member John Miller, car dealer and car collector. It was kept by him over that period of his life and after he passed.
The car is very original but the paint is not. It was done as you see it today in 1984. Not a restoration, but a super high quality chrome and trim off repaint. The motor, transmission and none of the major components have ever been removed from the car or replaced. As you see under the hood is pretty darn original with very little spruce up. The quality of the paint is that of the best of the best show paint jobs of that era. It looks extremely fresh and even I would swear it was done recently. The car was obviously blocked well as it is much straighter down the body likes than these cars ever came. Its almost as straight as my 1960 Eldorado, and that car is hard to top. This is a low #1 car. Low #1 because it does have some patina to it in places and it has been driven, but the patina shows the car in all honesty. This car is and has been a loved, garaged and collected car all its life, never let to deteriorate then revived from the dead. As I bought it, and as you see it here this is probably the lowest level this car was ever left to be at as the owner passed about 3 years ago and I picked the car up from his place on flats. See the link here as I first saw it and got it running;
Click here to see 66 Eldorado as I found it.
As the car sits, the interior is 100% original and untouched including the carpet and floor mats. The dash, cluster and door panels and carpet are equal to the best ever on these cars. The seats are 100% original and do show some of the typical age patina that these perforated Eldorado seats get. The red 66 had it too. This is age patina, not wear. To recover the seats due to that very acceptable patina would be a crime. The photos should talk well on those as its still exceptional as with every aspect of this car. The top is, or was a factory NOS top in the 80s. This is a factory original top, but it was changed according to the records at the time of the paint work. Original glass window in place and all correct original as it should be and its screaming perfect. I was told by his son that he has never put it down since the 80s. I have not moved it yet either and will take a photo when I try! If you notice there is a 70s Eldorado hood ornament and center hood trim on this car. That was added in 1984 when the car was painted too. Factory part and same thing on a 76 Eldorado. You know that big and very expensive hood ornament. Thought about taking it off for the "original" aspect, but its really a nice addition. I now forget how plain the 66 hoods look without it and understand why he thought to add it. All the grille, trim and chrome are EXCELLENT on this car. Best I have seen ever on a 66. The hubcaps were bought NOS and put on the car in the 80s when the car was painted. This is THE most perfect set of original 66 hubcaps I have ever seen too. If I had to guess, the grill and emblems, and many other small parts might have been NOS in the 80s and put in the car too but the records do not show it. They show the hub caps, top and paint and even the receipt for the 76 hood ornament and trim but that was really it. I am only guessing this as I have never seen a 66 Eldorado front end like this. This car is low mile with 19K miles, but that grill looks beyond new and I know for a fact there has not been a hand on the car since the 80s. The turn signals are like 0 miles. The headlamps are all date correct ORIGINAL T3s. The rear lenses are the best of the best. The car is an anomaly in many aspects and always makes me think... Nahhh, all this stuff must have been put in new at some point, but was it?? All these factors are what makes this car what it is really. Its extremely original... I mean extremely, but it was refreshed to a show car at a time when many of the parts were available NOS still in the 80s, so its tough to say on much of it. Today you cannot do this and it has been at least 20 years since you could!
Mechanically, the car is right, right, right and right. It took a little work to get it going after sitting for 3 years, but turning on the original AC compressor after (who knows how long) and having the R12 low side sitting at 15 when compressor engaged makes this the best I have ever done on an old system. Charged it and perfect now and that was almost a year ago. The climate control and transducer system is perfect. It moves through all cycles from vents to floor to defrost, speeds up and slows down the fan and moves the cold/hot damper perfect. These are temperamental, but this one is fully functional to as new standards. Motor.. the 429s are strong... Real strong. This one is as new. The Variable pitch TH400 Transmission is perfect too. The new for 66, variable assist power steering is perfect and even the massive full size GM drum brakes do their job like they were new. Why they never put these large brakes on cars like GTOs, etc in the 60s is beyond me. These actually work and stop well. The belts are GM, but would think they are 80s era as with many of the minor serviceable parts on the car. Under the hood shows exactly like a very well and over loved engine compartment should look with 19K miles. There is no "black spray paint" thrown all over everything as you see so many cars done. All of the AC vacuum pots, controls, evaporator box and more look like they are near new. They are original and untouched and no damaged by some yo yo restoration shop with a can of black spray paint. This car was kept up really well by someone that knew these cars, and because of that, it still works better than I ever expected without fixing something major and it looks better than every 66 eldorado I have ever encountered other than just one. Its close though..
I will be adding more photos on this car over the next few months. I will be doing some minor upgrades to the car like the "debatable to purists" standard issue aftermarket wires and era correct radials, but I wanted to show this car off as it sits originally, at least as it sits originally on the work that was done in the 80s. Yes I would keep the bias plys on it, but they are really aged and 0 fun to even move around the block. I'd rather save them and show the car in different configurations vs having them fail on me and become worthless. Different configurations are what makes cars like this neat as they age. The way this car is right now, it is great for showing off, but when you see the next photos of this car on the little things I plan for it, I expect this car to simply blow you away and this is one of my top cars.
12/2009, Added Wire wheels and 235/75 15 Radials with 1.6" WW. Original 3 stripe Bias tires, wheels and perfect mint 66 hubcaps plastic bagged. Also a new set of GM rear air shocks (the good big ones) and front gas shocks were put in the car too. Original "GM Pleasuriser"shocks are saved for posterity. Rear Addco 941 sway bar added too. All of these additions transform a really nice mint collectible vintage car from a pretty eye catching car, to a total show stopper, not to mention excellent handling car that maintains character well vs being hazard on Bias.. but I have it both ways!
More to come of course on this one when I put the top down... It has been up since 84!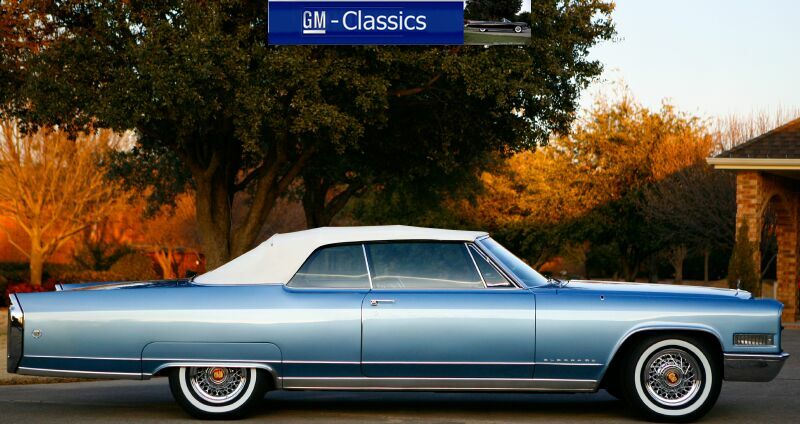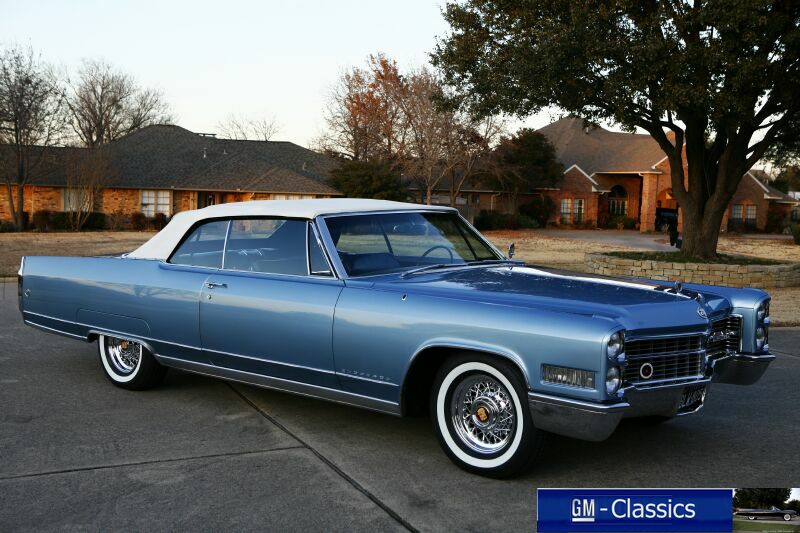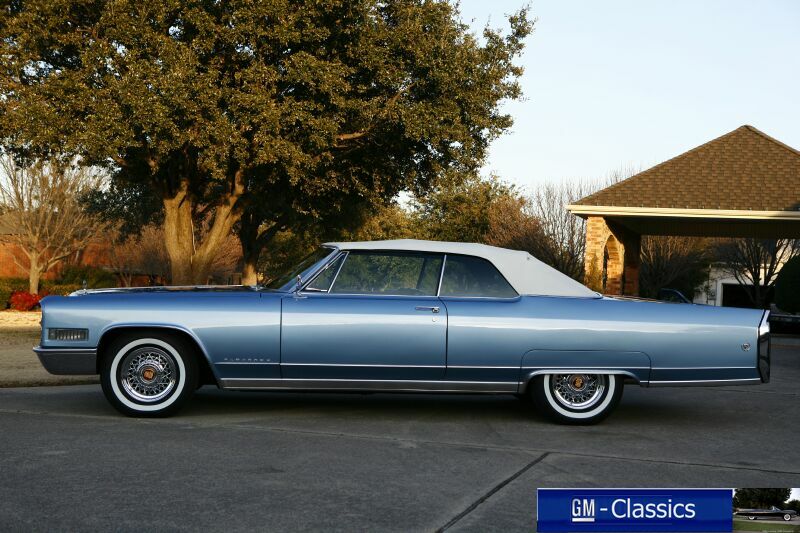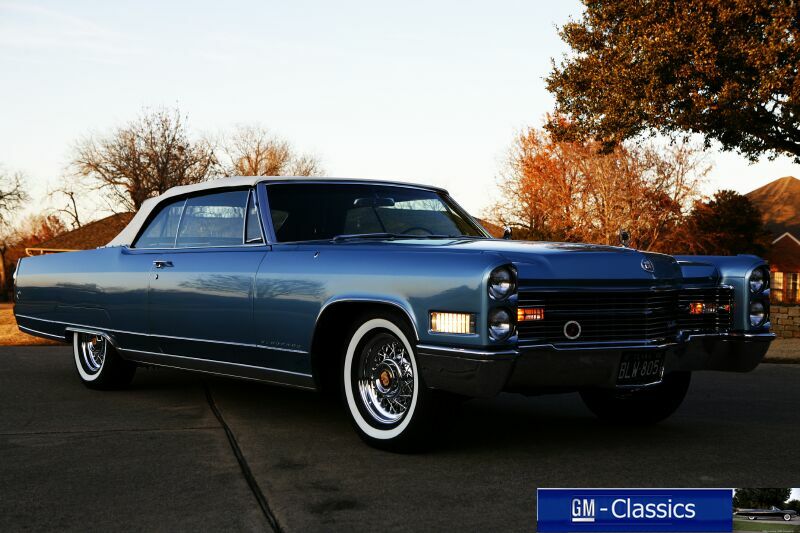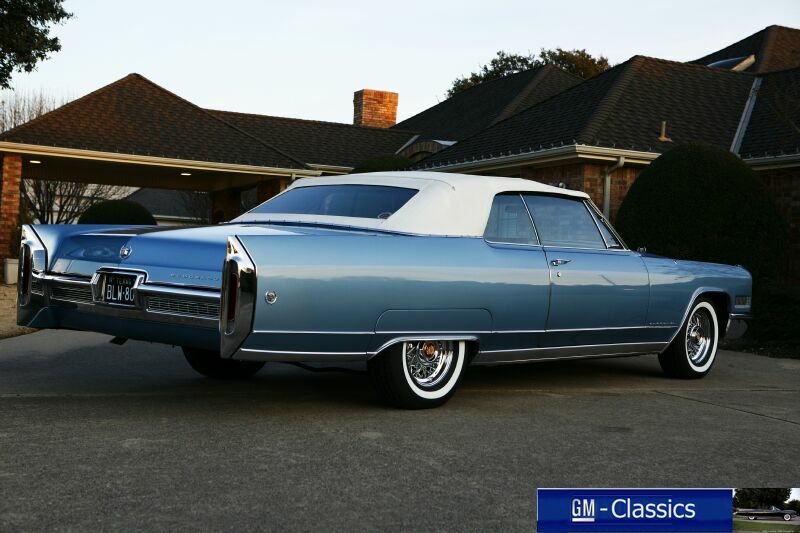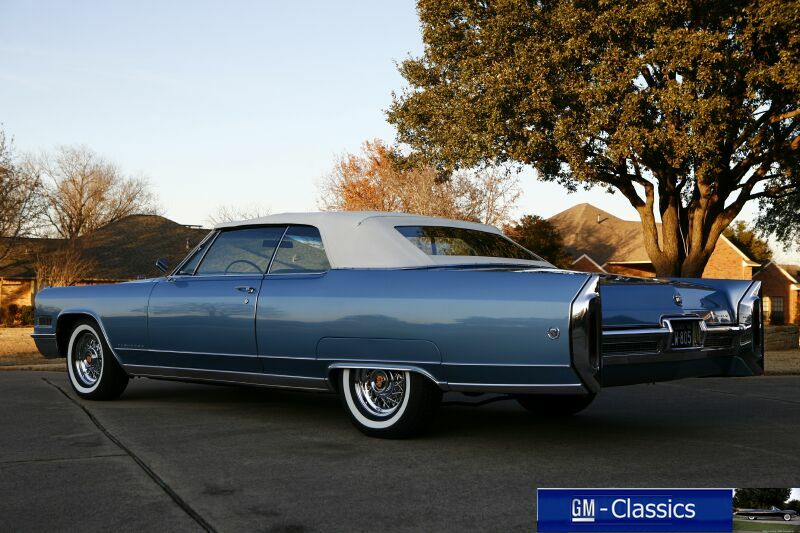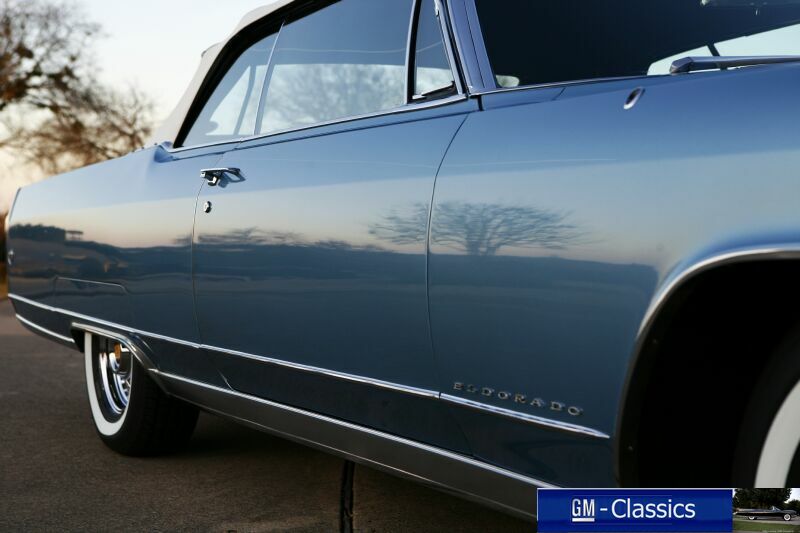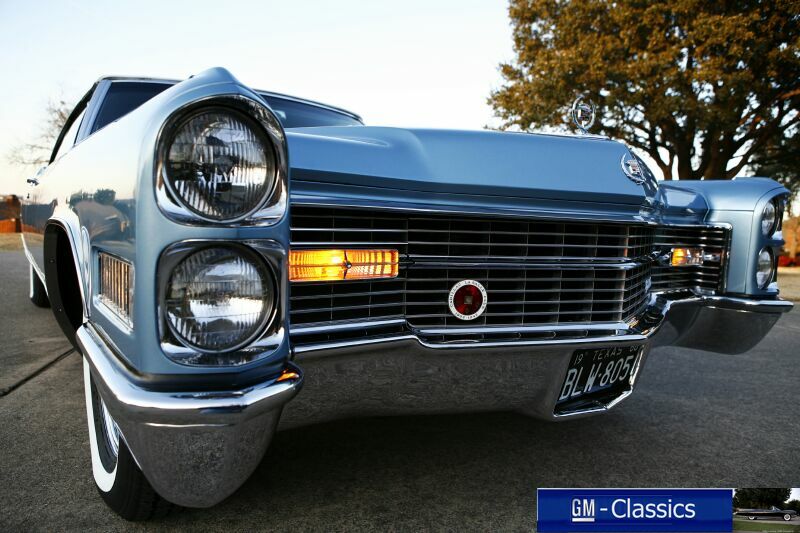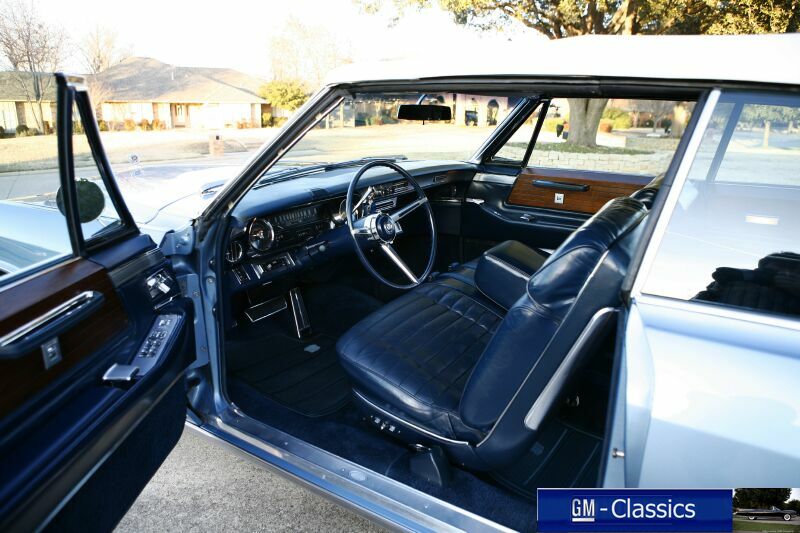 Above, 100% original interior, carpet seats and all, totally untouched.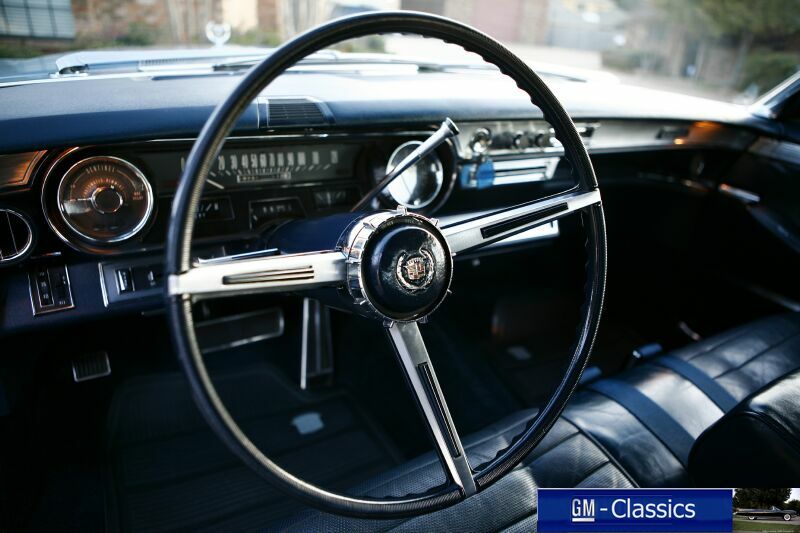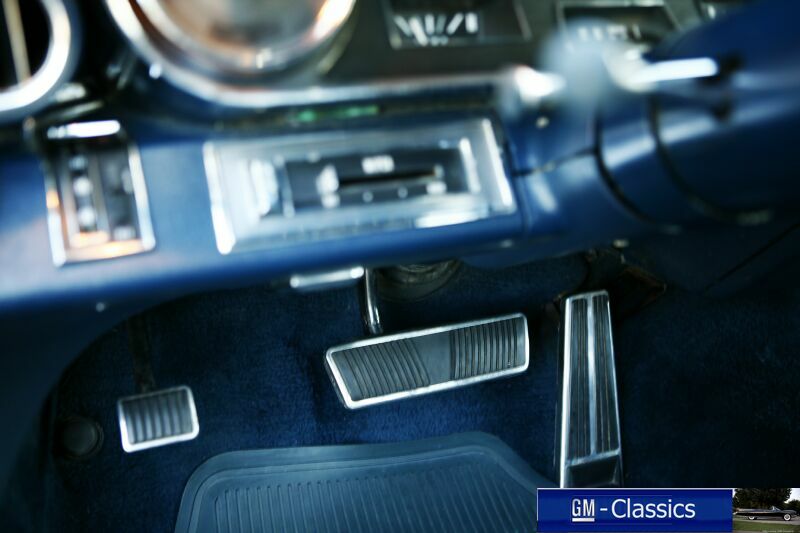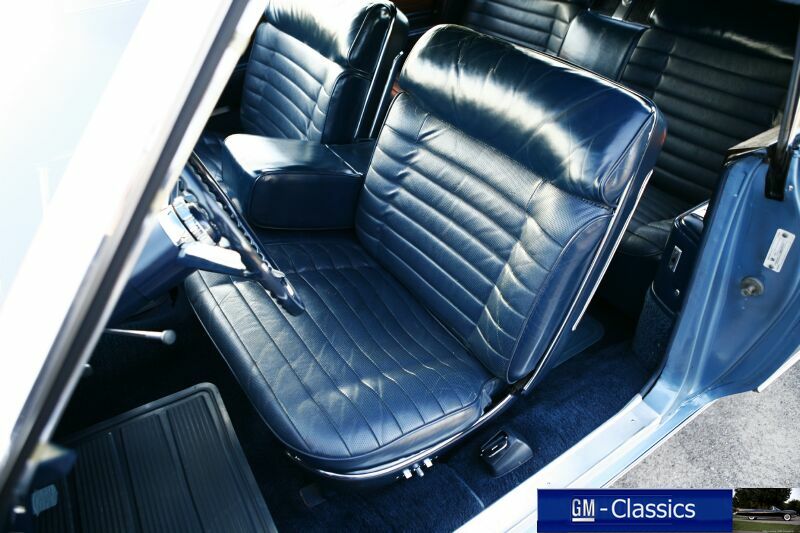 Zoom in on seats, you can tell these are low mile, but you can also tell they are very old. The Eldo perforated seats are hard to find untouched in any decent shape.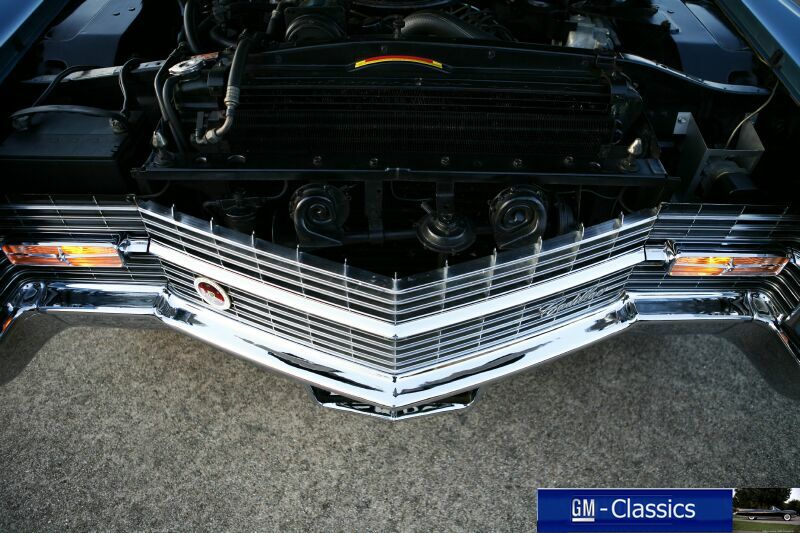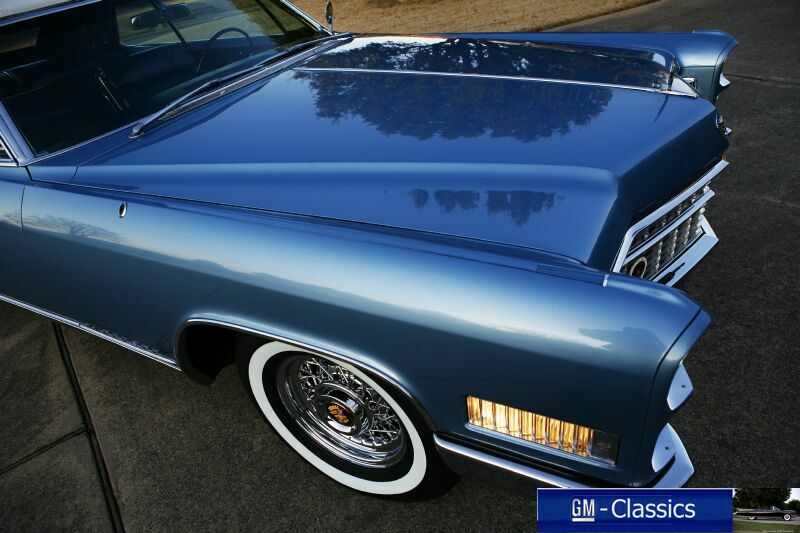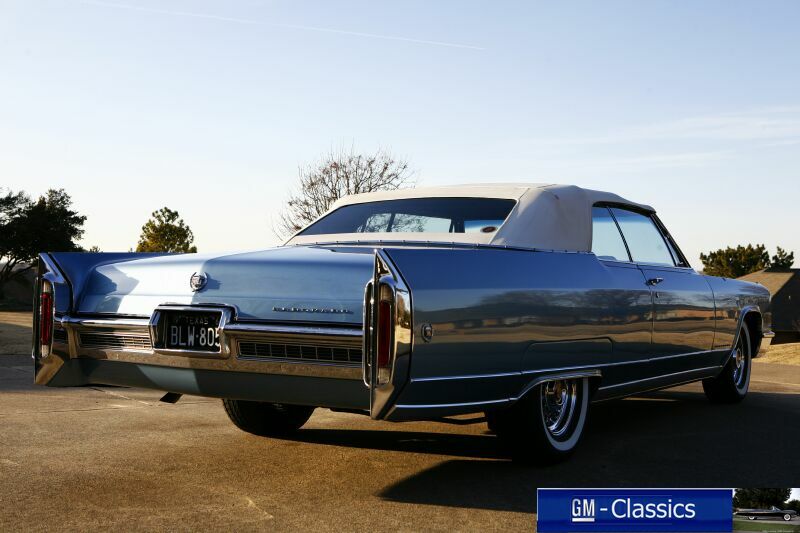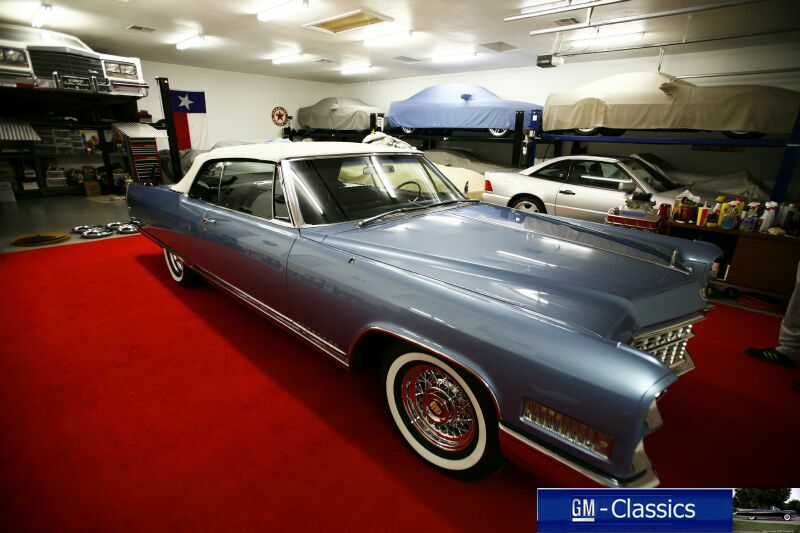 Above; 66 Eldorado at my home garage.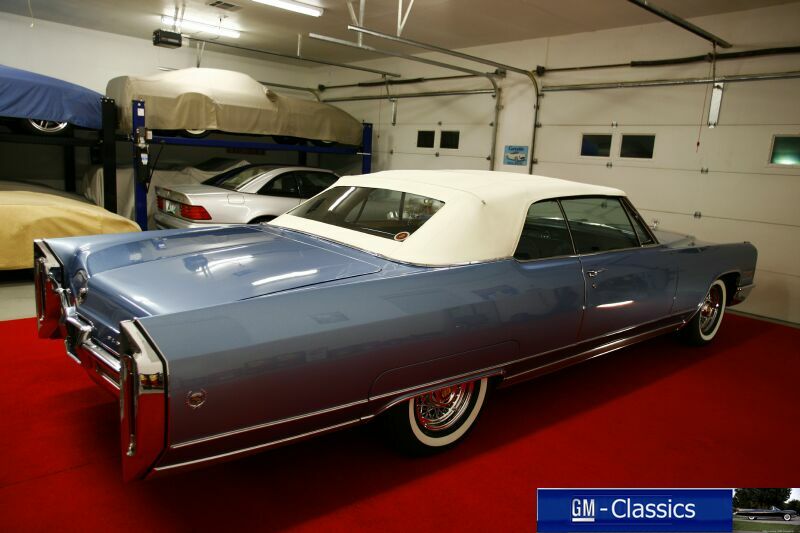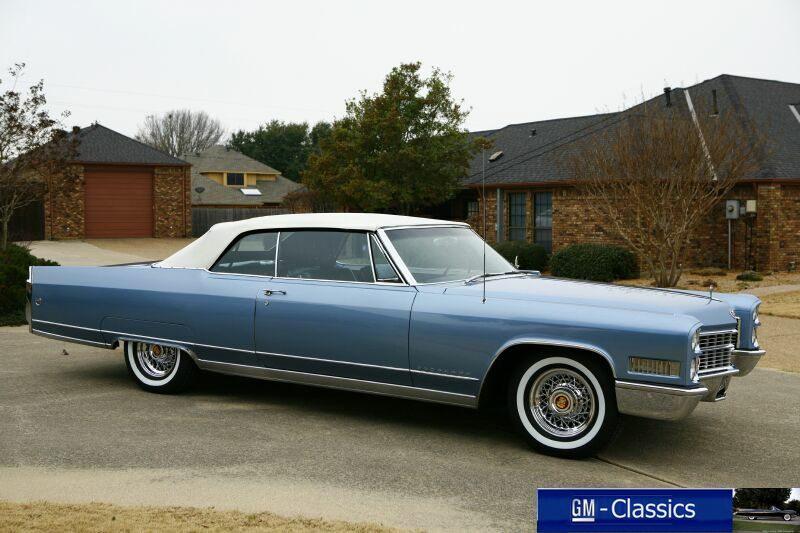 Above; Pictured on a very grey day here, paint looks lighter blue than it is in sun. Darker blue photos are in the sun and a more proper rendering of the car.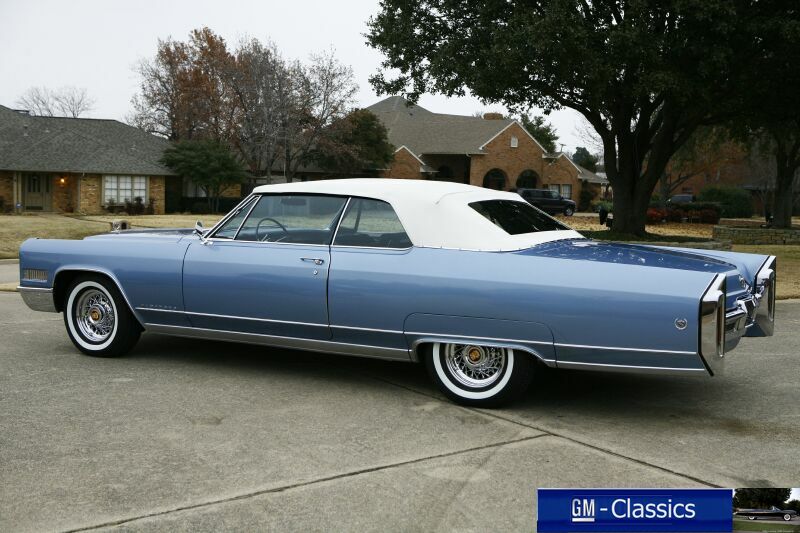 Original NOT restored 1966 Texas Black Plates.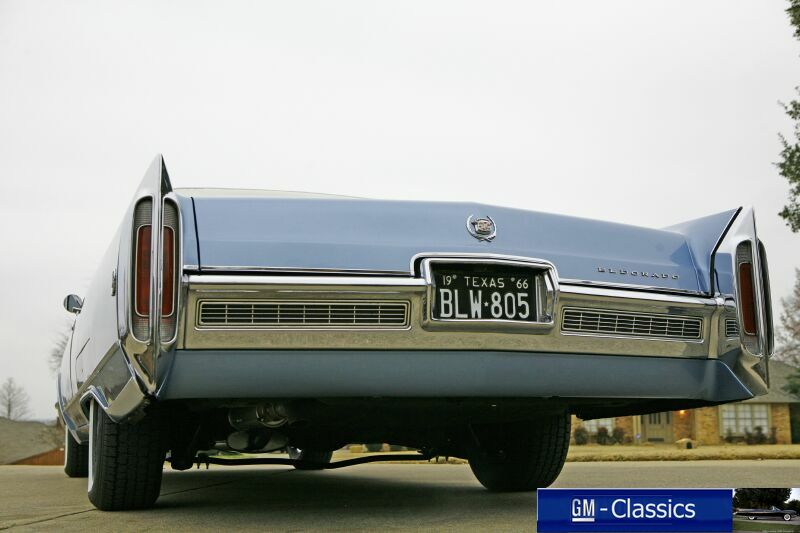 Above; See detailed undercarriage, Res-Muffler-Res exhaust and Rear Sway Bar.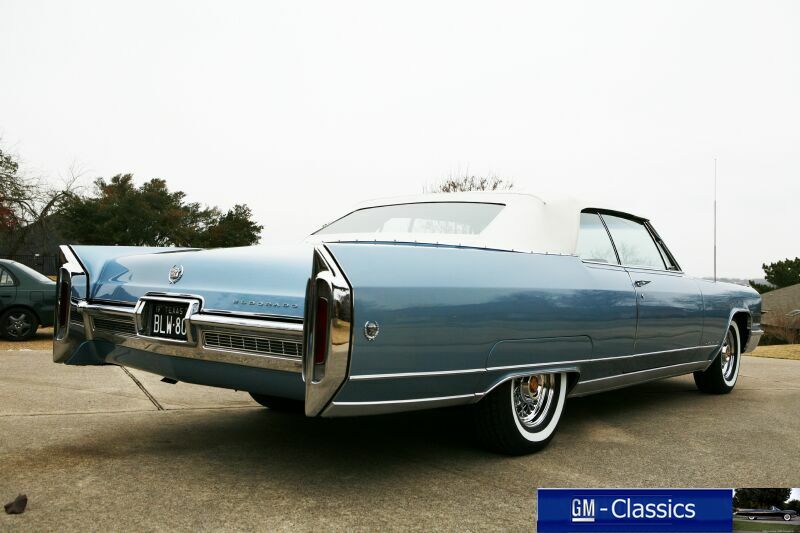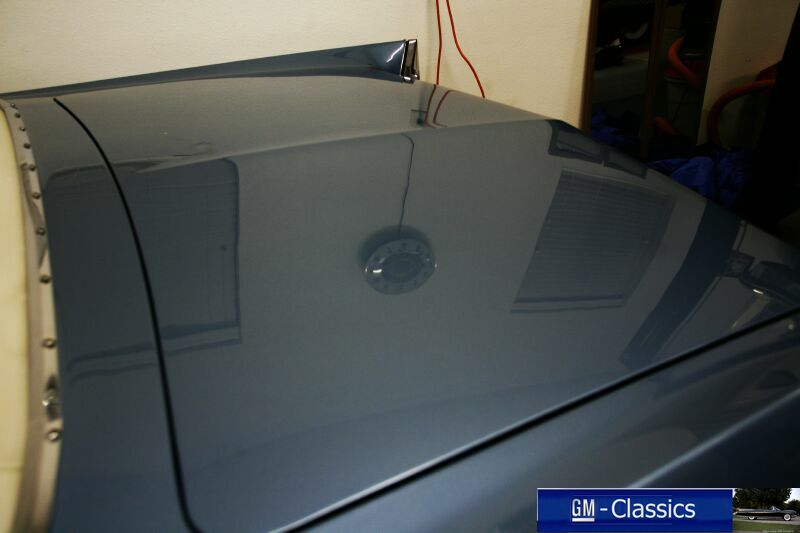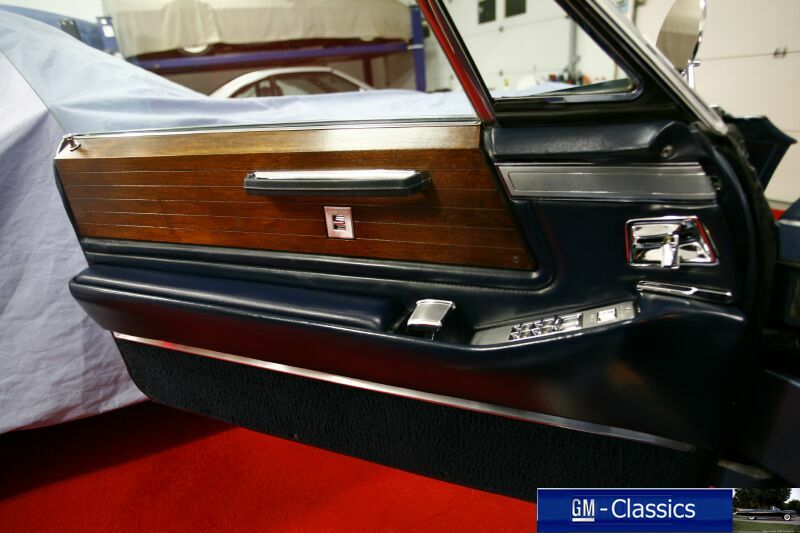 Above, perfect door panel and Eldorado wood. See the 6 window controls (2 for vent windows) and power lock option that is vacuum actuated.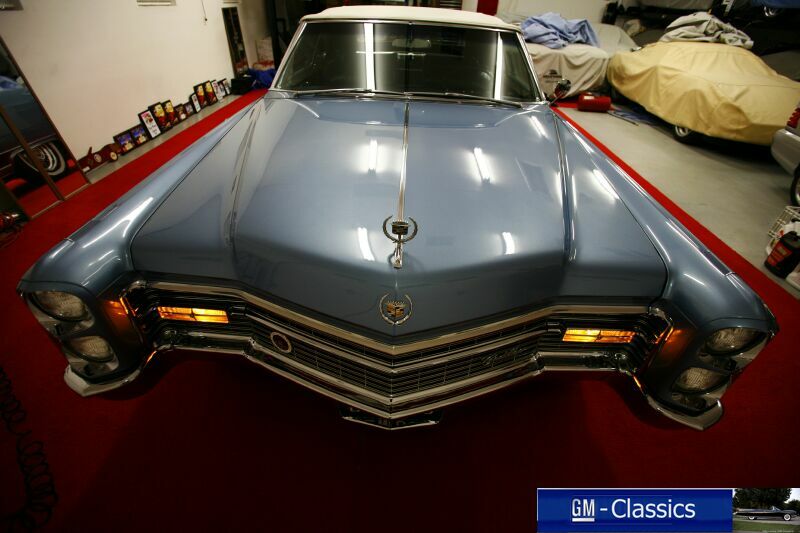 Above; see the 4 original T-3 Healamps, perfect grill, parking lamps and front end and the added 76 Ornament and trim.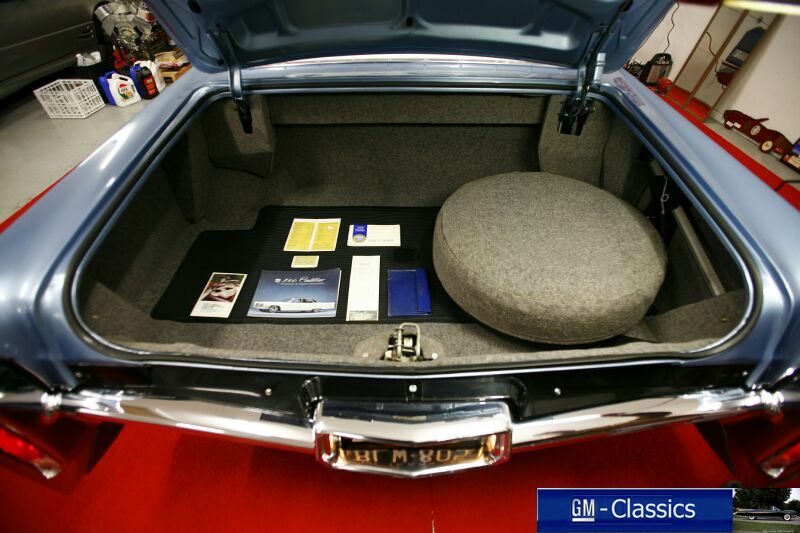 Beyond perfect trunk and many of the valuable original docs.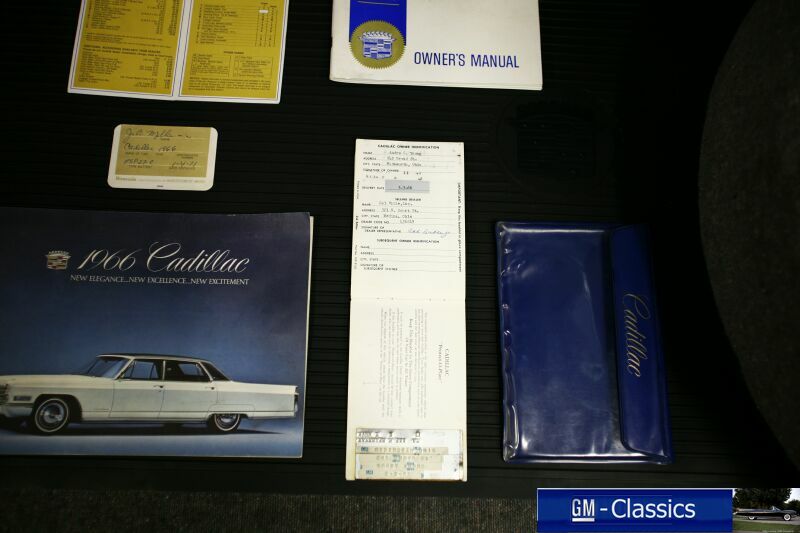 Above; Protecto-Plate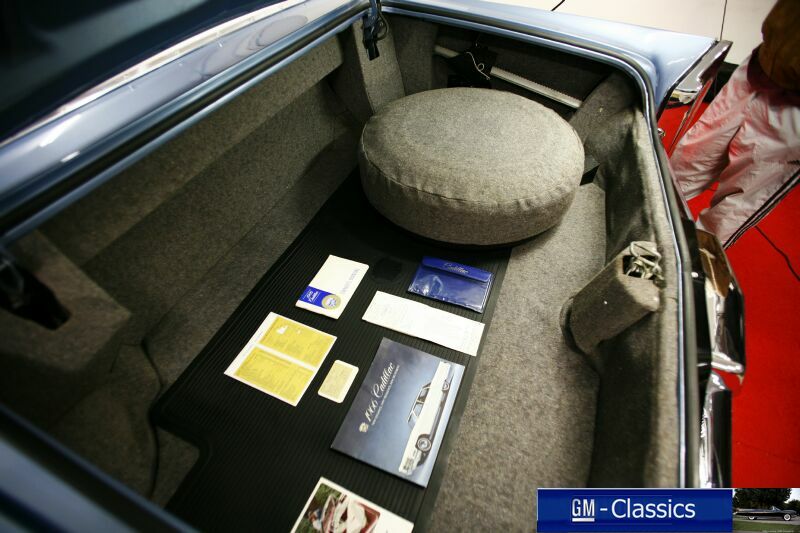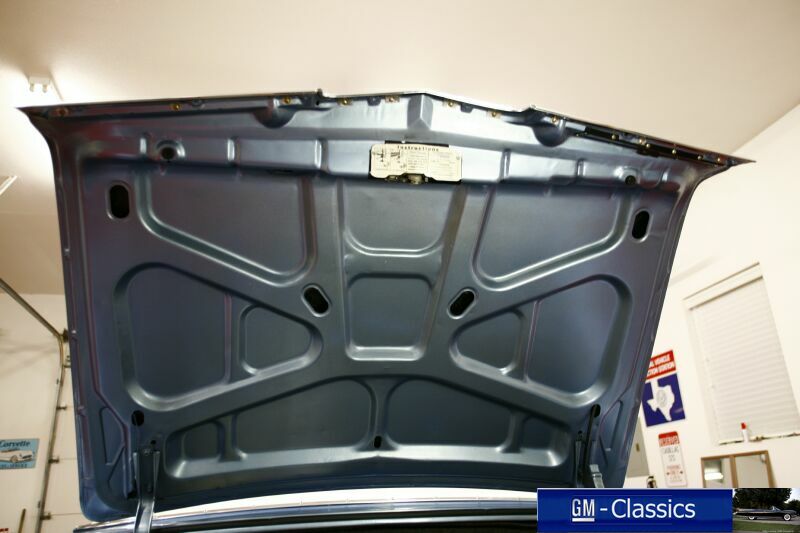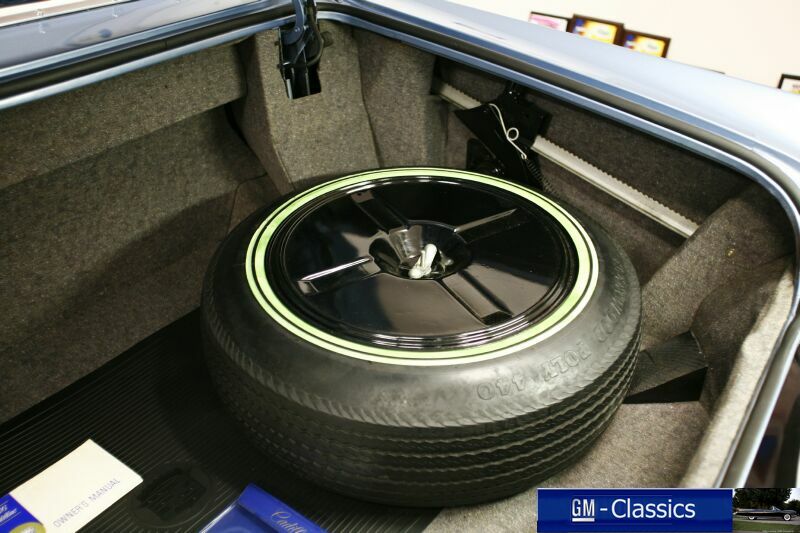 No, that one is a new 3 stripe tire from the 80s, but the 4 that were on the car are 60s originals.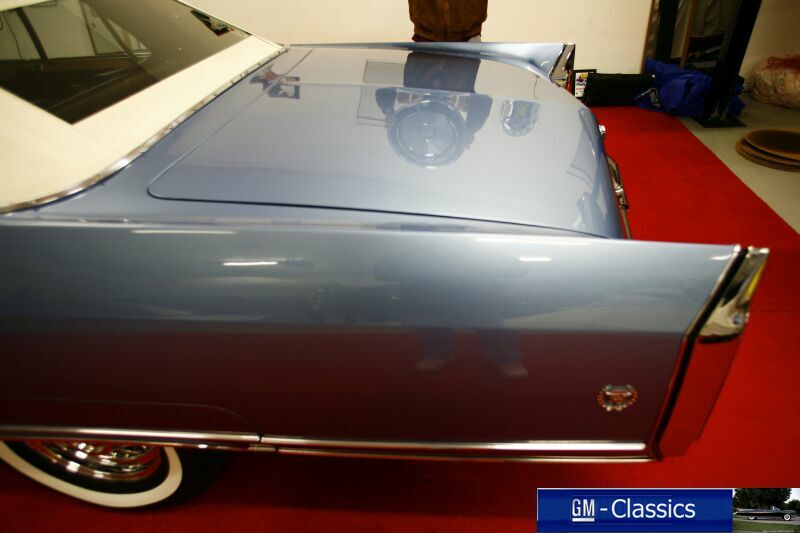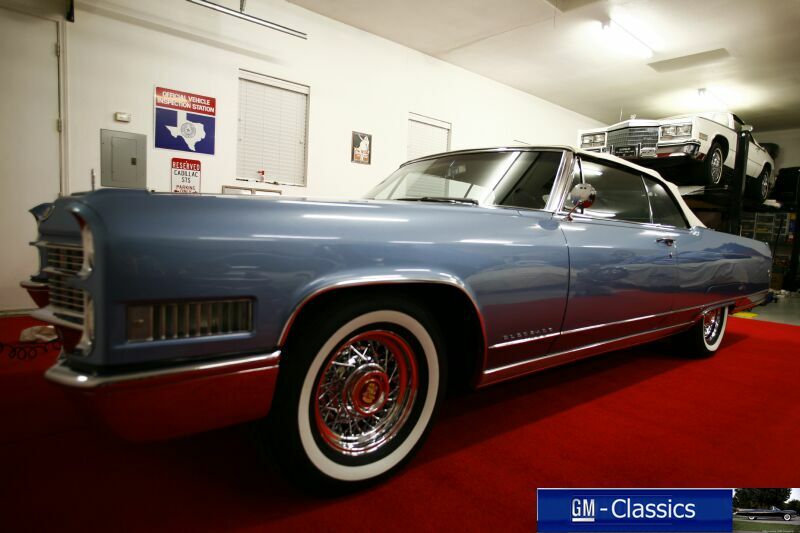 Above, body lines and paint quality everything you can ever ask for and more. Zoom in to see the original hubcap held up through the reflection.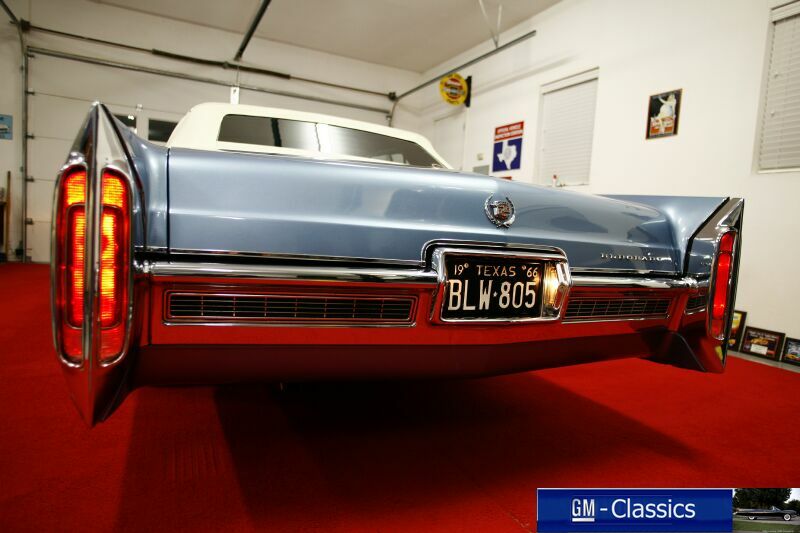 Lamps are perfect and as good as a 1 month old car. Entire back of car is flawless and correct. None of the "tweeked" body lines you see on these.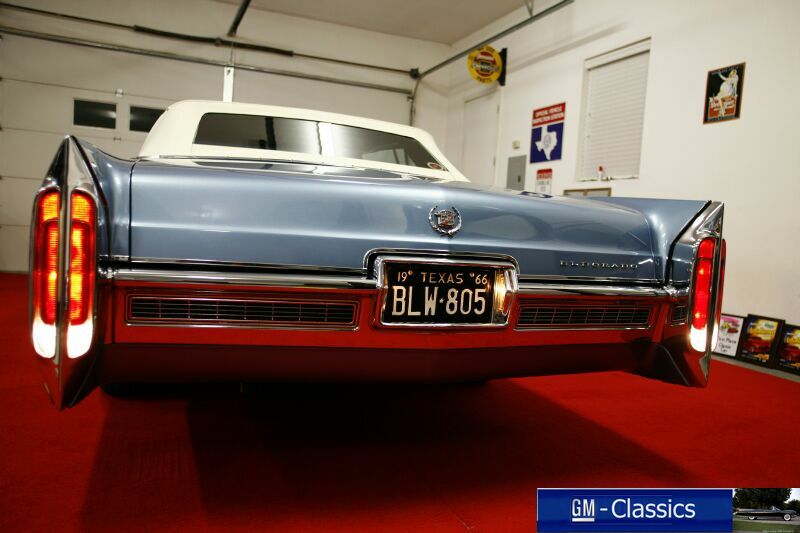 Above; Integrated reverse lamps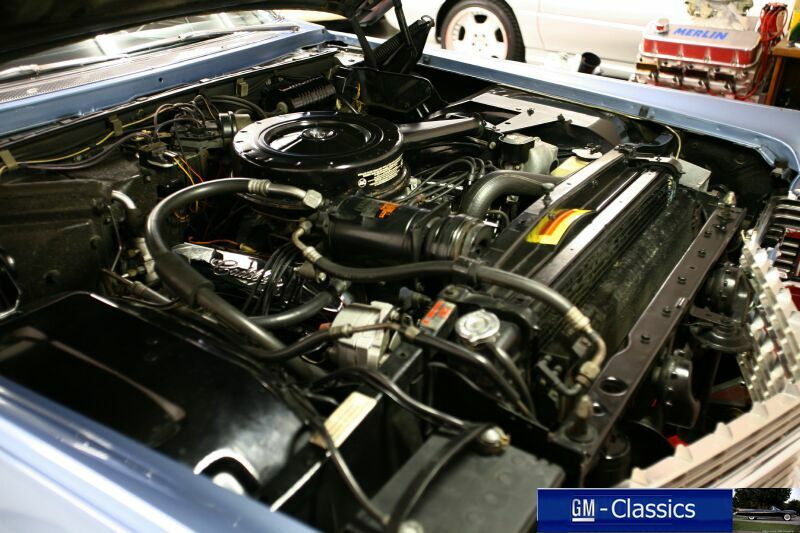 Original and yet a little nicer. Chrome Valve Covers are originals that were chromed and put on in 84. Nice touch.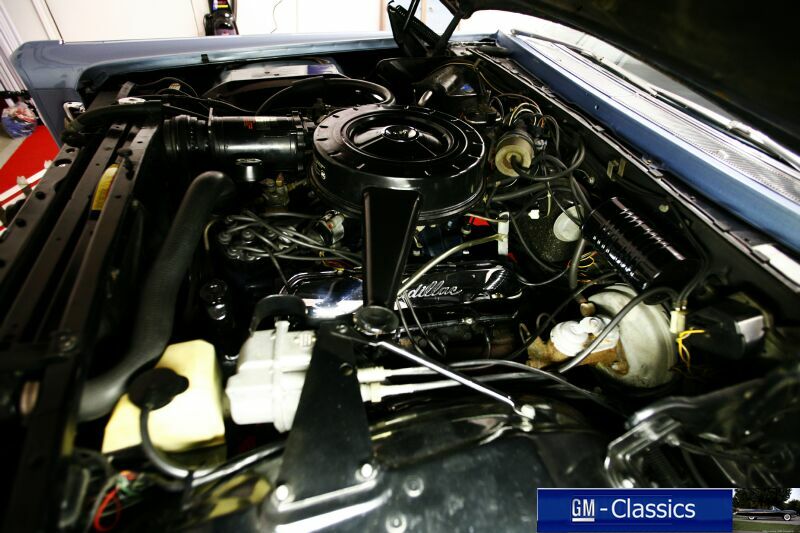 Not really any restoration done under the hood and it looks like this. Air cleaner has not been re painted.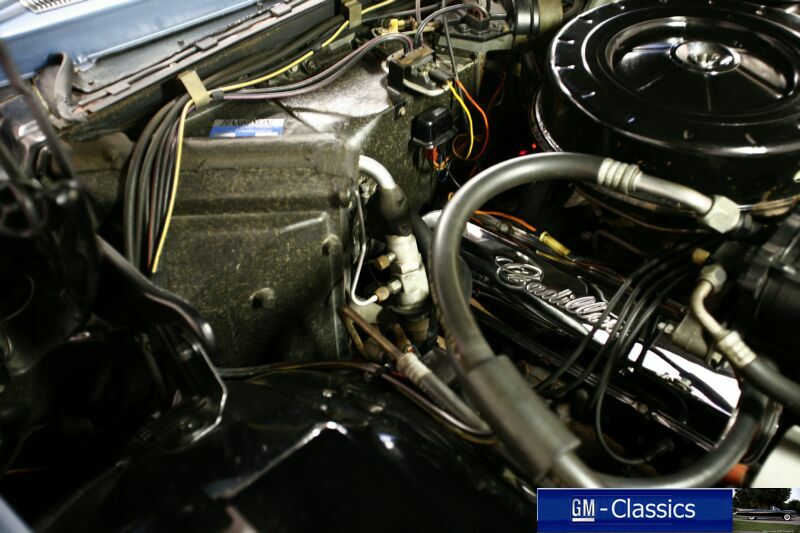 Above; original Evaporator box, all R12, no rigs or retros on this car.
Above; I am showing you the original untouched brake booster. I am going to redo this soon as I think its a weak point, but you can see what original is.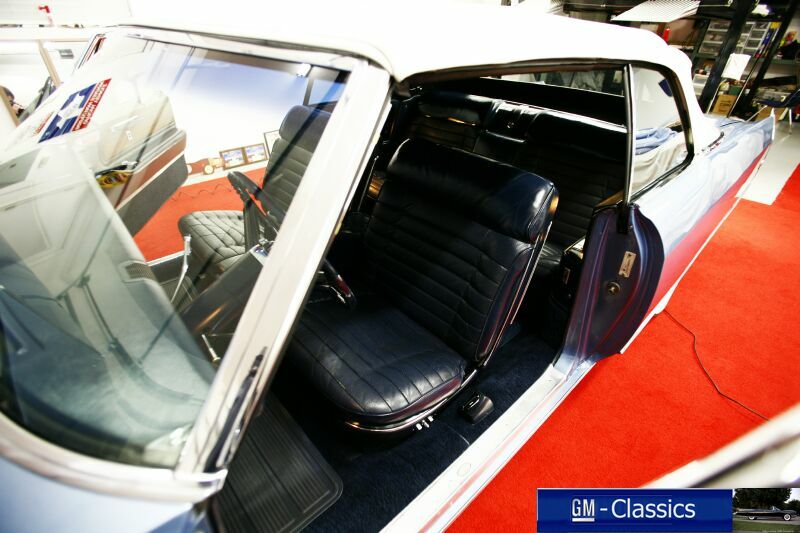 Above; Some interior shots. More to come with the top down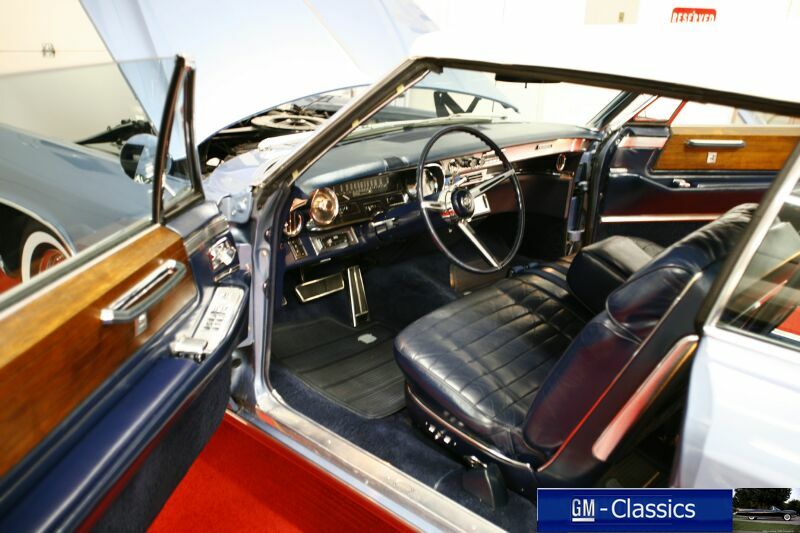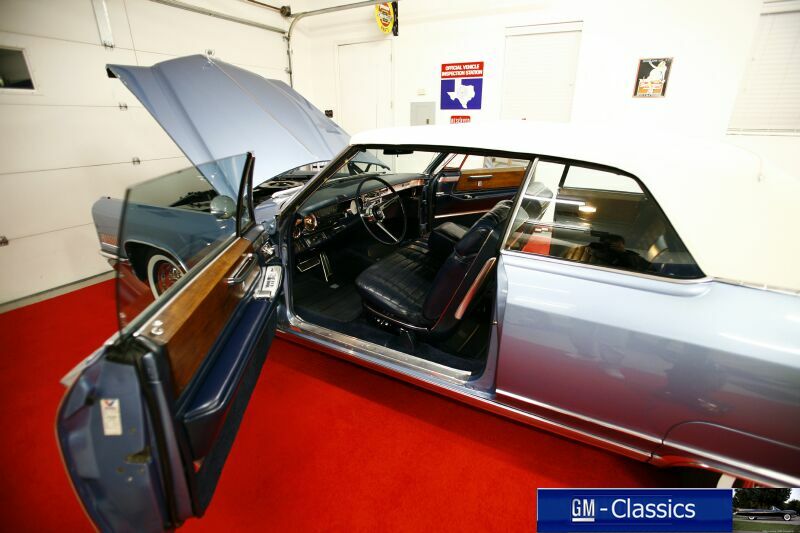 Lower photos with original wheels, tires and hubcaps that are plastic bagged.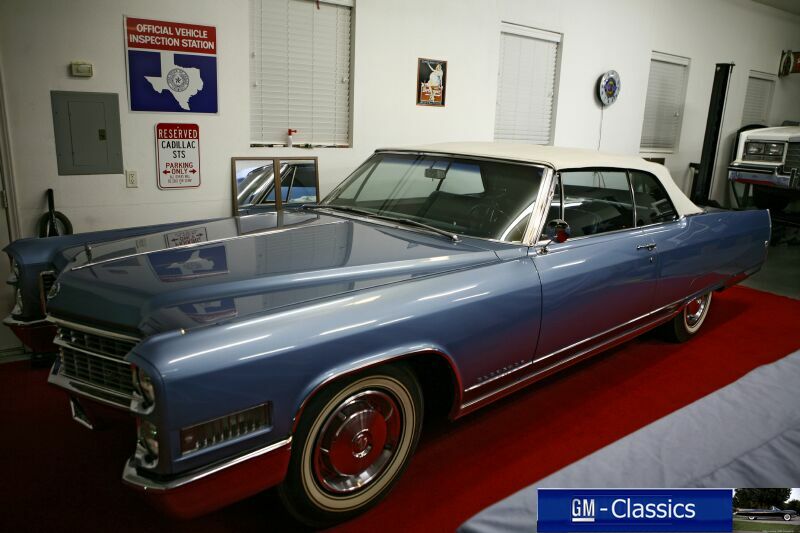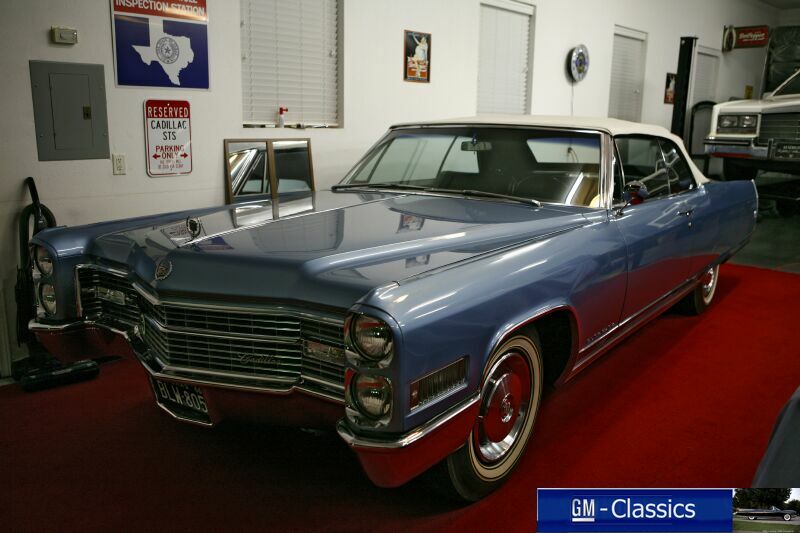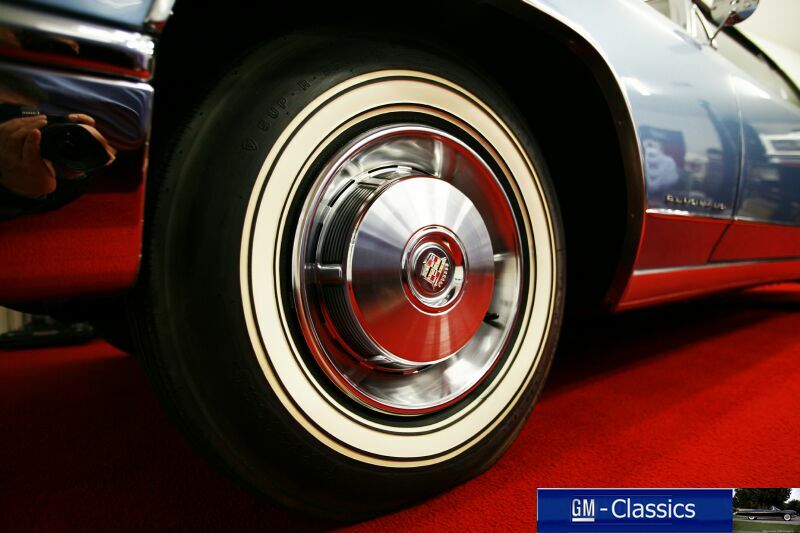 Above, that is the original tires from the 60s and Poverty Caps. Click in and you can see the age.
These tires survived as the car was on radials in the late 70s and 80s, these were saved for posterity.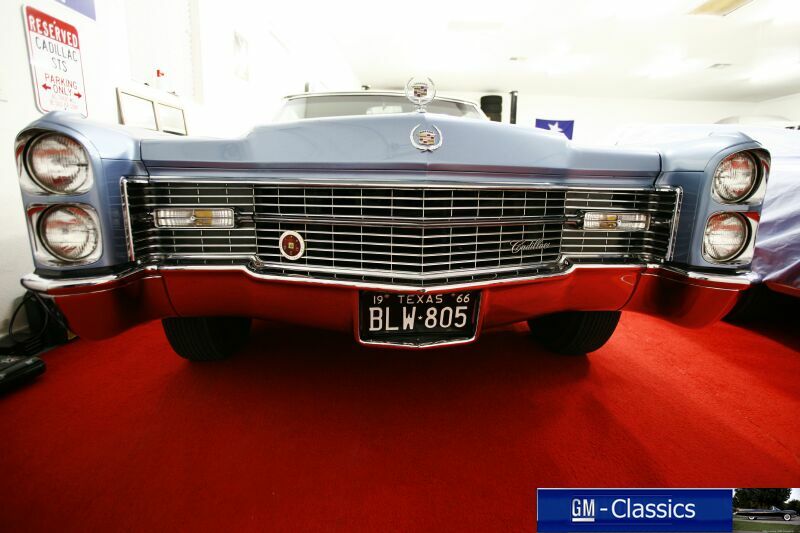 Above; good shot of the perfect front end.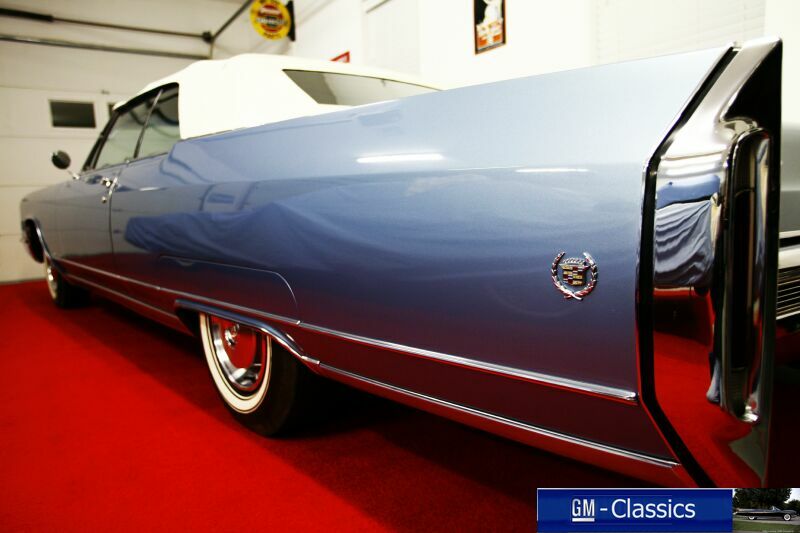 Click here for a Video of The 1966 Eldorado!

Much more coming soon too on this one!
Click here for My Car Hobby Home Page
You can email me at Cadillacman@mcsmk8.com