1981 Cadillac Eldorado Convertible. 6.0 EFI Cadillac Big Block. Triple White, Touring Suspension Car. 9K Original Miles. When only the best will make due, this car is a pinnacle piece in my near lifetime of collecting cars. 1 owner until I acquired if for my collection in 2004. This car will show to be simply the best Big Block Eldo Convertible on earth. Take note of this cars options! Both side power Recliners, Twilight/auto dimming, Front Bucket Seats with center console, Illuminated Entry, Symphony Sound, Touring Suspension with Rare Touring Wheels (225 70 15s), Factory Security System, Tilt,/Tele, Heated Rear Glass, then of course all of the other things standard to Eldorados.
When the word "rare" is so often over-used to describe a car, I would have to say in the case of this car it may be the true definition of rare. We all have seen Eldorado Convertibles, but take the year in to consideration on this car. This is not the 1984-1985 ASC Eldorado Convertible as you may first guess, this is a 1981 Hess and Eisenhardt car costing in the upper 40K price range in 1981! The car is so rare, I could not ever get an exact production figure. Somewhere around 20 is all I have been told by those that remember at the current Hess/Ogara Company. If you are not familiar with Hess, they build the President's car and more.
To those that say the 1984-1985 Eldorado is a ďfactoryĒ car, check this out; Every Eldorado and Riviera Convertible from 1979-1985 all started life as a coupe before they became the convertibles they are today and sold at the Cadillac Dealers. As a piece of trivia, the first step to converting all ASC cars to convertibles was to break out the back window with a hammer. That's right, the "factory" car! Well in 1981 Hess and Eisenhardt was a factory approved Convertible Coachbuilder chosen by Cadillac and the cars were sold at the Dealers. Due to the very high cost on this year and low sales, Cadillac later found ASC more attractive in the following years, and in 84-85 was able to get the car priced right to have some decent sales. Some things on the Hess cars are much nicer than the ASC at its higher price, some things on the ASC cars I will say are better than the Hess. The main difference on the cars is the rear cut. Notice the Hess car keeps with the original top line of the Eldorado Coupe. This was a more difficult conversion to do. For ease, the ASC versions cut the car lower around the rear section and used the top as filler for the lower cut. Things are different on both makes when you get down to it and that is just the way it is when you start nit picking. One thing important, the Hess has more framing support added to it over the ASC and that is very important on a car like this. They actually welded in support on the frame. I would say that Hess was a superior coach builder in the real world aspect of making a car right. ASC put in two little bars that interfere with the parking brake cable and make you think something is hanging down. Now one thing I will hand to the ASC car is the fact they used the Biarritz optioned car to convert. That was not their choice. It was the car that was sent to them. The H&E only used the non Biarritz for the handful they built in 81. That is the only negative I can say on this car, but that is all you got and the big advantage may not yet be seen to those not really familiar with Cadillac.
This is one of my favorite cars in my collection. I have purposely kept this car off of my site for quite a while as I was afraid someone in the know may make me an offer I could not refuse. It's here now, but I am not too motivated on releasing this car. I have had the privilege, and still have the privilege of owning some of the nicest 84-85 Eldorado Convertibles on earth. I can find another one tomorrow that is as nice for myself or you too. If you want one of these, no luck. A few have surfaced, all used up, most that do surface are 82+, thus having the 4100 and negating the real desirability behind a car like this. Due to that, I consider this car one of the few irreplaceable cars I have. The big advantage is the fact this 1981 Eldorado Convertible is NOT plagued with the horrific HT4100!!!!!! All 82-85s had that! This fact alone has driven me away from the 84-85 ASC cars to seek out a needle in the haystack on a car like this. I have had many 84-85s, some with near 0 miles. I wanted to rip the engine out of them and put something better in as the 4100 frustrates me to insanity with is horrific power and other downsides. Instead of doing so to a collector car, this car has been my answer and a hard one to find at that. This is a 6.0 368 Cubic inch Engine with EFI. The LAST big block put in a US passenger car! Not only does it have guts, acceleration, etc., not only does it handle well as itís a touring suspension car. (also not available on ASC 84-85s) the 6.0 motor will outlast every inch of the car and probably your and my lives if it were put to a high mileage test. Take it one step further, this has the reliable heavy duty 325 3 speed transmission ( you probably already know about the 4 speed and its low life expectancy), heavy duty cooling and every part heavy duty as Cadillac was known for. 1981 was the LAST year for the good stuff. 1982 brought about the downfall that has laid a cloud over cadillac still to this day, although they got much better in the 90s. This is the last "True to Cadillac" classic Eldorado Convertible. Yes itís also got the 8-6-4 option on the 6.0 engine, but do you homework there. You may find out you have been confused all your life on the 8-6-4 with misinformation carried to if from the HT4100. A link here may enlighten you.
Click Here for more Information on the L62 6.0 Liter 8-6-4 Engine
Just starting off from a light, this car motivates itself with near modern day power/weight ratio. In fact, you can jump out in front of traffic in this car and get up to 60MPH in 1/3 the time of an HT4100. The torque is immense and is simply fun to drive. As compared to driving the HT4100. the 4100 scares me as I have to take such a proactive approach to driving, its no fun. The whole world is passing you and there is nothing you can do about it. In fact I have been out powered by loaded 18 wheelers going up hills when driving a 4100. Its funny when you read it, but not funny when you own one. This car is 100 times different thus I cannot tell you how please I am with owning it.
Anyway, I really love the 79-85 Eldorado and I love the Convertibles more. As I mentioned, this is one of my favorite cars and I have a hard time not just standing and staring at it. Then when I get in it to drive, the big Cadillac power plant in a beautiful convertible with touring suspension always leaves a smile on my face. No matter who you are, no matter what your taste, background or experience with cars, everyone will always be on the same page on how classic and nice the 79-85 Eldorados were. You may even see a few die hard VW, Porshe, Audi guys call the Eldorado a nice car. (Tough crowd there) The Eldorado is a far cry from being a perfect car, but their looks are darn near perfect and will always be looked back on as one of the best classic Cadillacs of all times. The prices nice ones command now are far from reaching the top but nice ones are not cheap. The top examples of these cars may even break the muscle car inflated prices one day as they are a true last of an era car. Having this car is the best of all worlds for me in the Eldo. Itís a convertible, itís a drivable mid #1 car in a rare car with a rare color combo, its loaded and best of all itís the Real Cadillac Big Block! If you have not figured it out yet, I cannot stress how pleased I am with that aspect! It' one of those live and learn things you may understand already if not I do not know what to else tell you.
CLICK EACH PHOTO FOR A 14MP IMAGE FROM A CANON 5D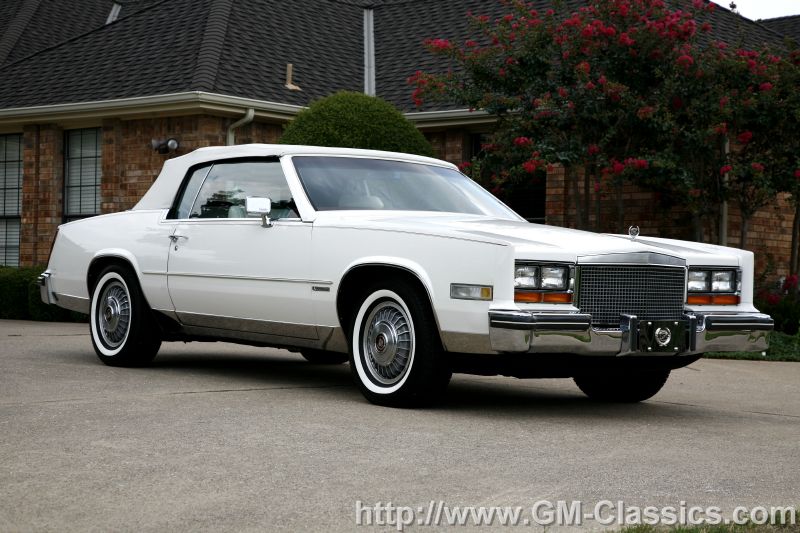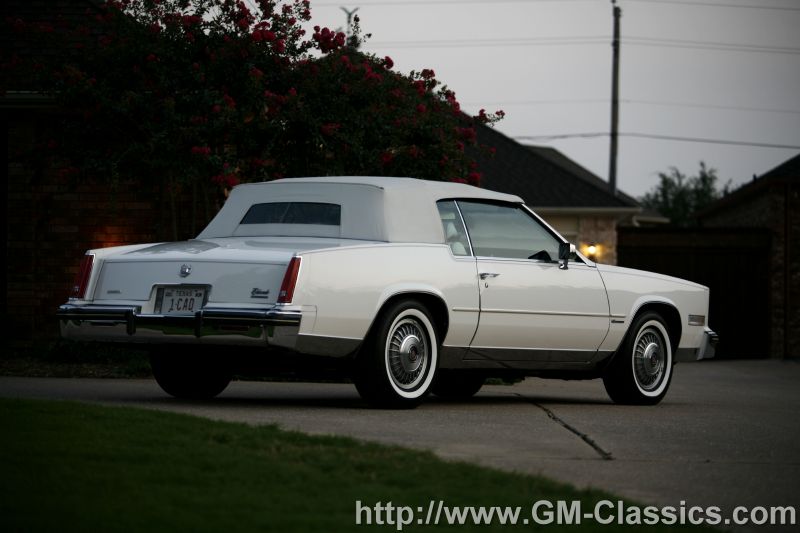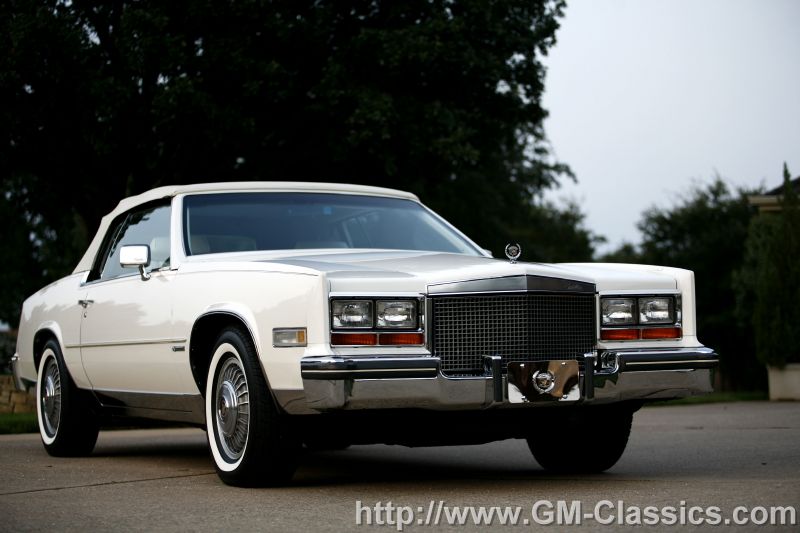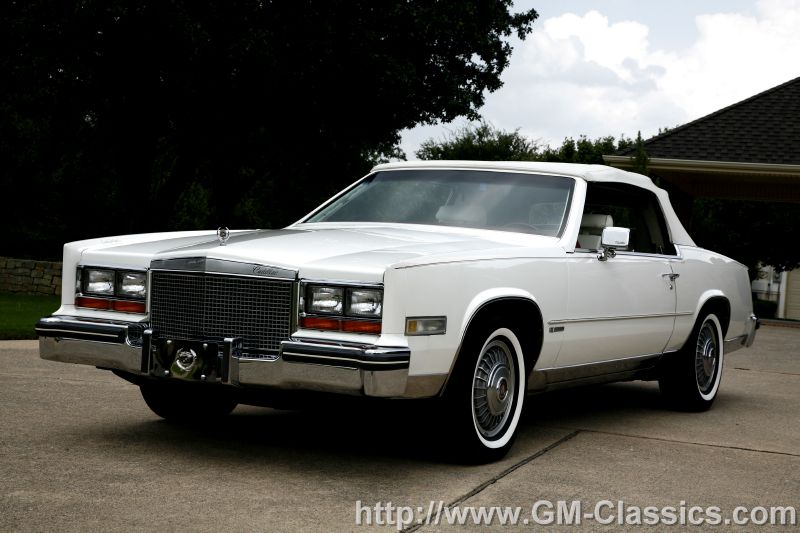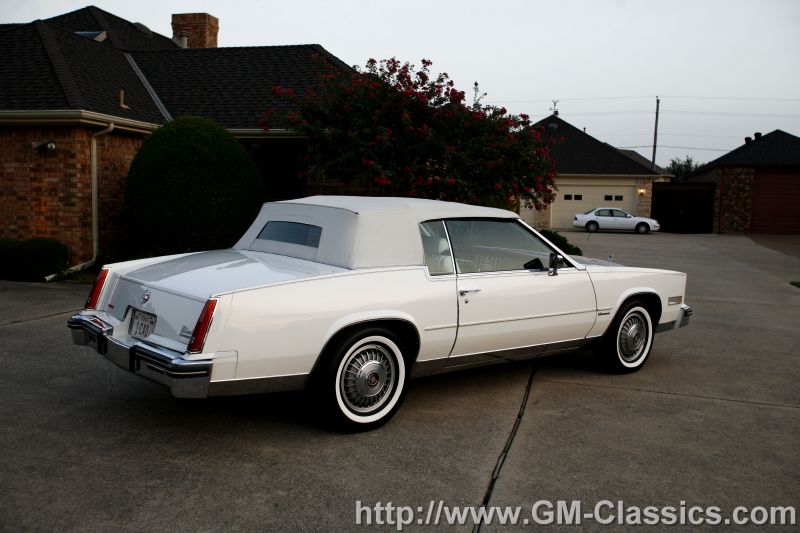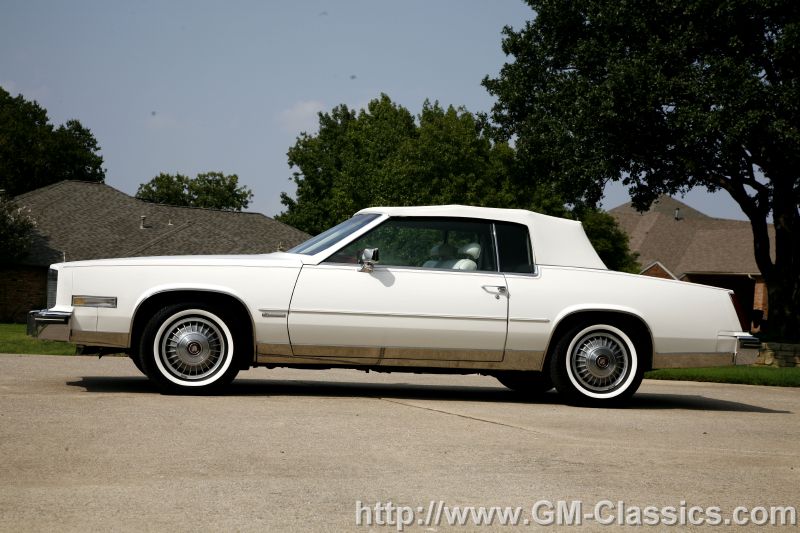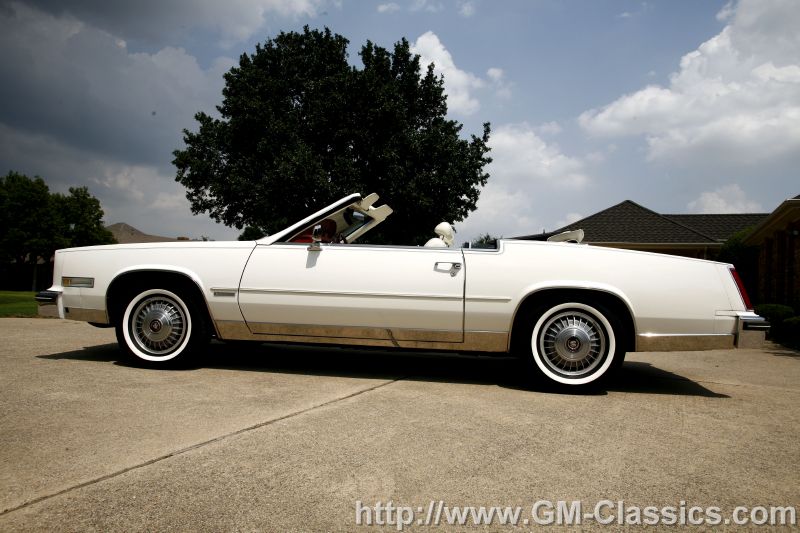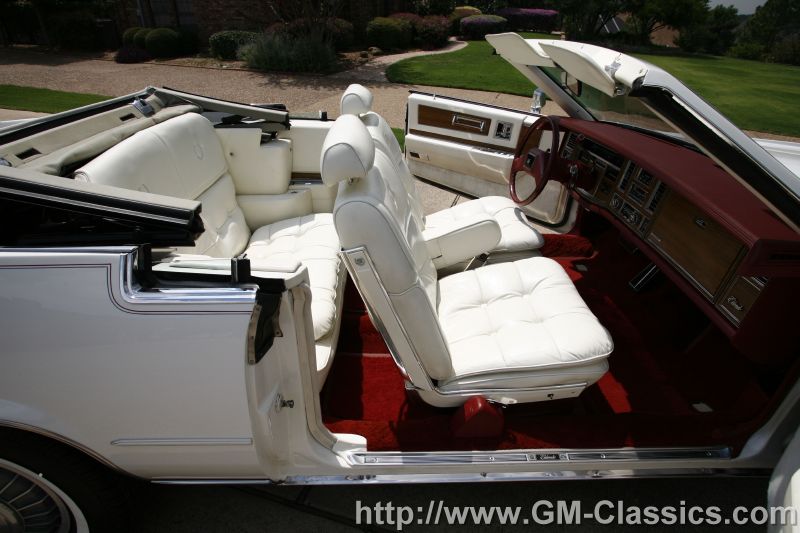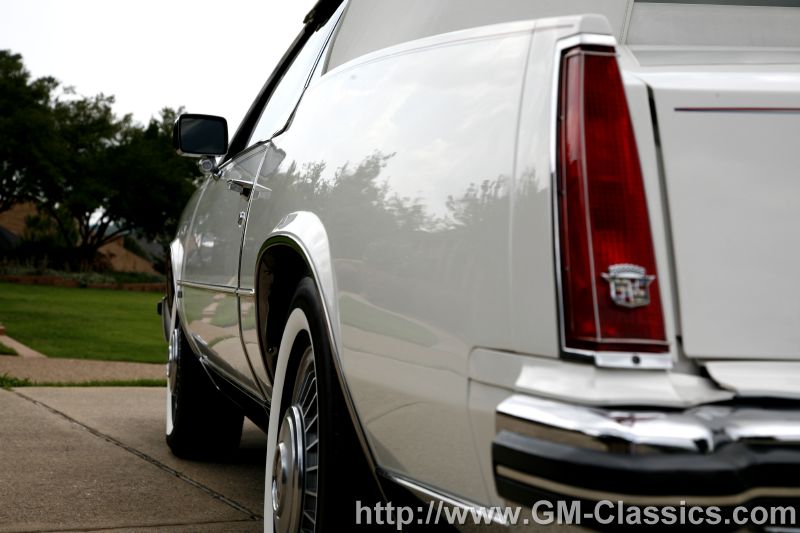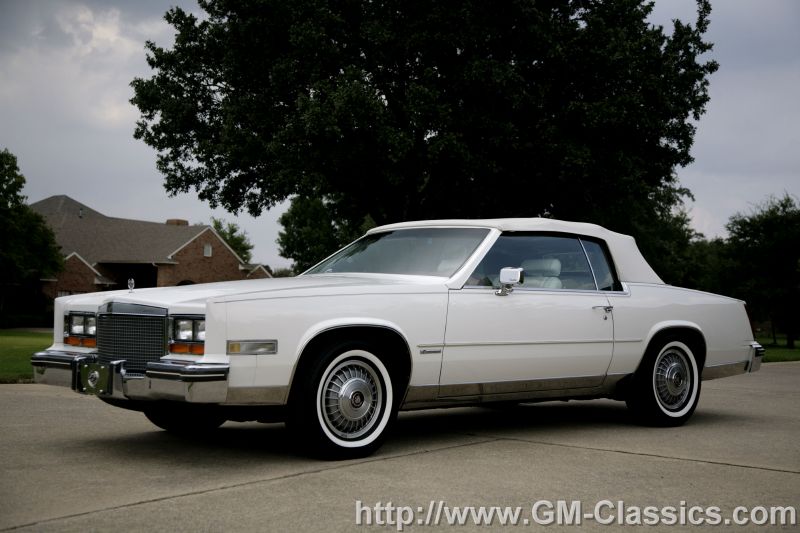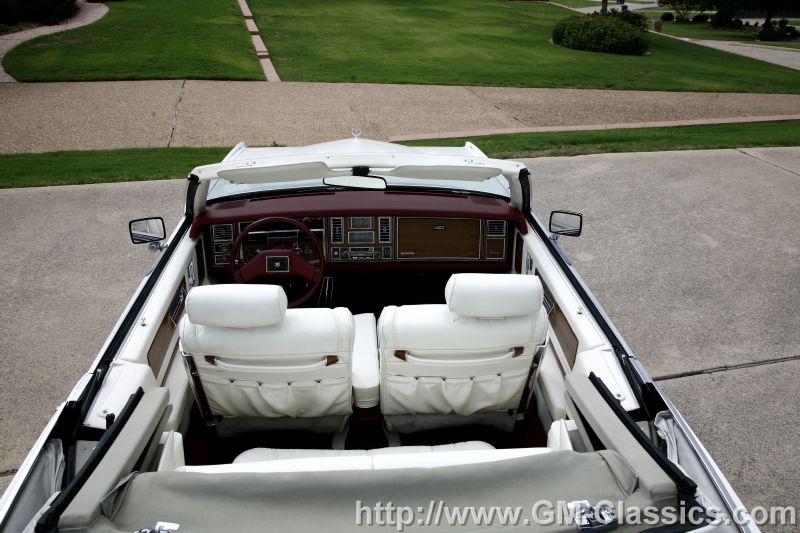 Dual power + Reclining Bucket Seats. This car also has the rare center console under the arm rest.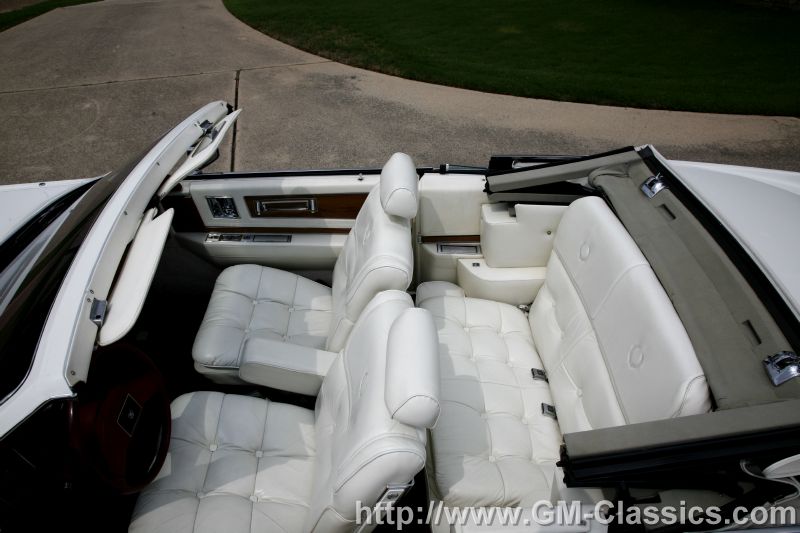 Click this photo to see how nice the dash chrome is up close.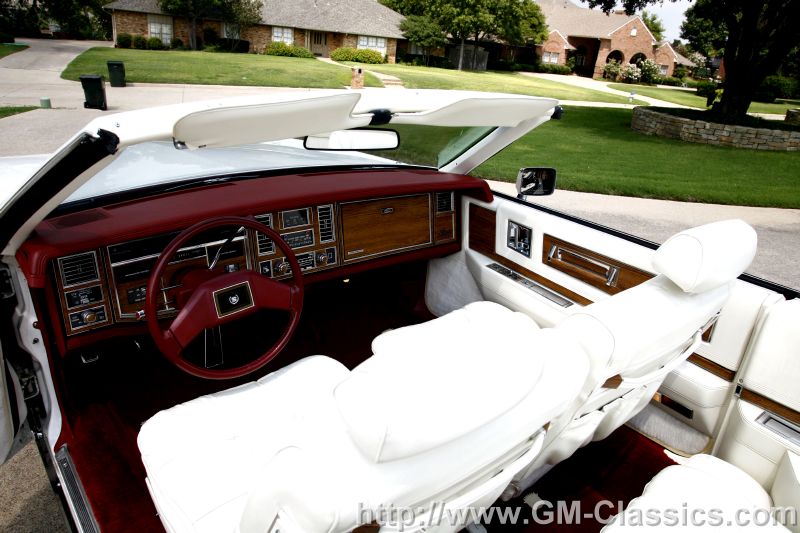 All the good stuff for 81 and nice too!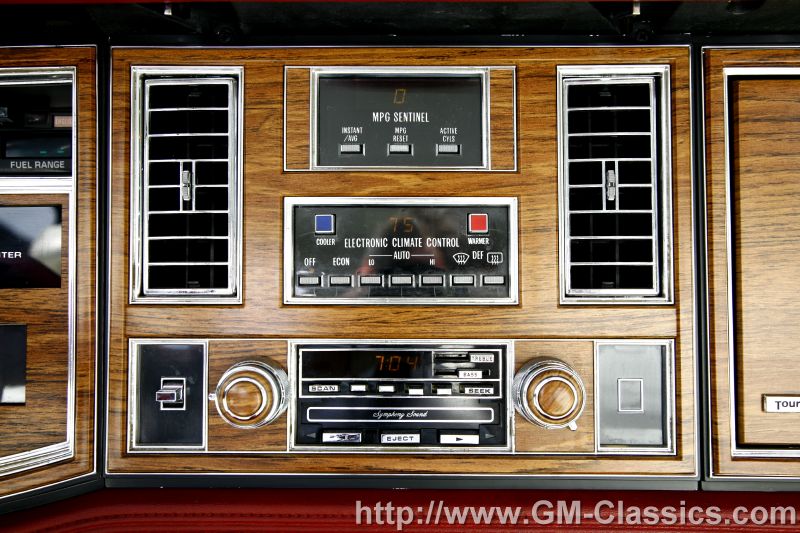 Rare Vintage 1981 Plate that denotes this car properly! This is a near 30 year old car now. Time flys.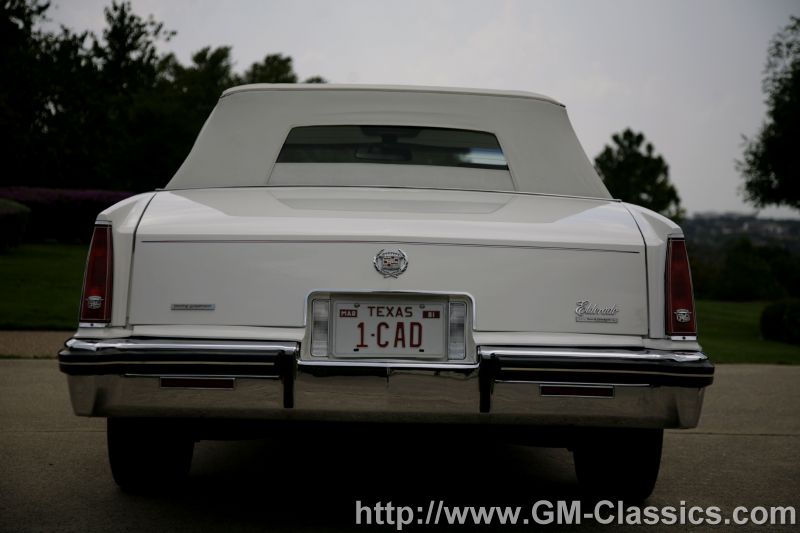 Perfect white door panels and arm rests.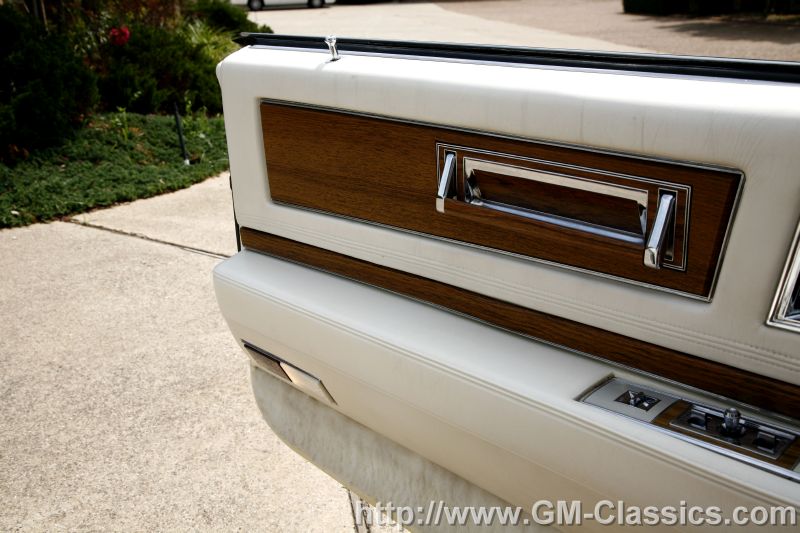 This interior is breathtaking. Keep in mind, this is an all original 9K mile car, no restoration!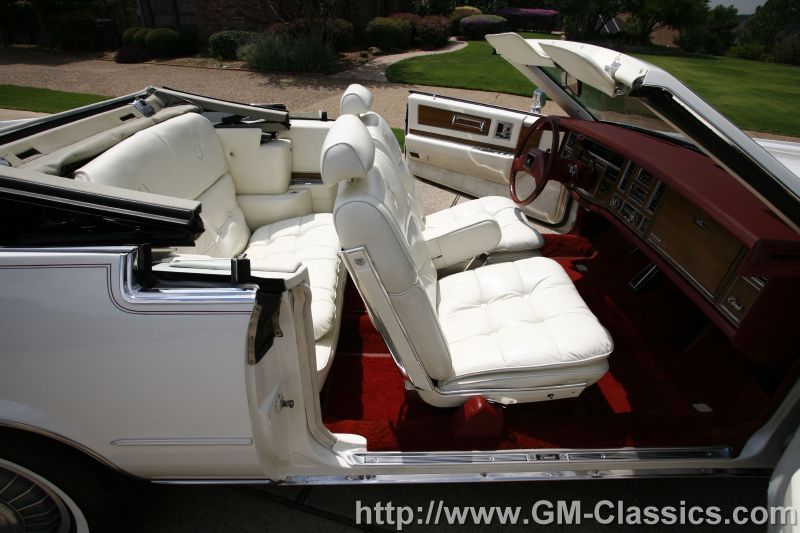 Here it is, first question I always get. Power antenna up. Works perfect, and is a factory original, straight as an arrow!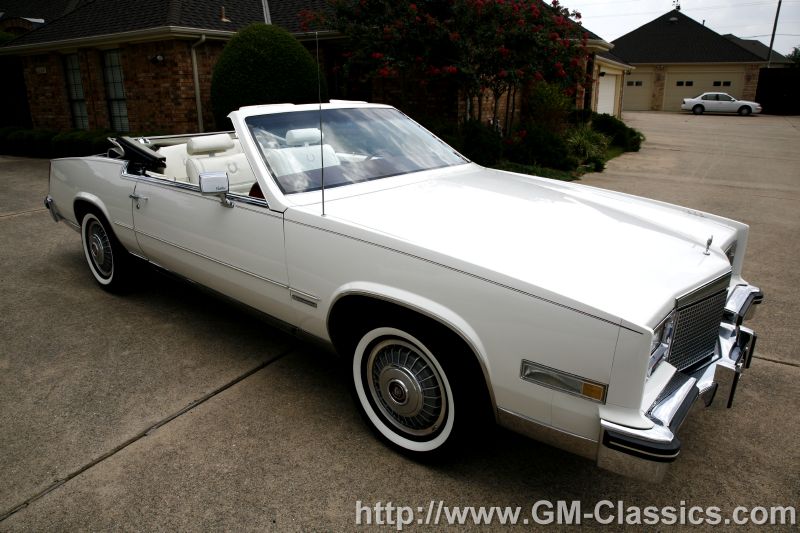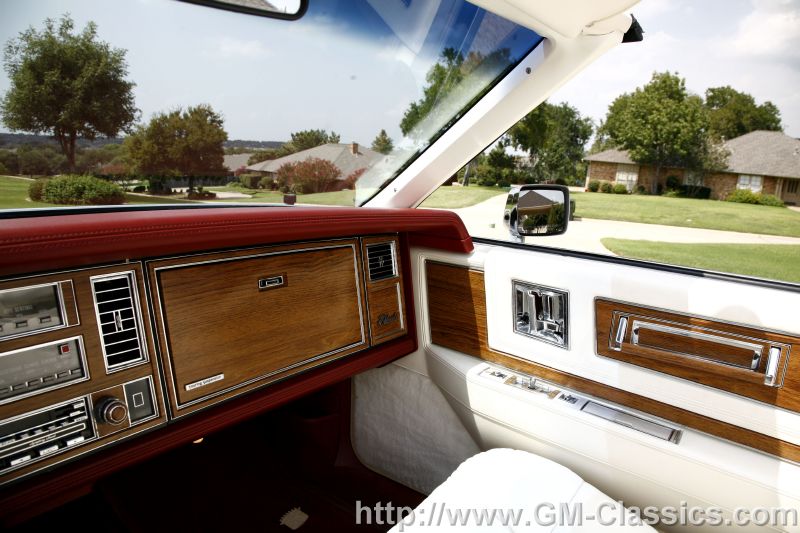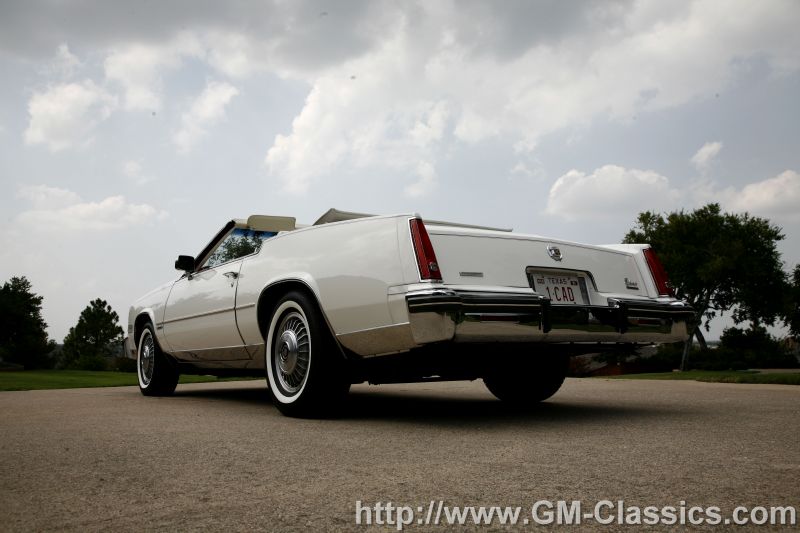 Top down... You may ask where the boot is. Well I don't like it on the H&E cars. Its white. They look a little boxy with it on.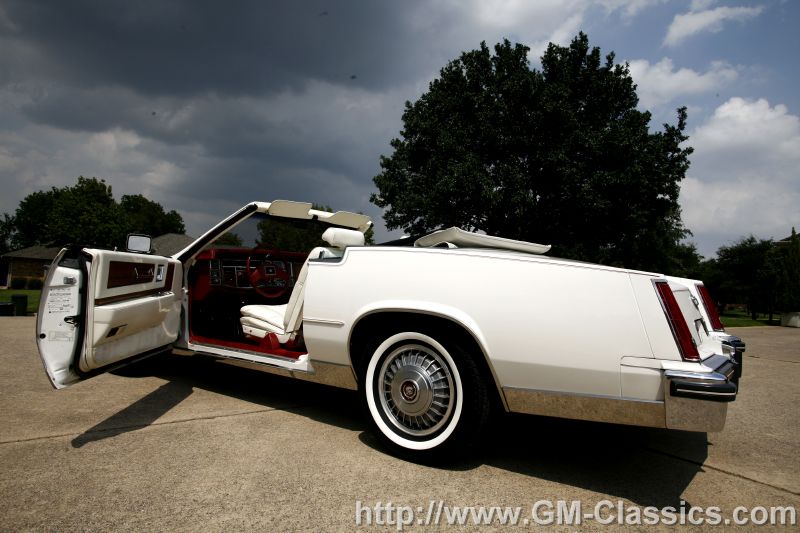 The 6.0 EFI Motor! This is what makes this car! Also installed is an 8-6-4 "on -off" switch in the car. Turn it on as you need!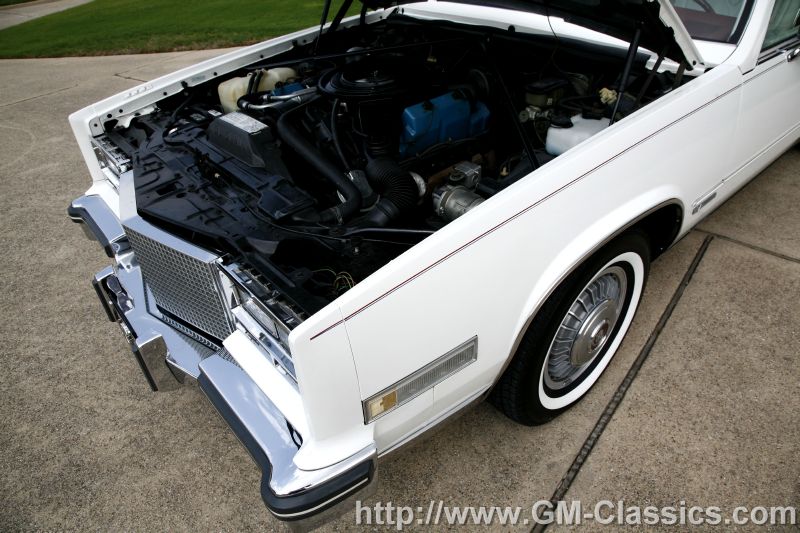 The 6.0 EFI Motor! This is what makes this car! Most powerful early 80s convertible with its massive torque.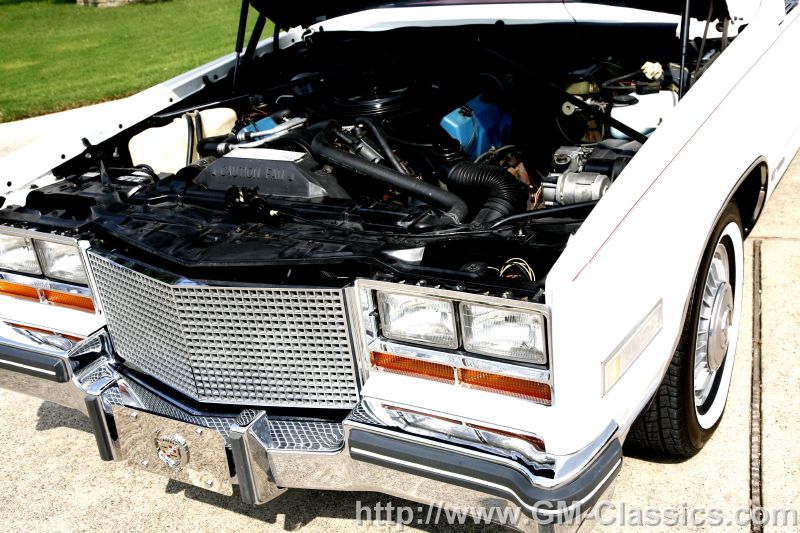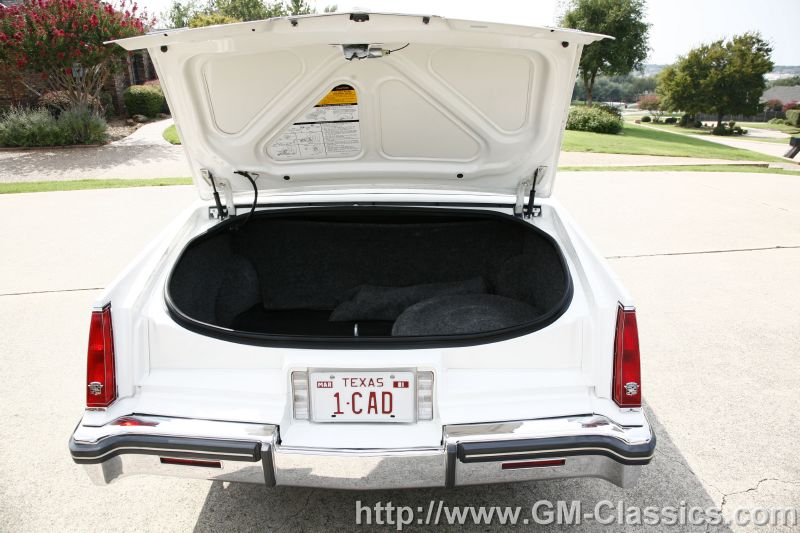 Click the photo below for near microscopic inspection of the driver seat.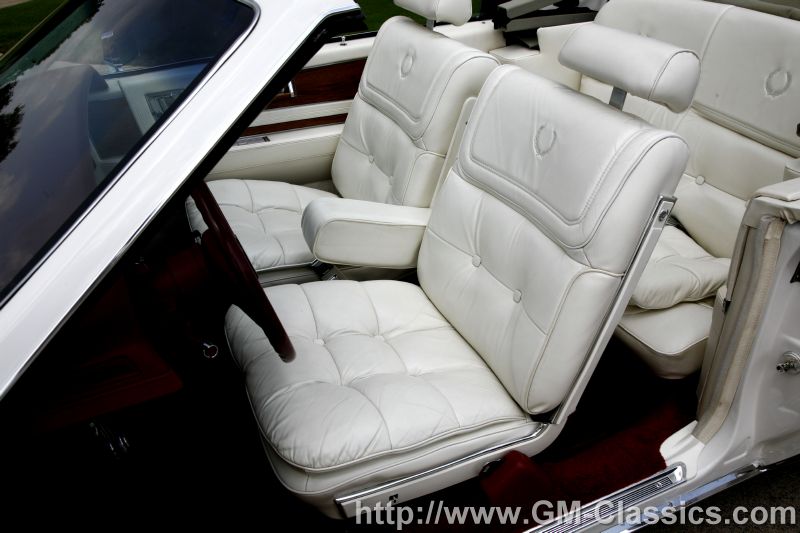 Factory exhaust, resonator and see the large rear touring suspension sway bar.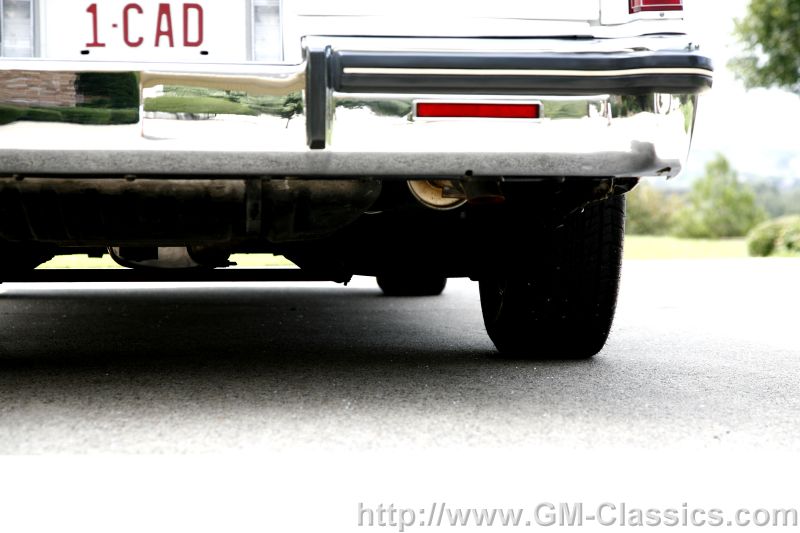 Dallas Texas, Late August Sunset when most photos taken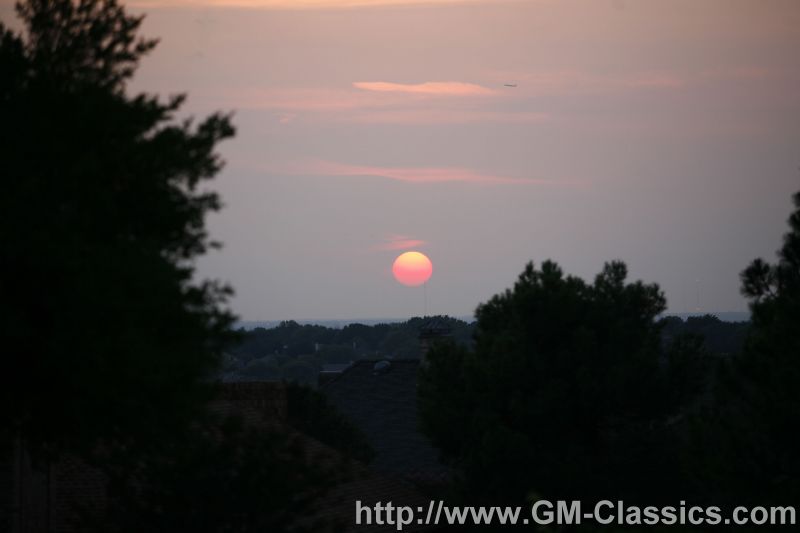 Console between Bucket Seats, Item is just door opener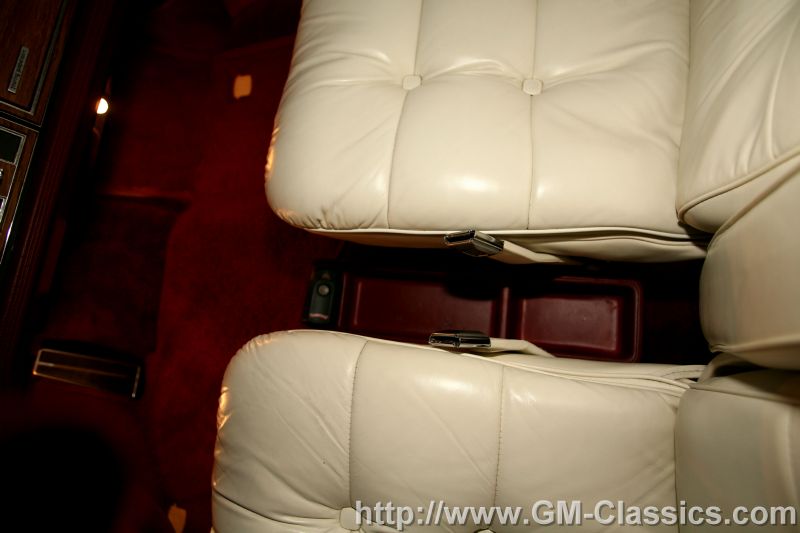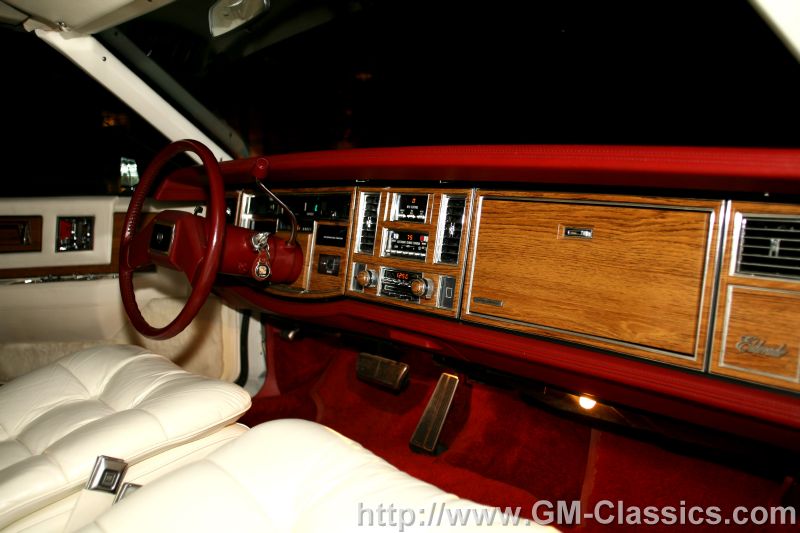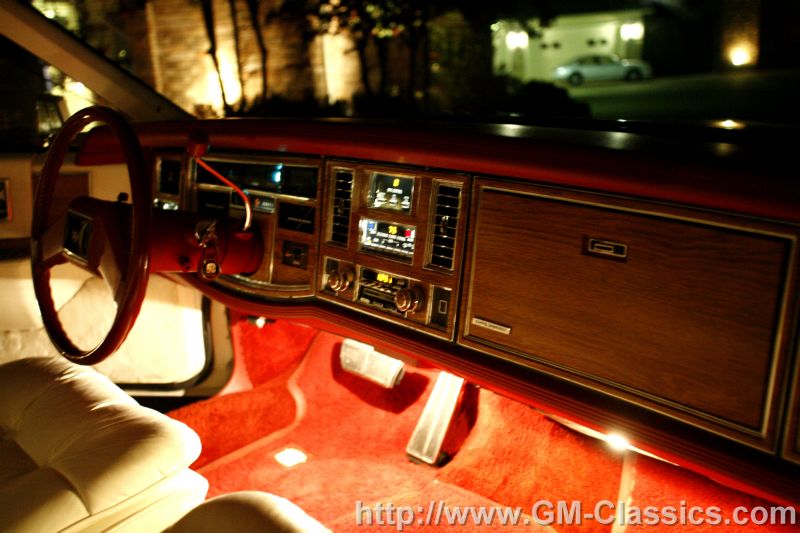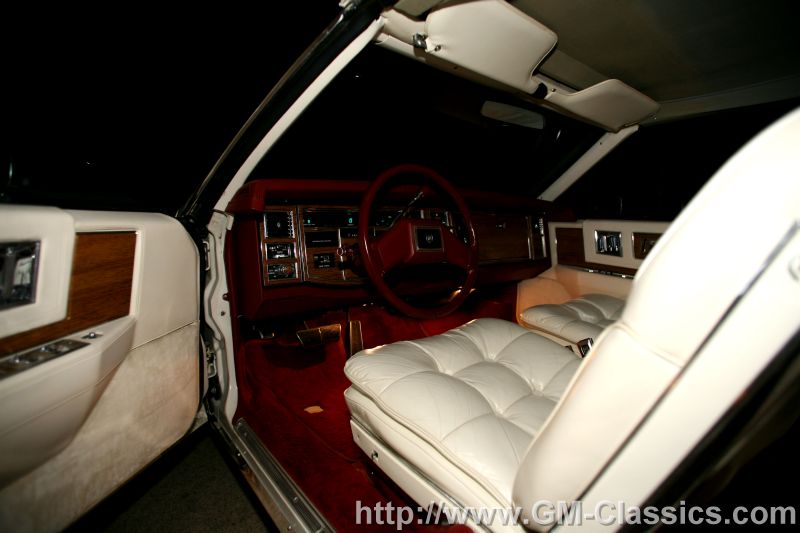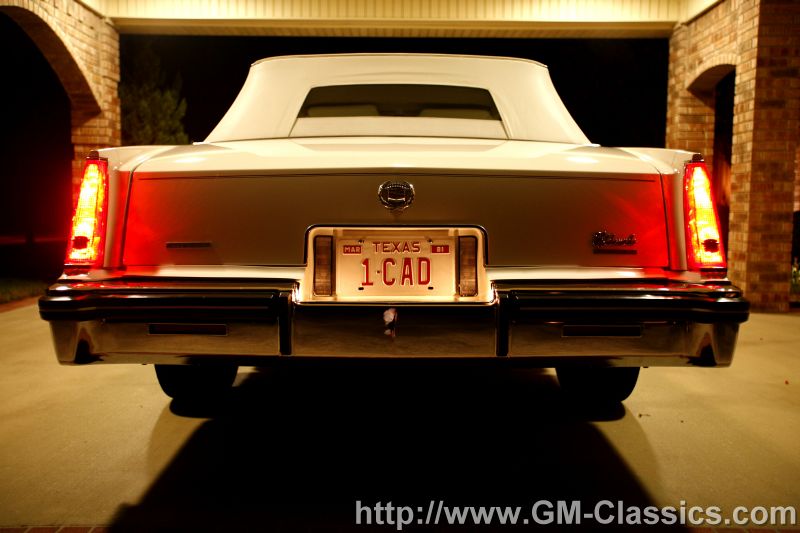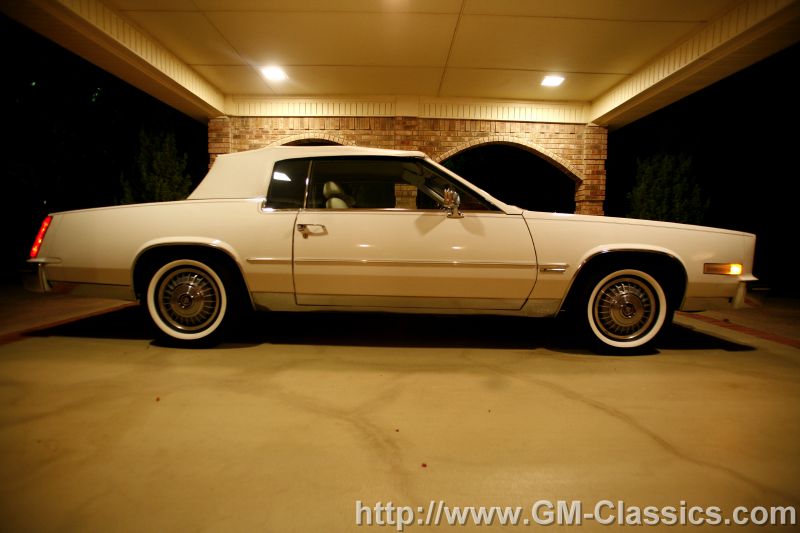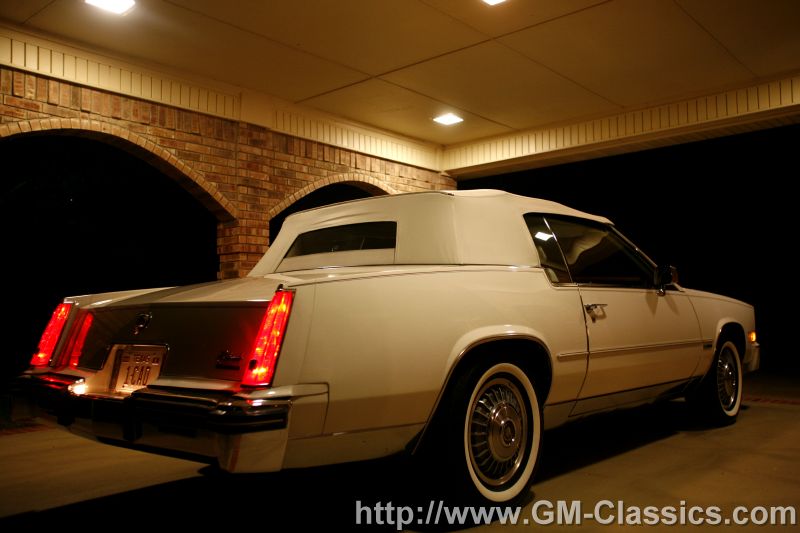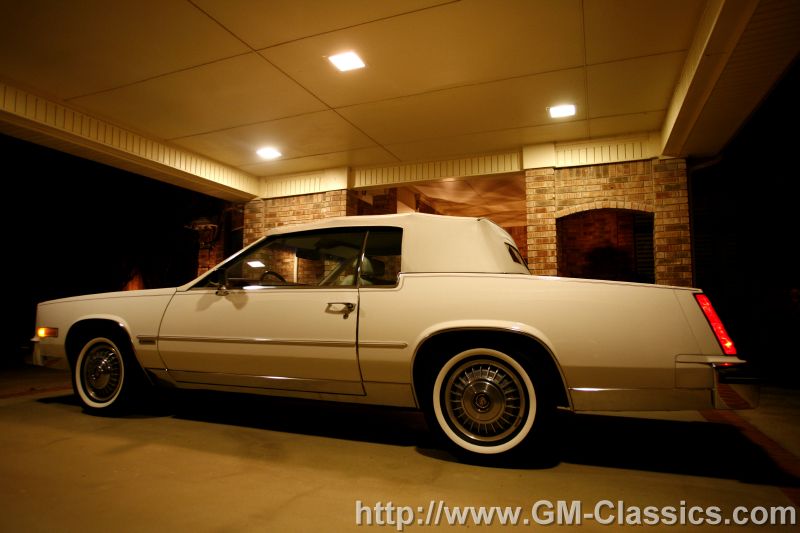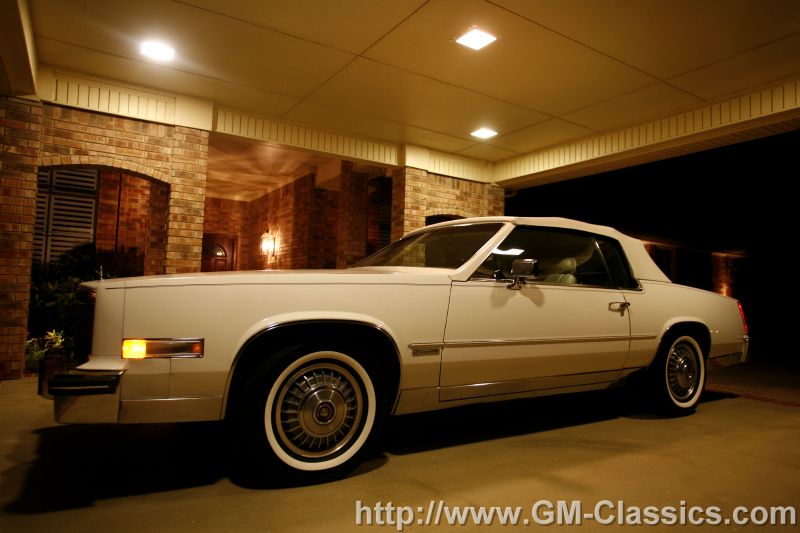 PS... If you are not a fan of the rare alloy touring wheels, this is what these cars look like with Dayton Wires, I have a set.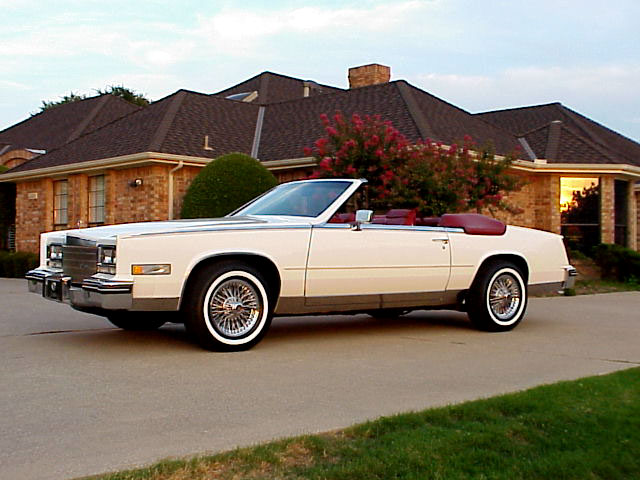 1981 Eldorado Convertible, 6.0 Liter... My claim to this car is as follows; The best 1981 Eldorado Convertible on Earth.