1984 Cadillac Fleetwood Brougham DeElegance
New In Wrapper - Best In World
Matt Garrett - Dallas Texas - 214-878-3823
SOLD but Click Here for Current;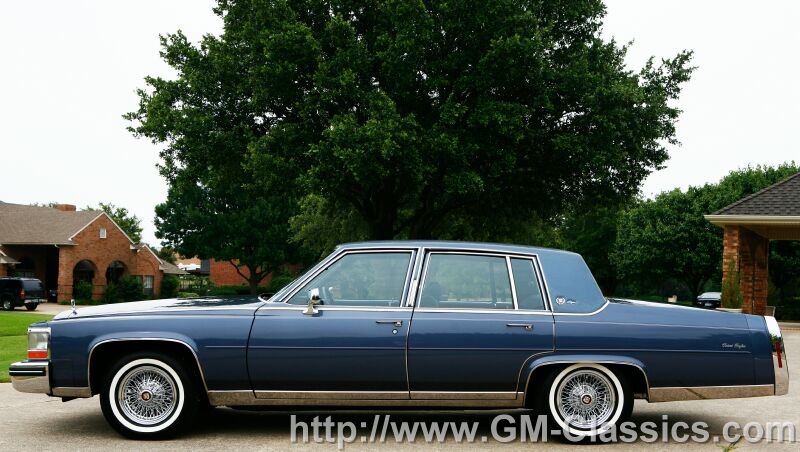 1984 Cadillac Fleetwood Brougham DeElegance. As New in every manner. Hatteras Blue/Blue. 500 total original miles. In the group of cars I have that are basically as new with mega low miles, they all are astonishing. Each one represents it's model as possibly if not close to the best example the world has to offer. This group of cars is the group I go out of my way to acquire, and keep them as new as possible if not better. The prices I pay for these type cars are just now being understood by other collectors, but when you want the best, they don't come cheap or easy. These were not grandpa's car forgotten in a garage and just lucked into. I'll show you what one of those is really like compared to a true collectors example. Nothing the same. These are collector cars since new, most of the time private dealership family collections as this one was. These are my top automotive investments and ones that I am in no hurry to sell. I mean how exactly do you replace them? Finding others even similar takes decades and gets harder every year the older these cars get. Not something you can pick up the phone and just buy. A 76 Eldorado convertible you can with no miles as so many were saved, something like this, not so easy. Over time, each of these cars has its own set of issues that need to be corrected, etc. Nothing is perfect, all have a thing or two that are required in 25+ years of age and storage. Some of the low mile cars need a ton, some have one issue, some have others. The #s on the odometer have nothing to do with the issues each car has. They are all over the board. Each one of those issues I correct within originality specs on the many low mile cars I own. Out of all those cars, when grading on sheer purist original condition factor alone, this one is the #1 car in my collection. It is perfect, it is original, it has no flaws, the car has needed nothing in terms of repair and works every way as new and looks as good as new. I would say today its even better due to the level of detail the car has been kept at since new. This car is a true high level #1 condition car that has never been put on the road, stored as new since day 1. The ONLY item not original is the battery. I have it, but its dead of course. The tires are original Goodyear Polysteels (totally irreplaceable), all belts hoses and more are original and as new. The paint is perfection at its best, even for factory. Since this car really was without issue, age problems etc, the time was spent on the car just shinning it. At least 50 hours of just high level detaining to the original lacquer paint just to put it in an arena that cannot be easily duplicated anywhere.. And its 100% factory original!
Car was purchased new in Georgia from Robinson Cadillac in Morrow GA. You can see the original 84 Plates on the car, they came out of the brown envelope in the trunk. I put them on for these photos. It was another dealership owner collector car owned by the wealthy family that was involved with the dealership. Car has NEVER been on the road. I have had this car in my collection for about 8 years now and in fact I had a twin to this car that I sold, but kept this one that was from the same collection. The other was same color and all too and just as nice, just not a DeElegance and was on hub caps. This one is more desirable, thus I kept it. I am just putting this on my site as its not exactly an example I want to part with right now. Having dozens of cars that have been stored since new over the years in my collection, this one is really an ounce above them all. Why? I can't tell you. Luck of the draw, all the planets were aligned right over this cars life, who knows. I guess I have been waiting for a better example of an 80-89 to surface like this, but I am still waiting. I look daily and have all as many contacts in the hobby. Nothing has come about. This one is it, thus I say its the best in the world for 80-89. 90-92, there are some contenders, and I have one that is in my collection too. For me, I have kept thus car in my facility, covered and have kept it in running rotation for the many years in the GM-Classics collection. Its time for this car to get at least some "net time" as it has been just a stored and kept as new car forever and has yet to be shown anywhere.
This car has just about all the options available for 1984, is probably the best color for 1984 but does not have the Astro Roof. Can't have it all if you are demanding perfection. It has Symphony Sound, Electric Heated Mirrors, DeElegance, Cruise, Twilight, Auto Dimming, Garage Door Opener, Wires, Optional Polysteel tires (721s were base). The merit of this car is true original perfection way over the #s you see on the odometer. That is just a bonus. I wish every car could be just like this one, but then this would be nothing special then!
Remember You Can Click Each Photo for an Extreme Blow Up!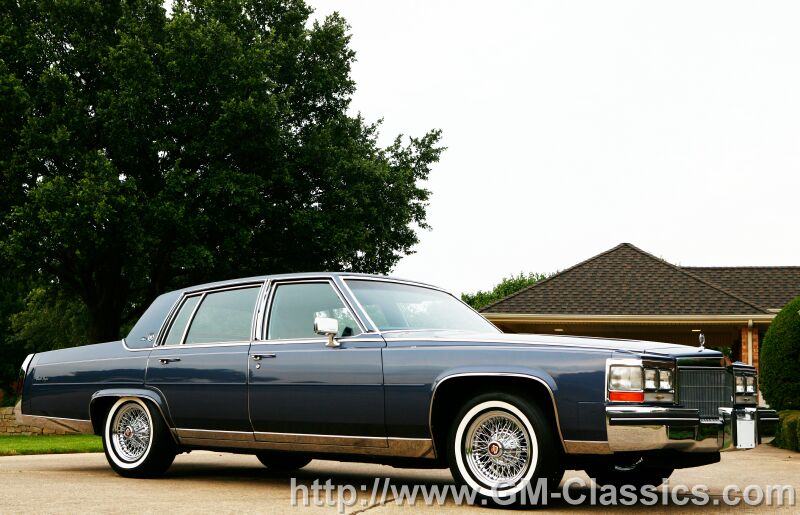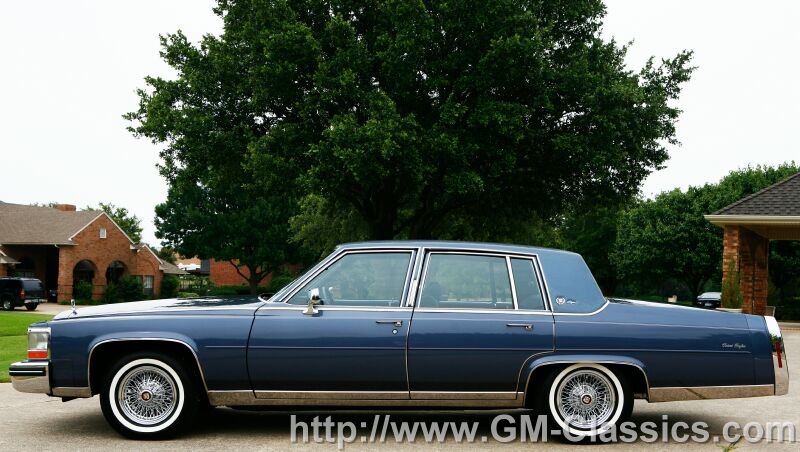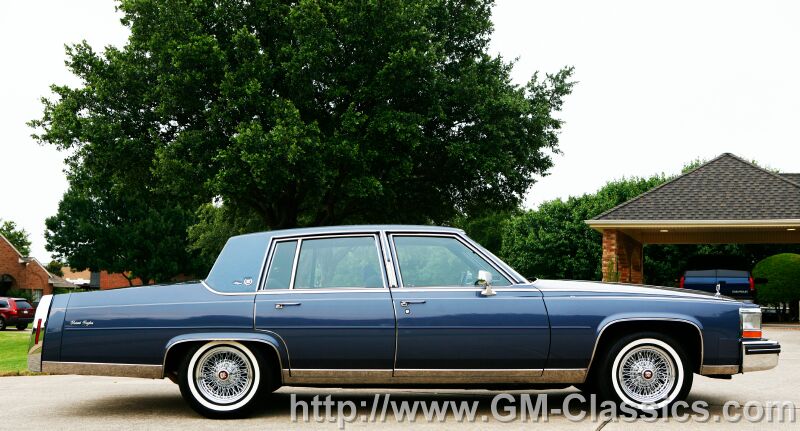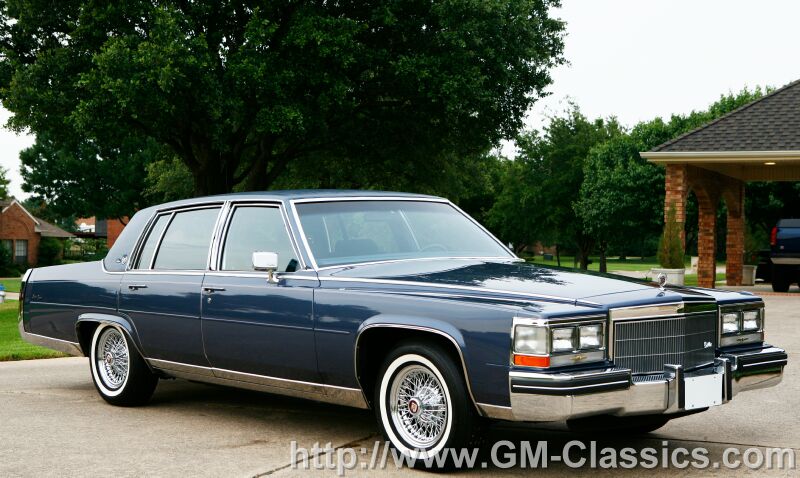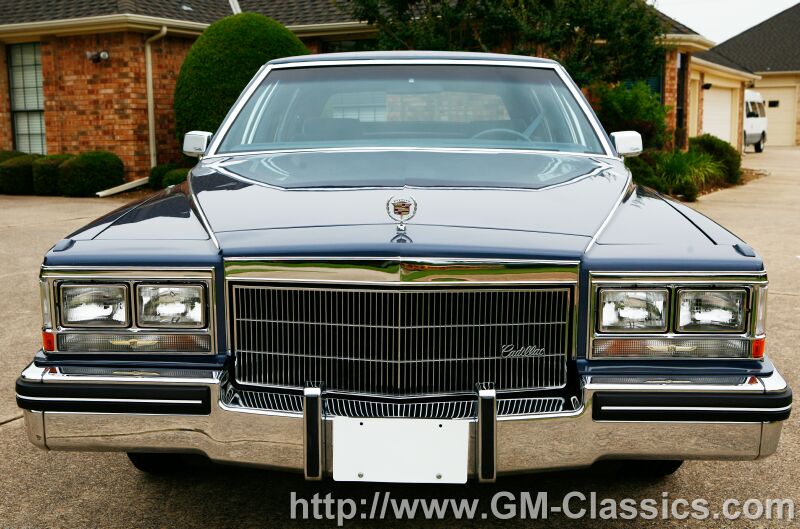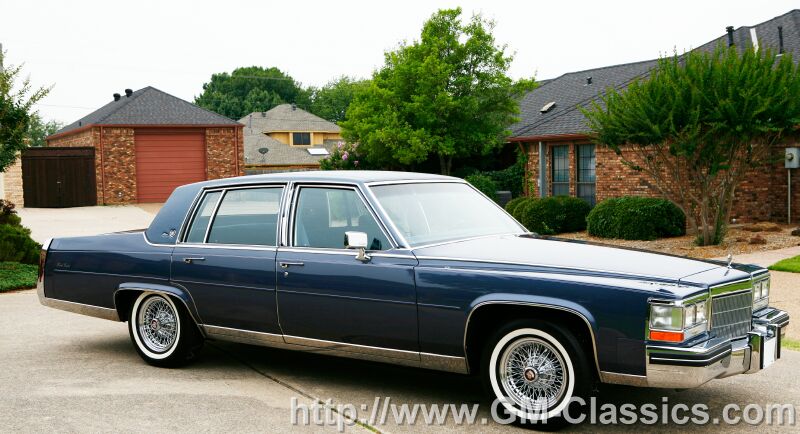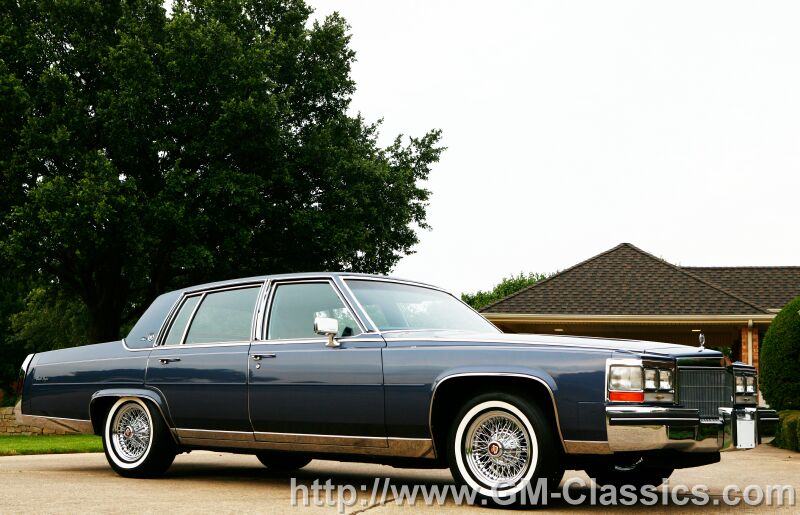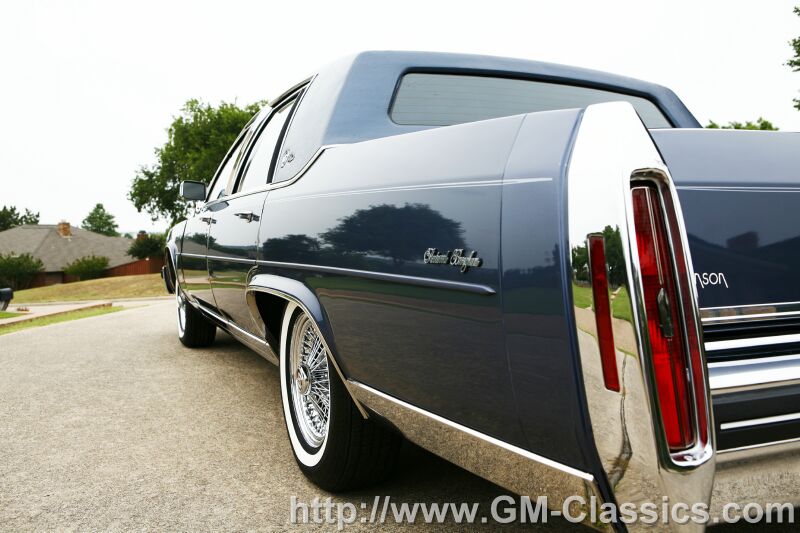 Perfect Body Lines.. I mean perfect.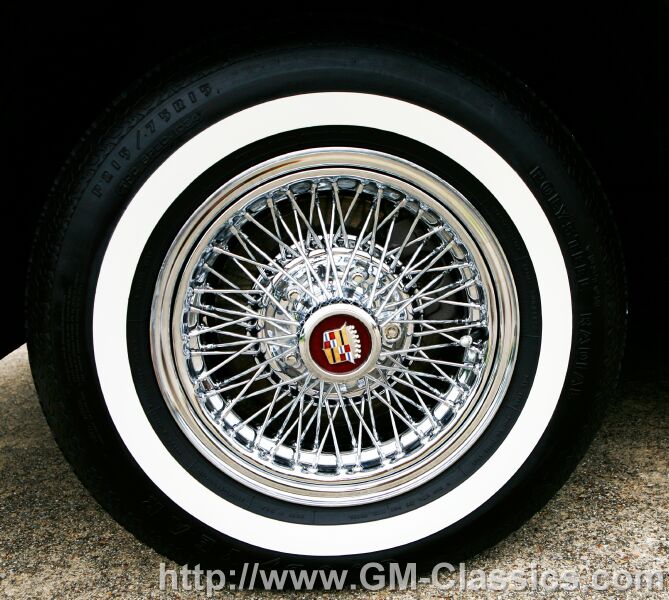 Factory Wires, original 1.6" Goodyear Polysteel Radial Tires. You can get identical replica tires for a 1960 model, but these you cannot replicate.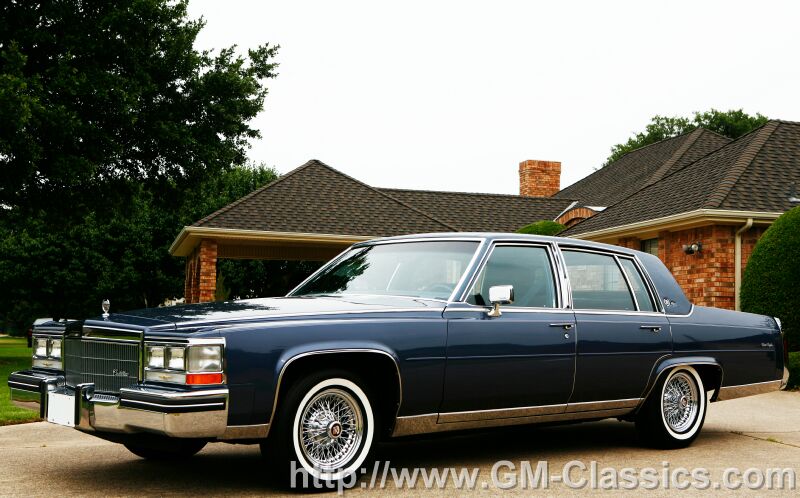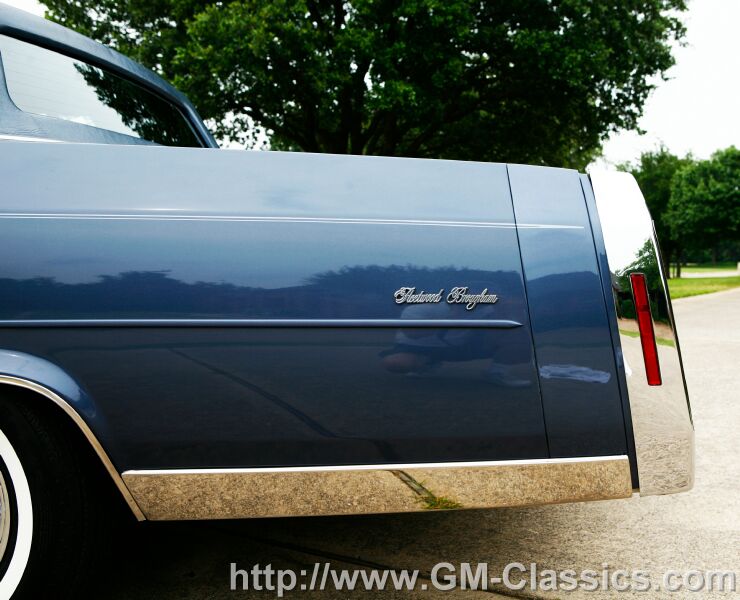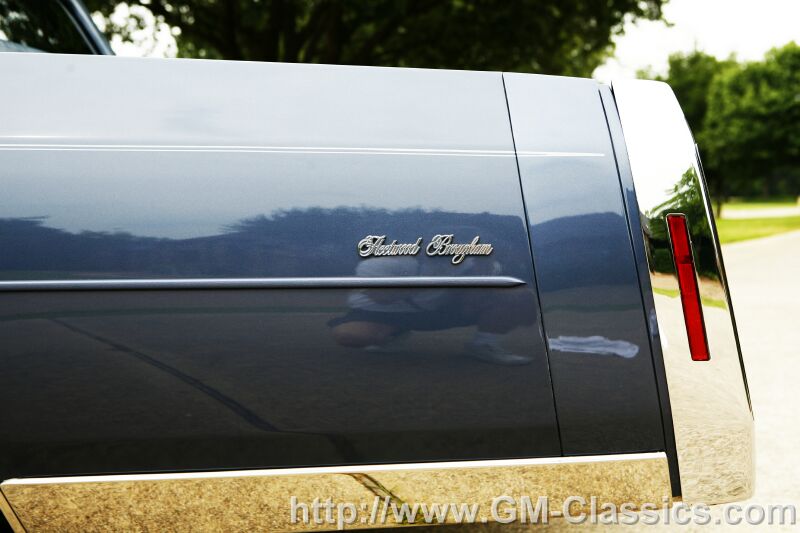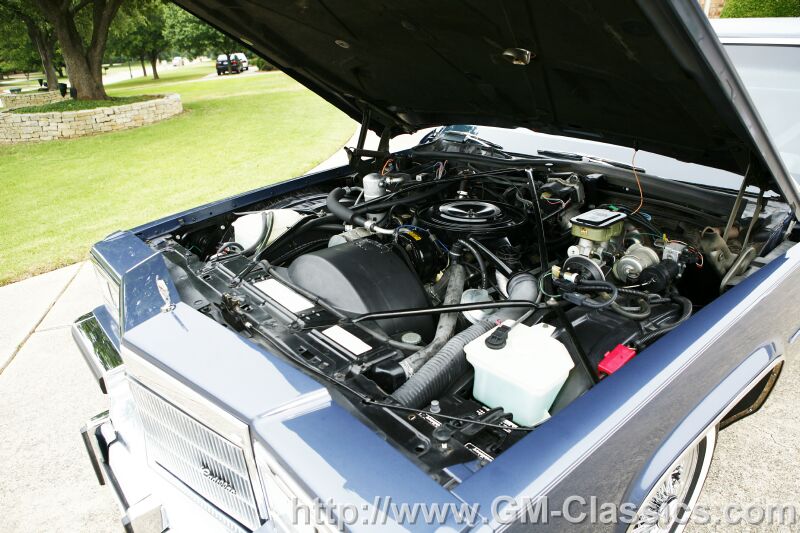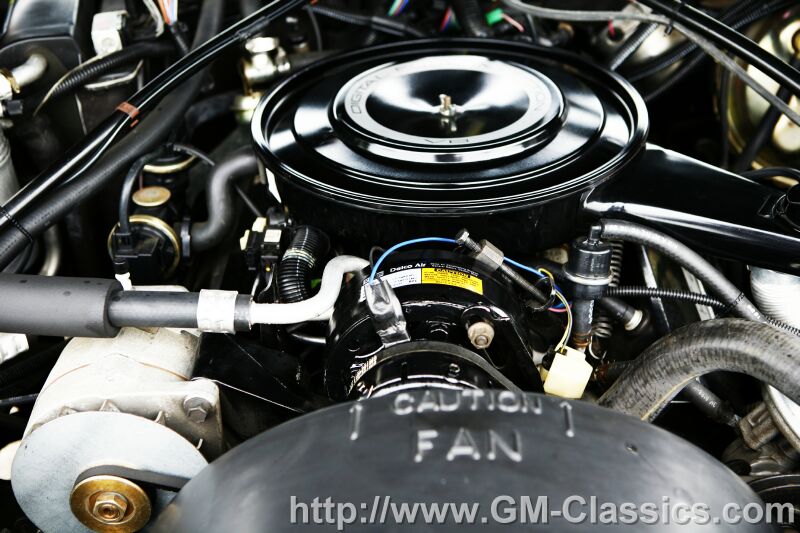 Perfect running and detailed engine. AC, R12 original and perfect.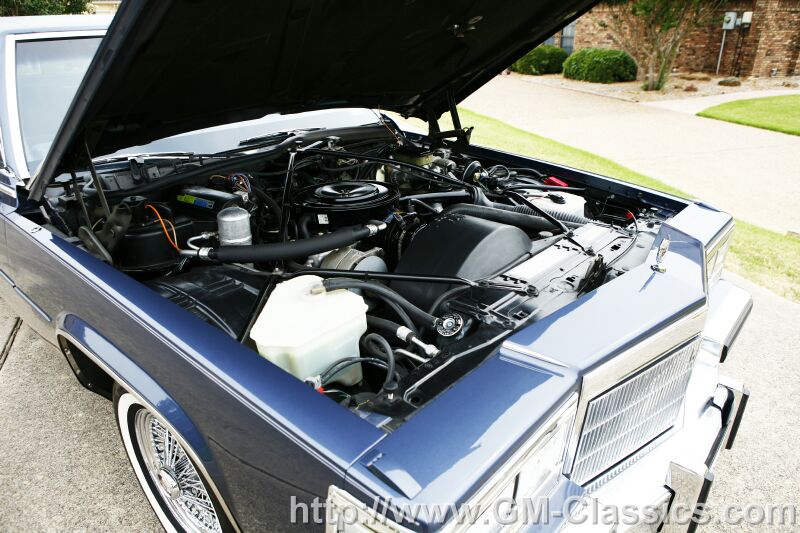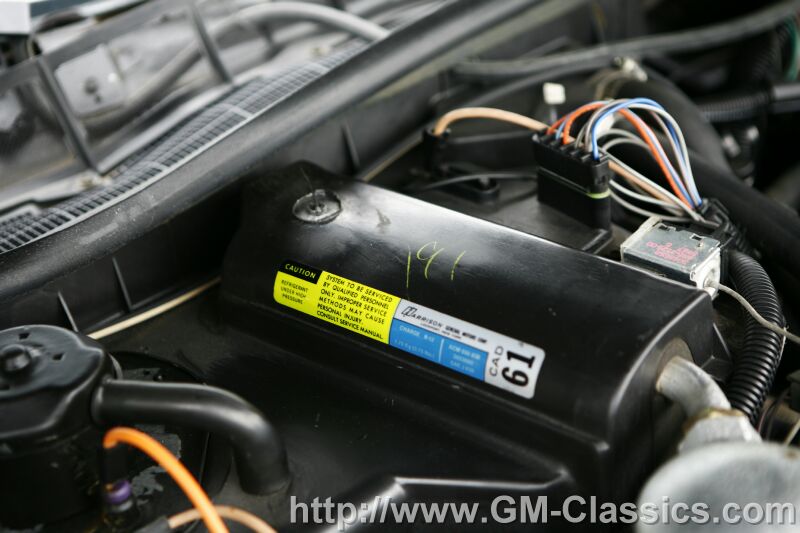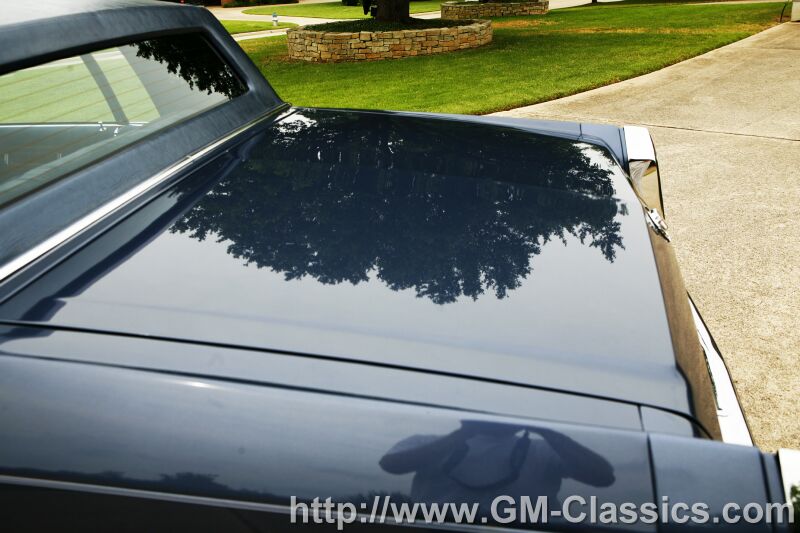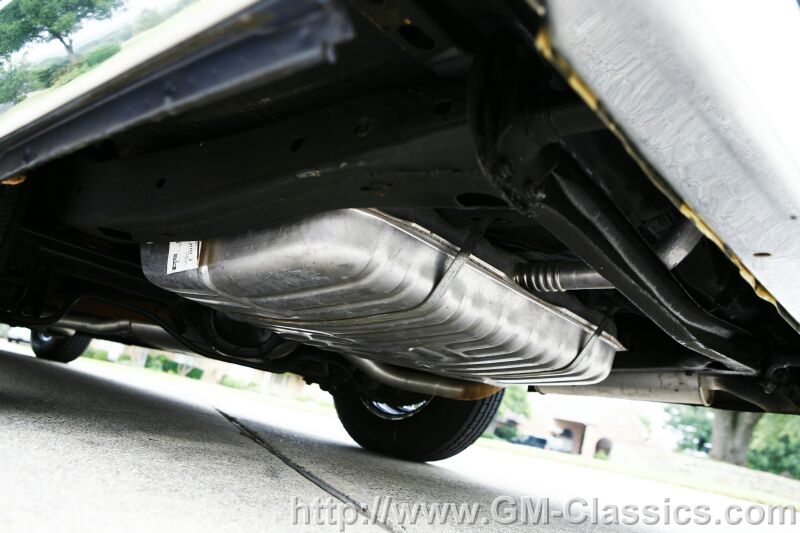 Well spoken here. Just as a reference, Gas tanks were never black on these cars. Dealers did that with undercoating or paint on many.
Frame should have a light medium flat non gloss black paint from factory, brake backings are bare, driveshaft bare and exhaust aluminized Muffler/Resonator should not have paint on it.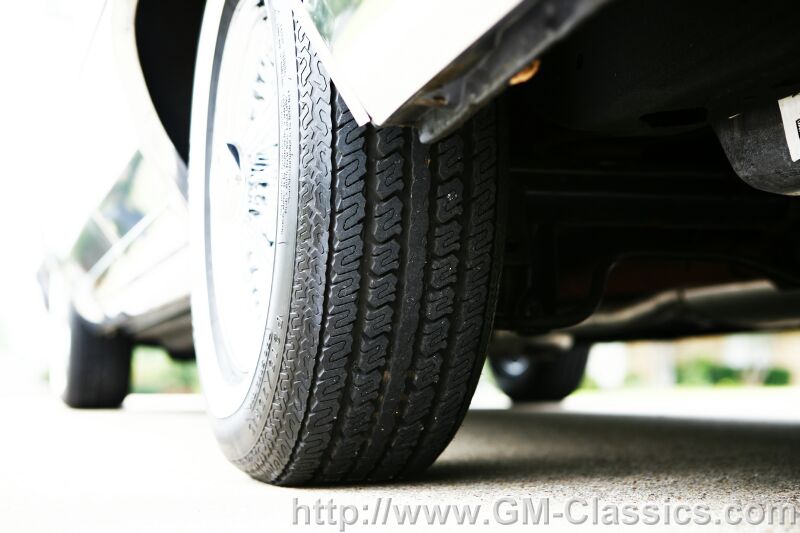 See the ink marks in the tread of the Polysteels.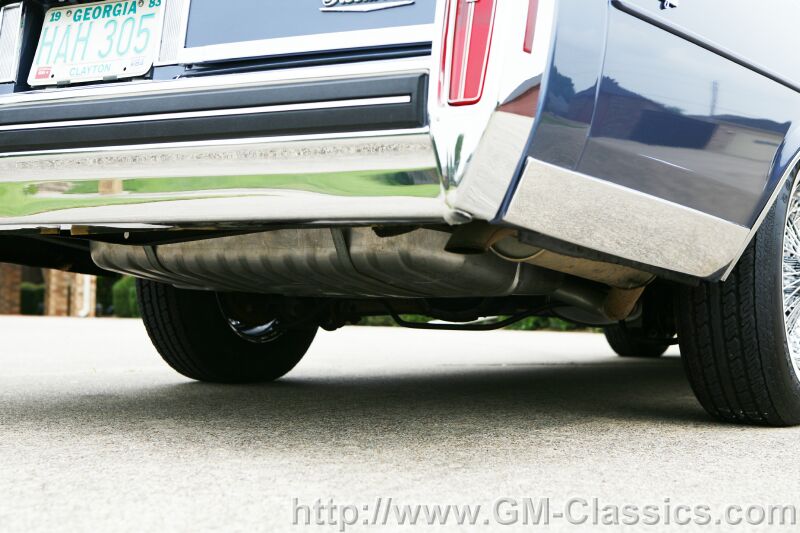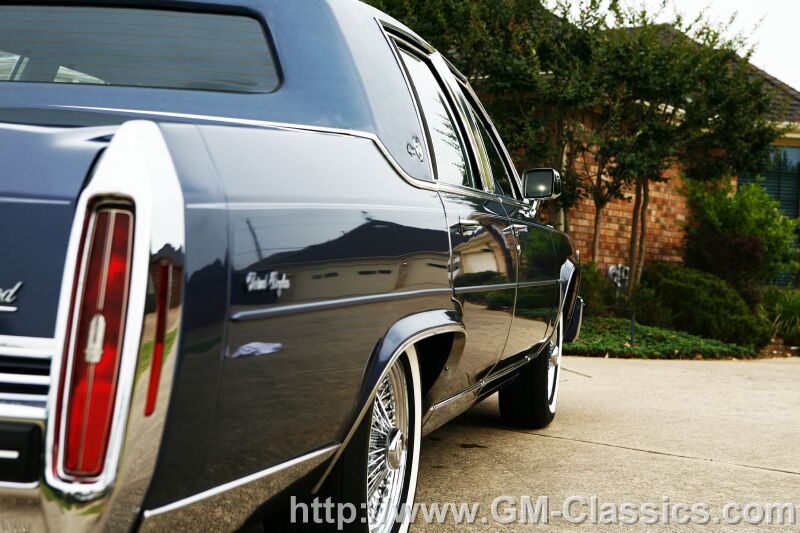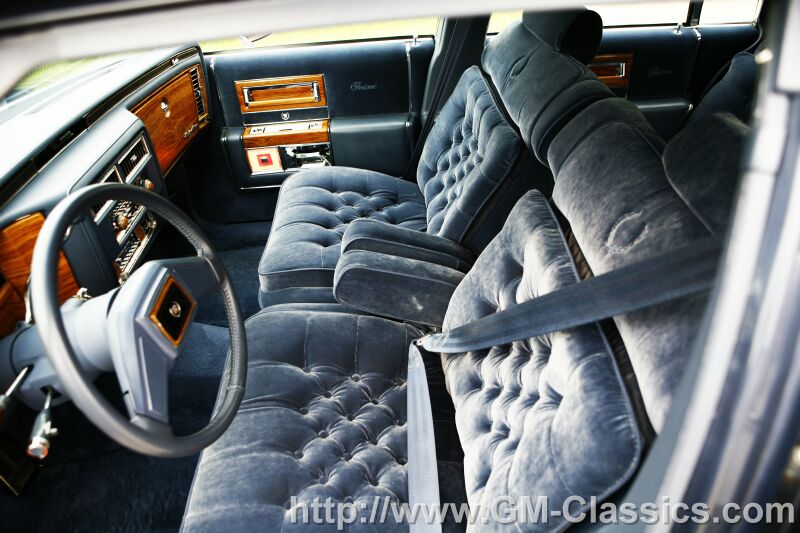 The DeElegance Cloth. In my opinion, 100 times better than Leather.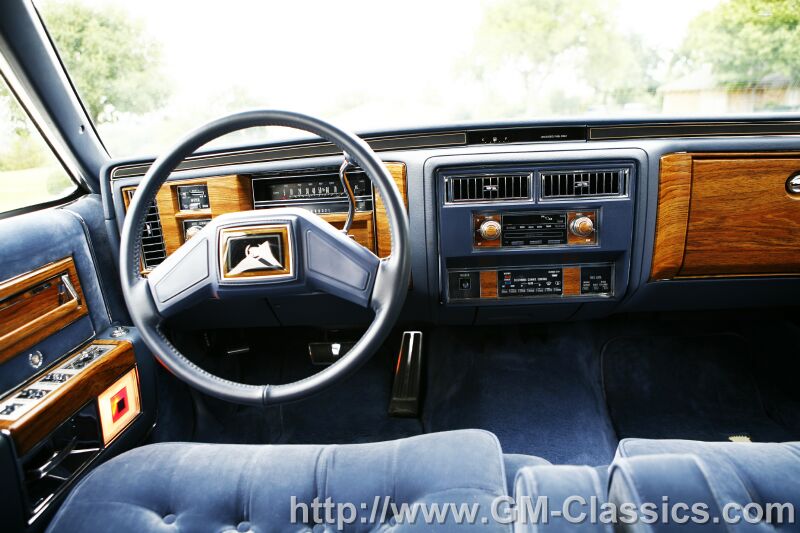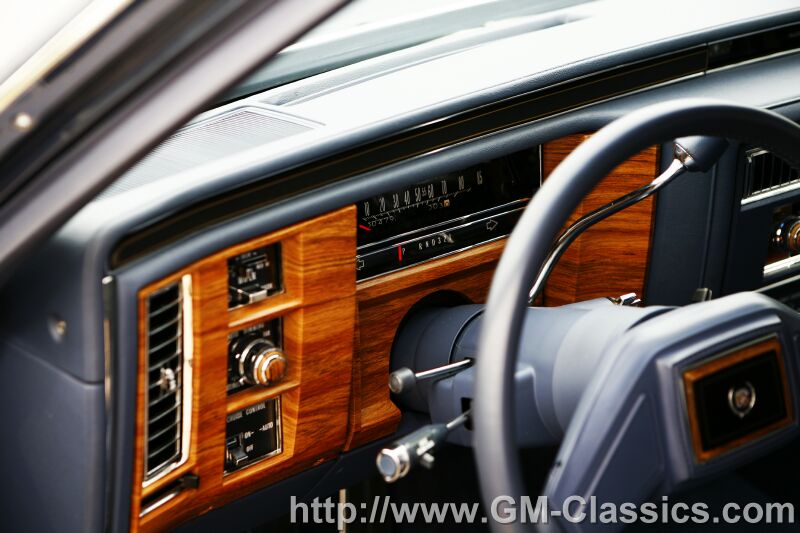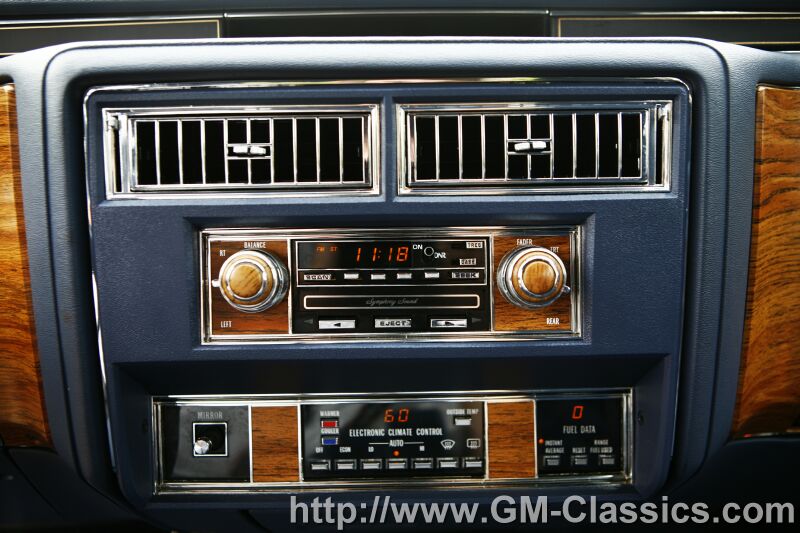 Plastic Dash Chrome, best of the best, Symphony Sound System.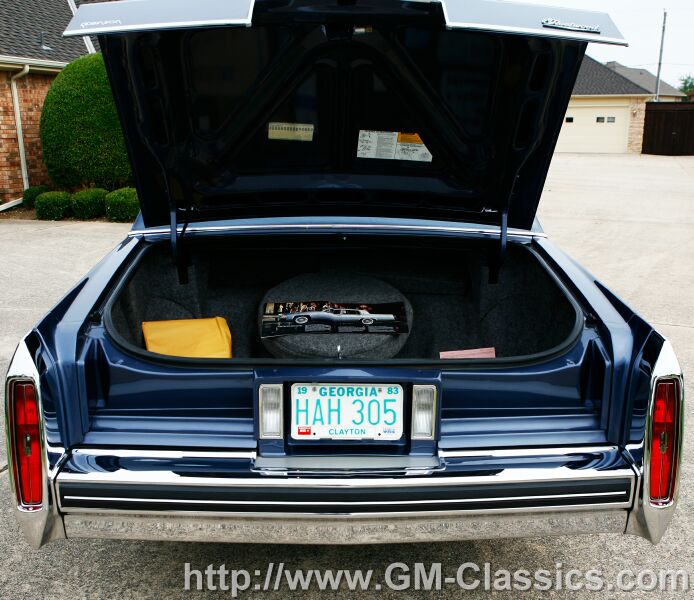 These GA plates came out of the sealed brown envelope in the trunk. 6/3/2010 is the first time they were put on.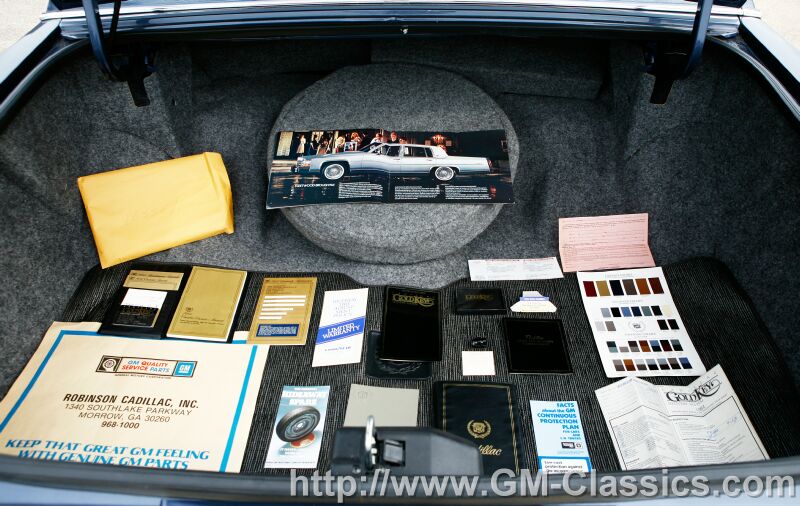 All the original dealer paraphernalia, manual, gold key things, etc.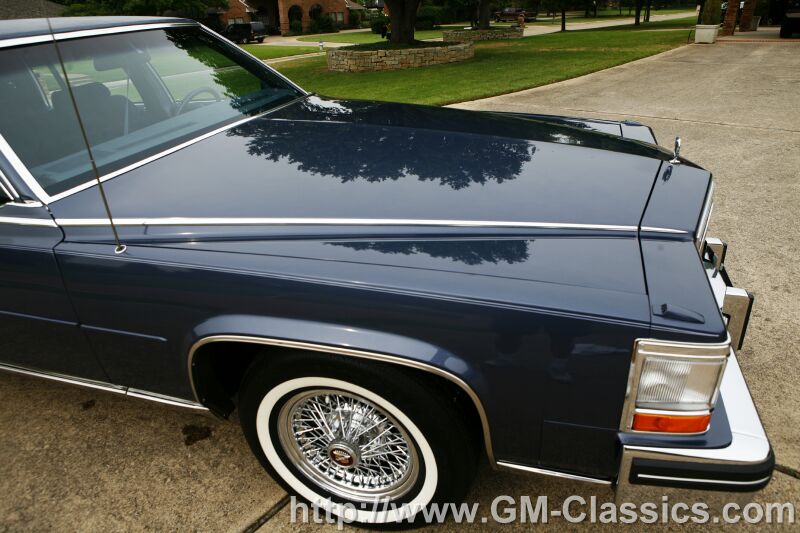 I think Hatteras Blue has worked its way to my favorite color. It really is nice and this car puts the color over the edge.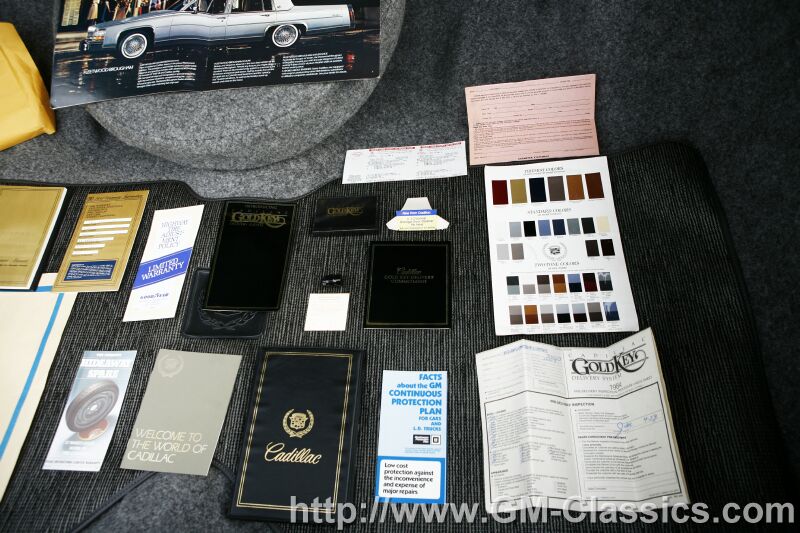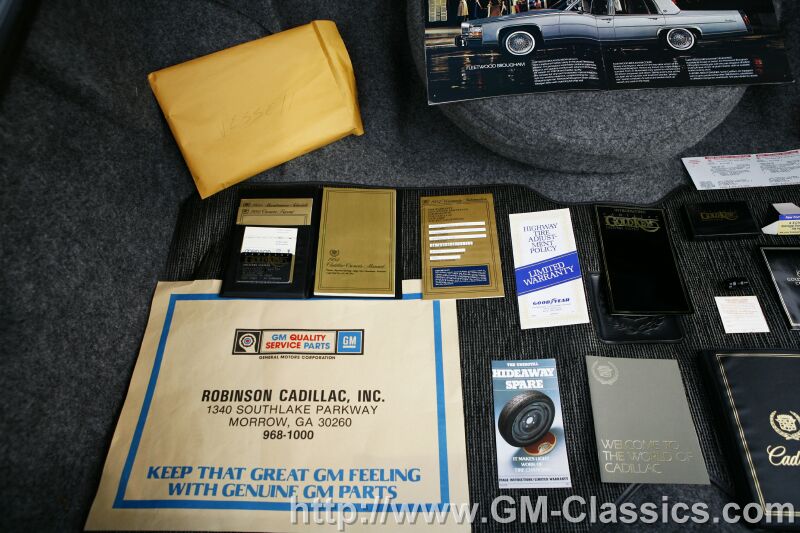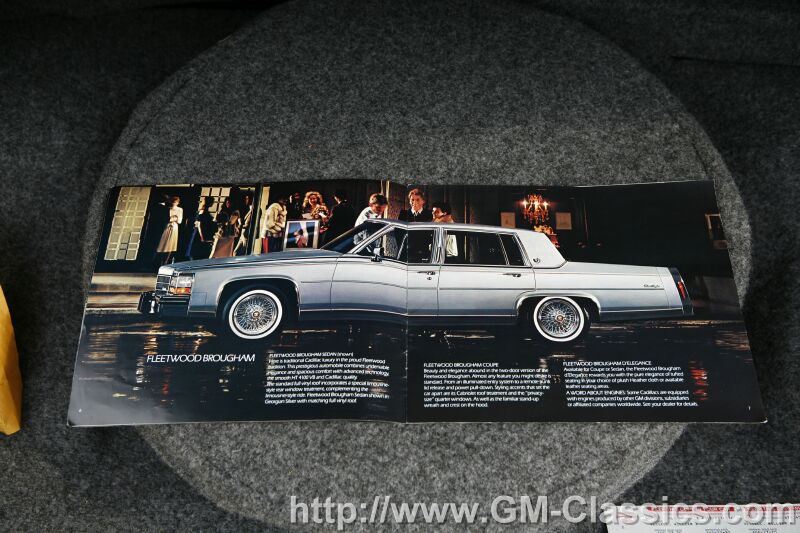 Centerfold of the 1984 Cadillac Brochure.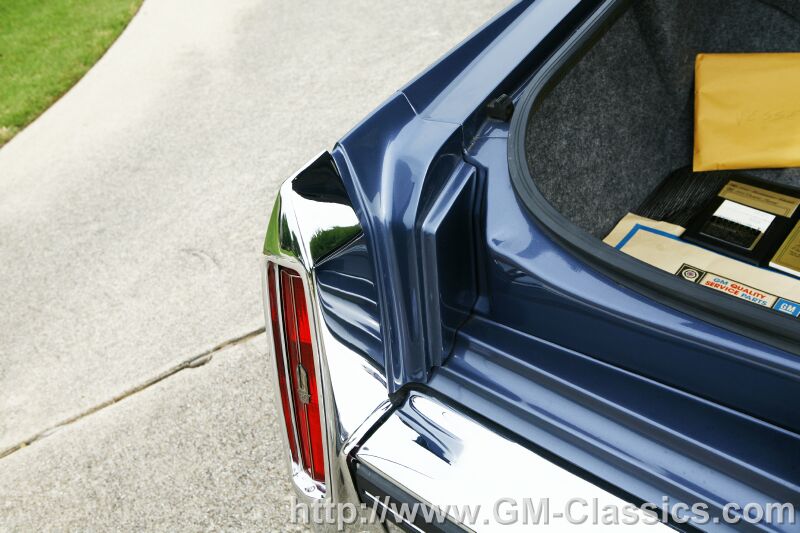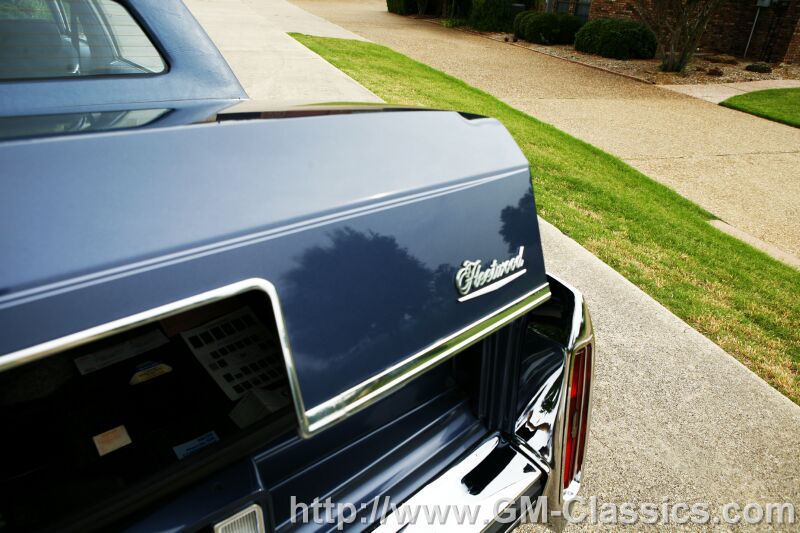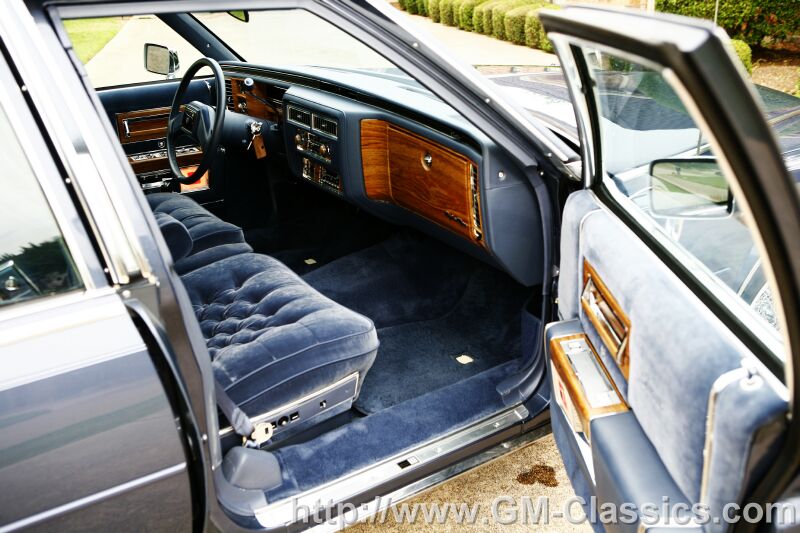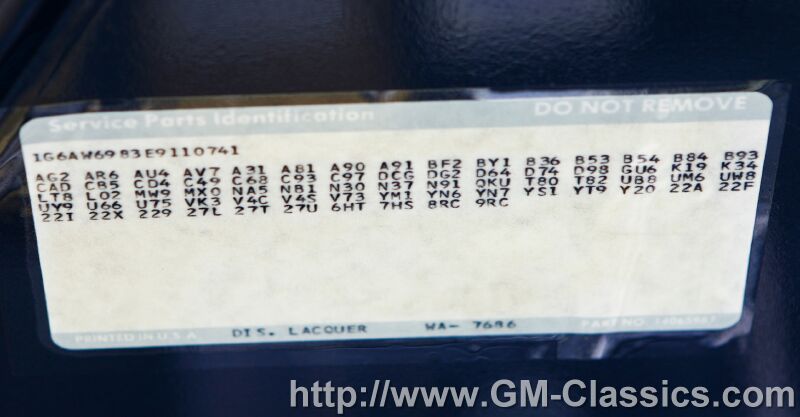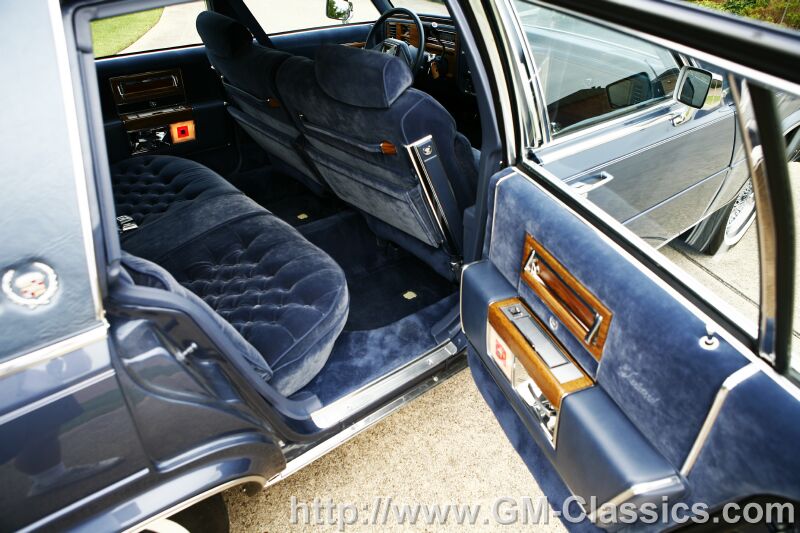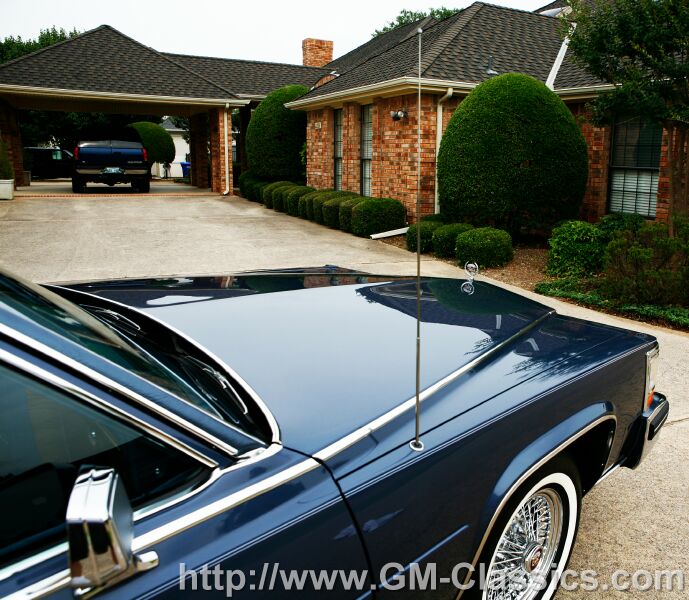 As with every aspect, 100% working perfection.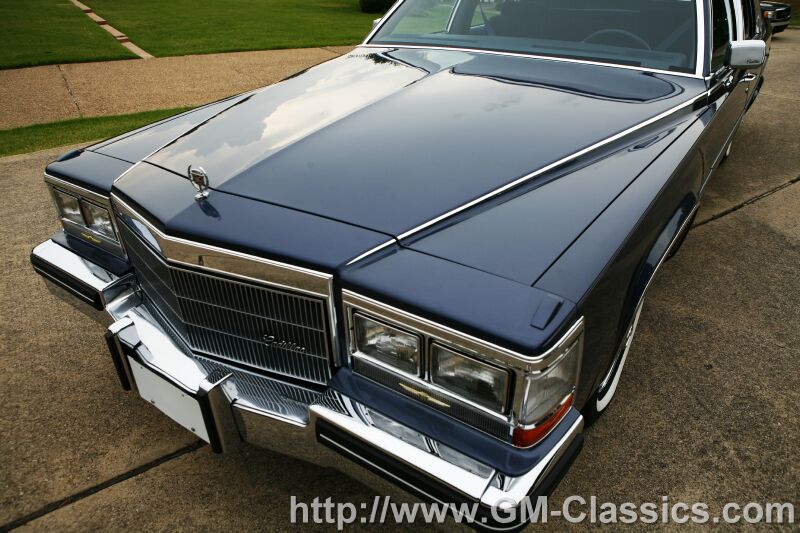 Spots you may see on the hood are cloud reflections in the highly detailed finsish.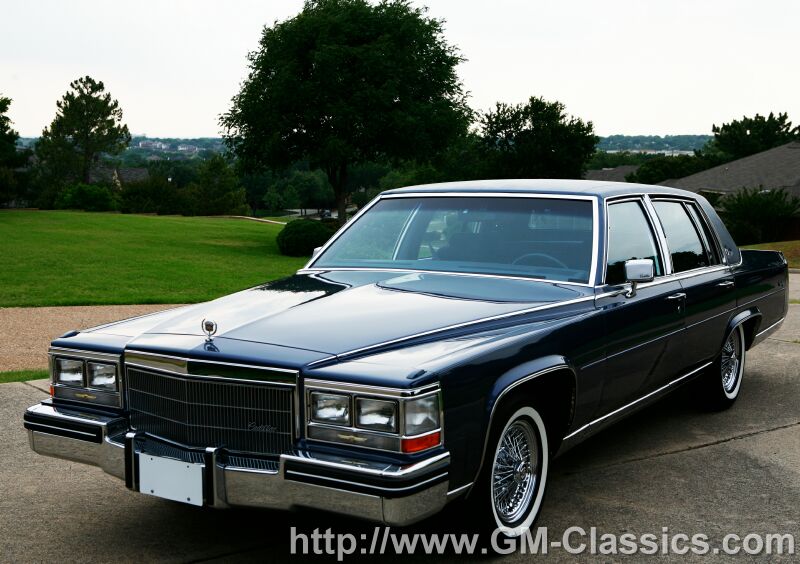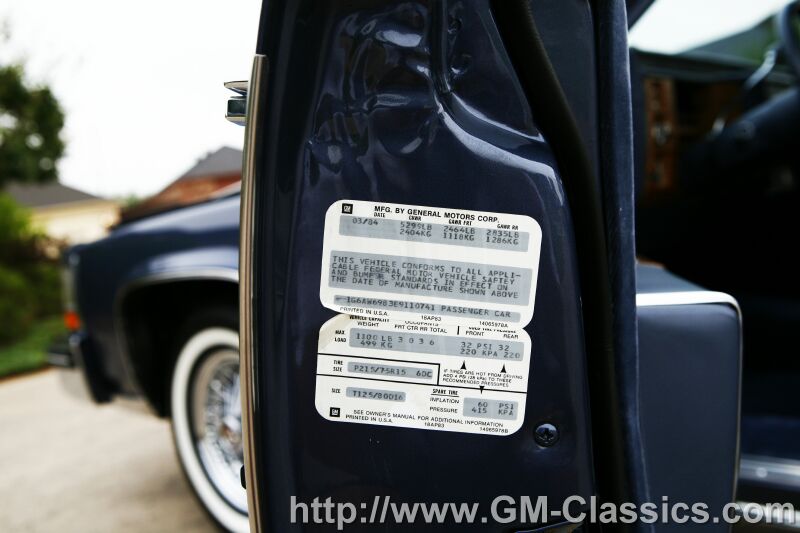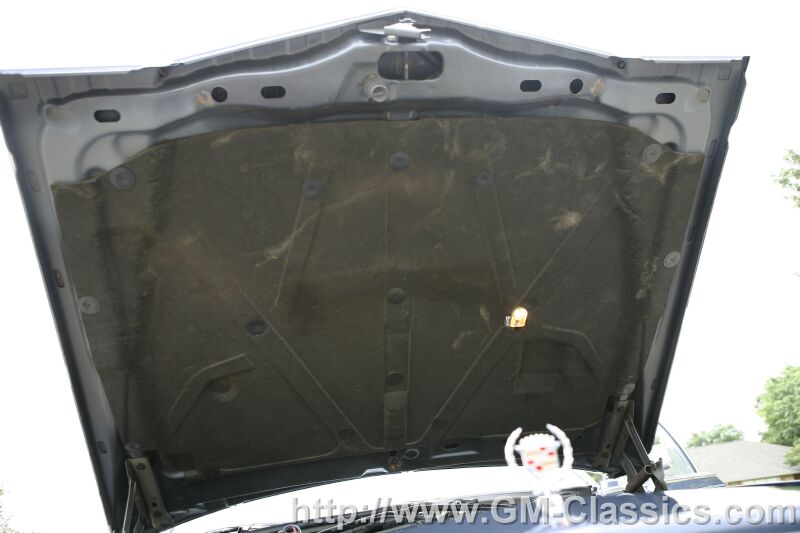 This speaks volumes.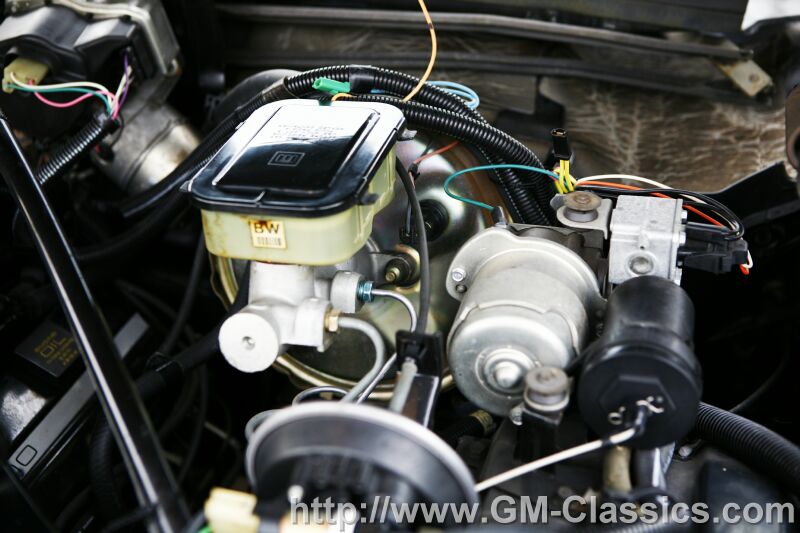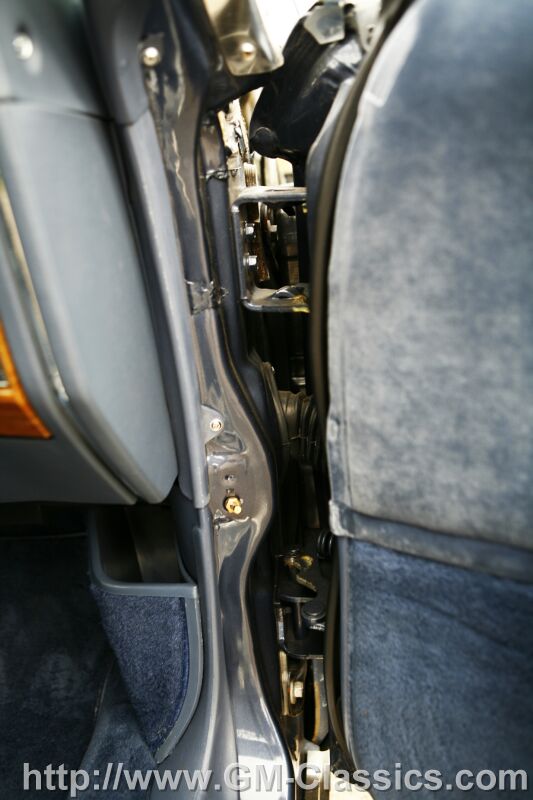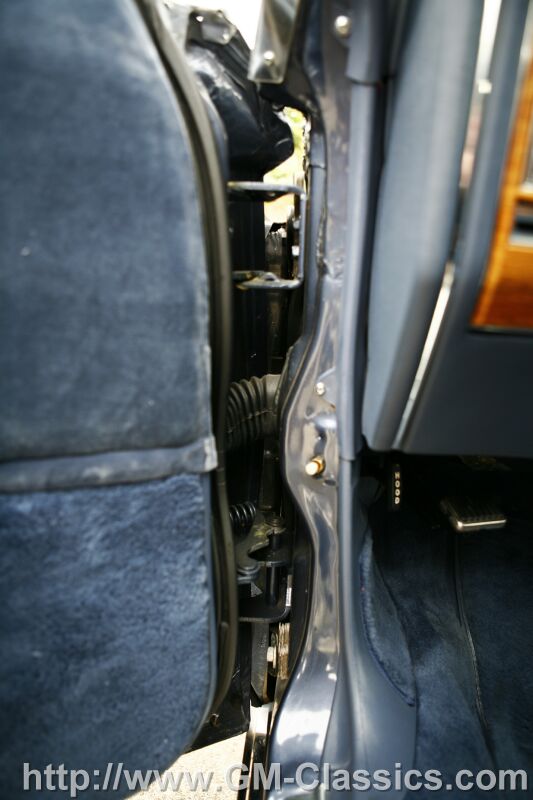 Unlike many of these stored since new cars, this car has had NO UNDERCOATING! What a bonus that is!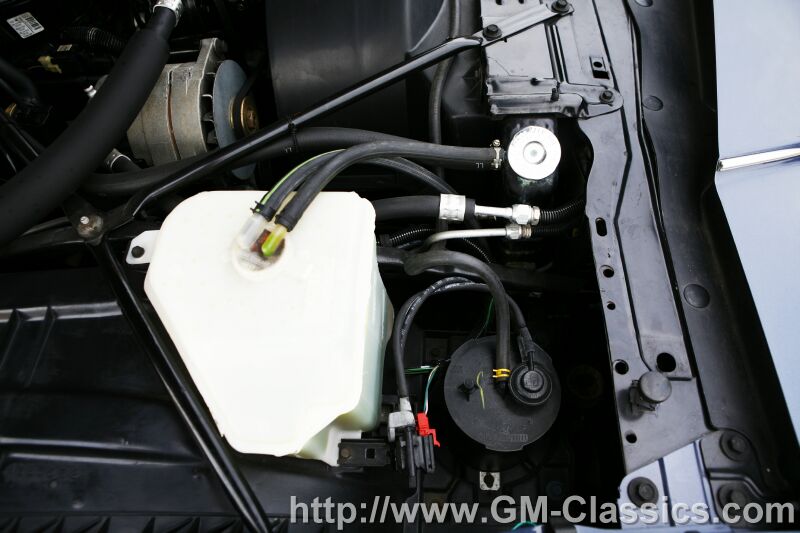 Every chalk mark, every tag, everything as new. This car is the perfect model for me to see what others should actually be like.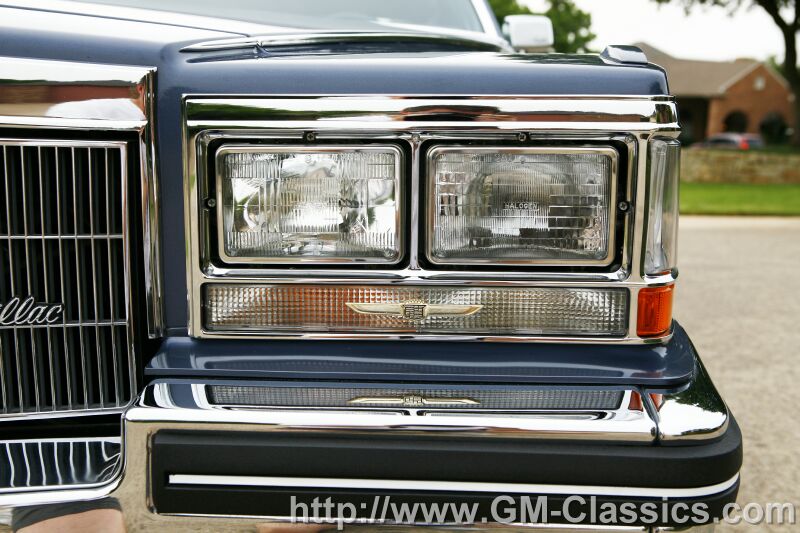 The unique 84 Headlamps. The 84s had the different pattern low beams, 85 have the same pattern.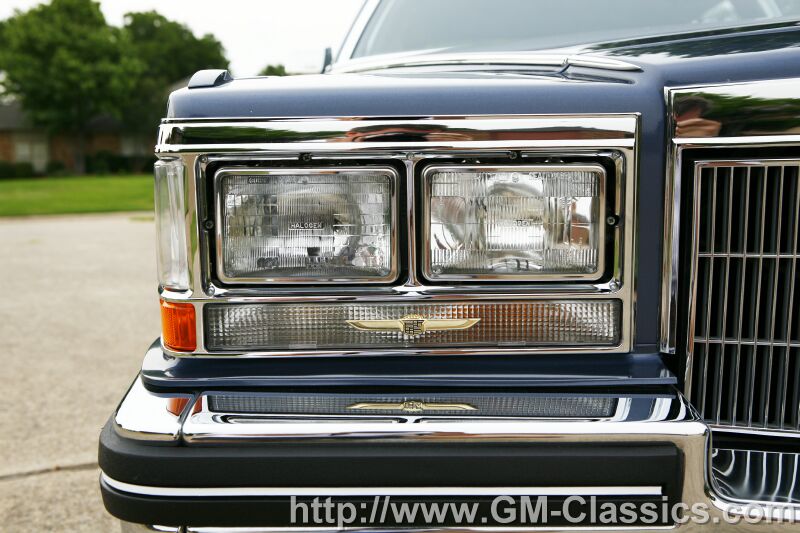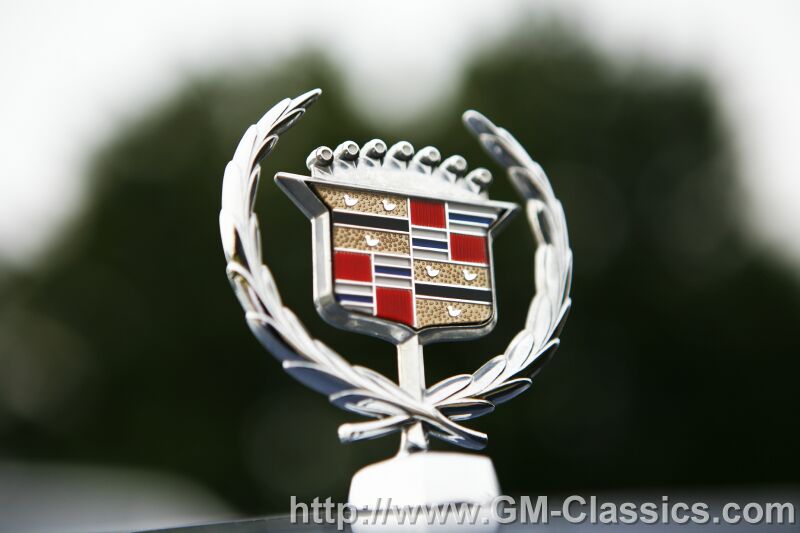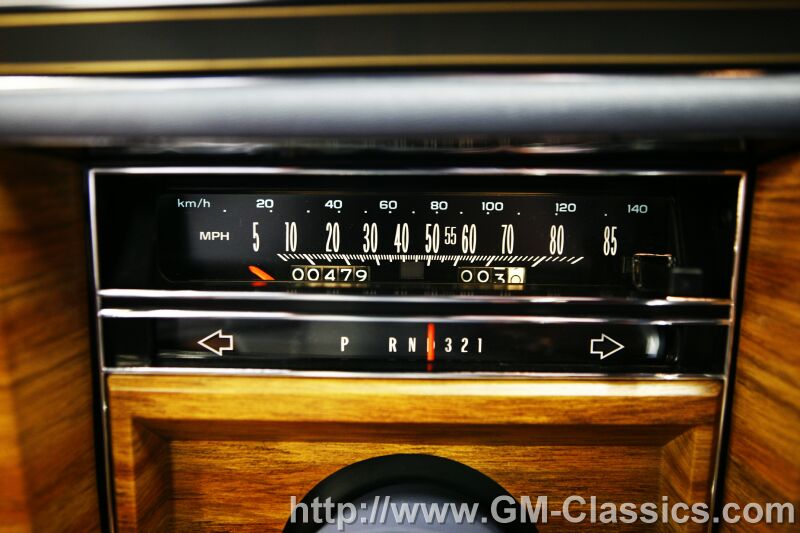 The #s mean nothing without the condition to back it up. Not all low mile cars are actually quite like this one.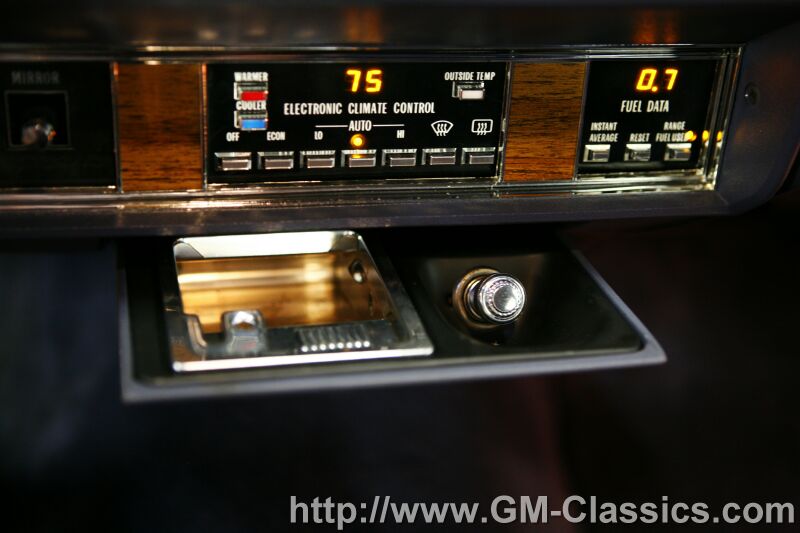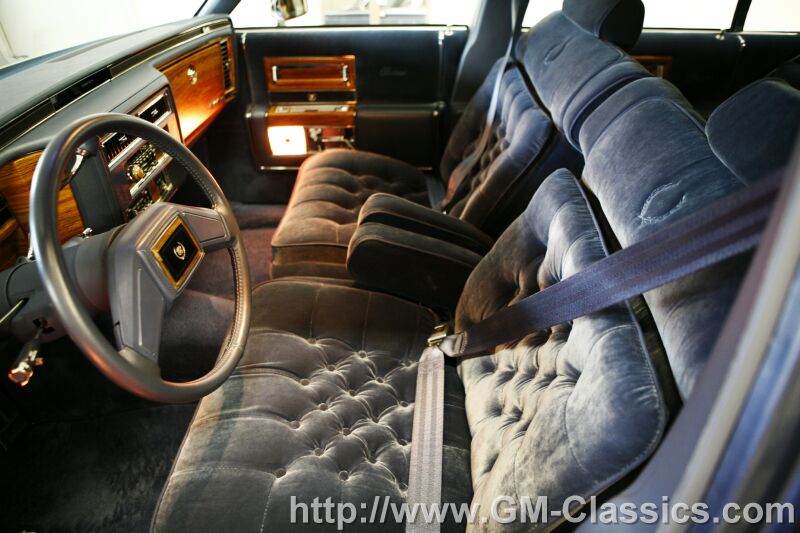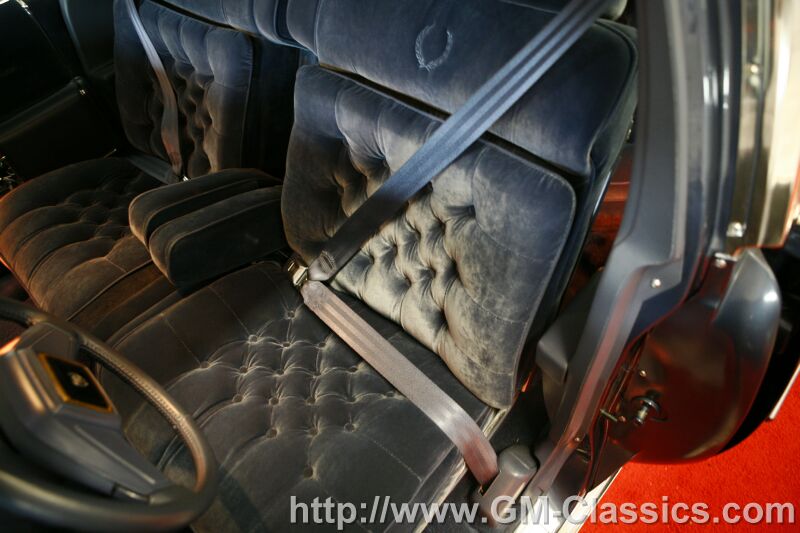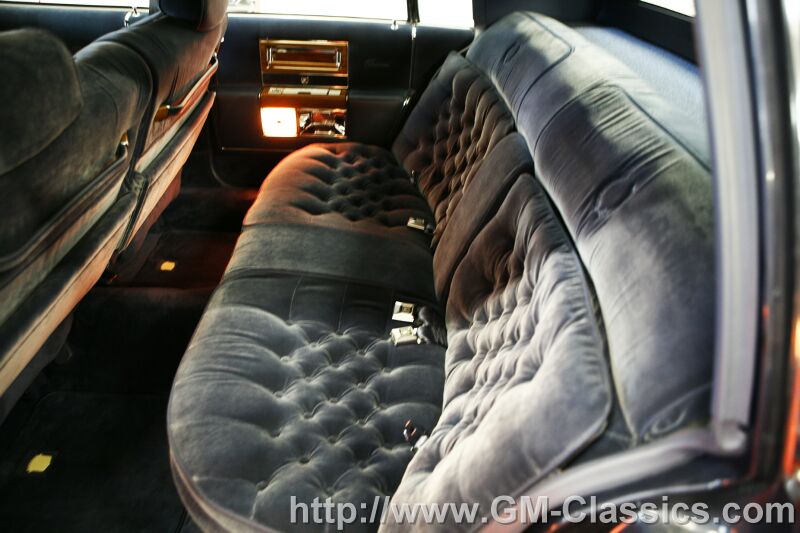 Auto Dimming and Twilight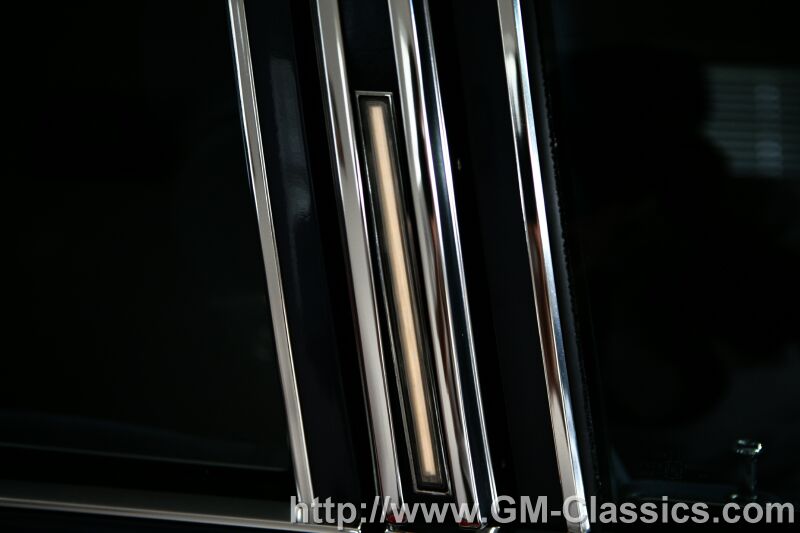 Perfect Electroluminescent 110V lamps.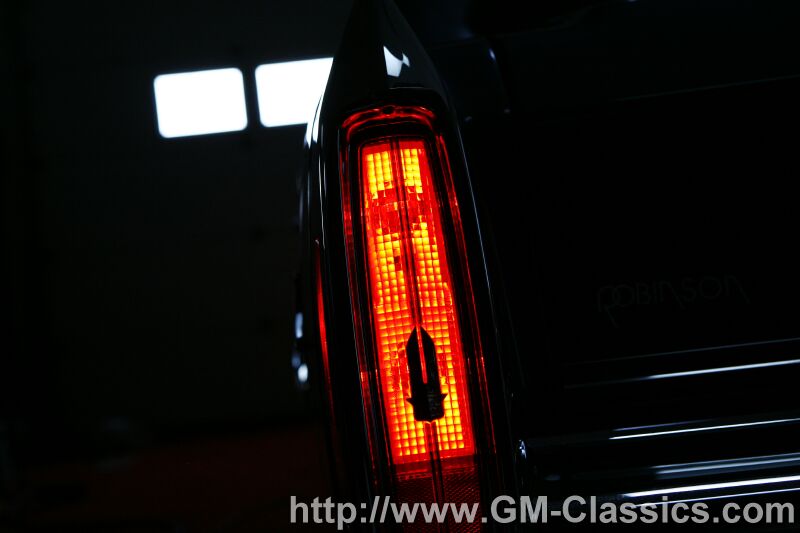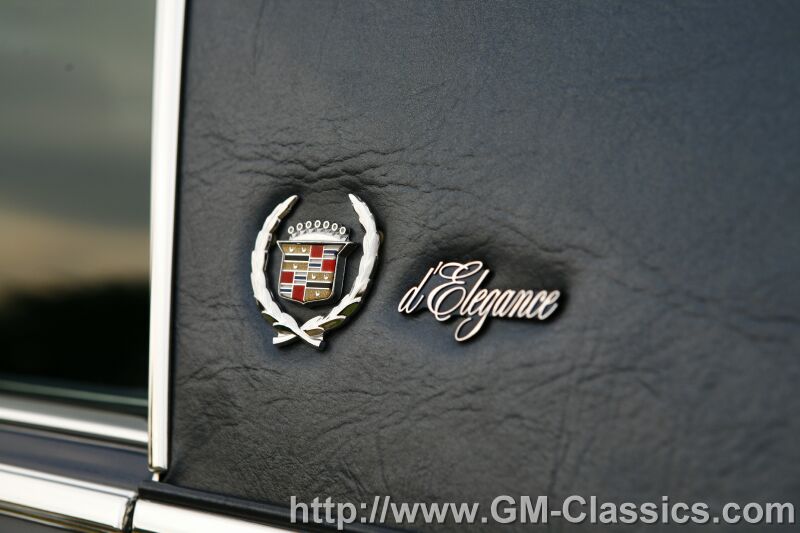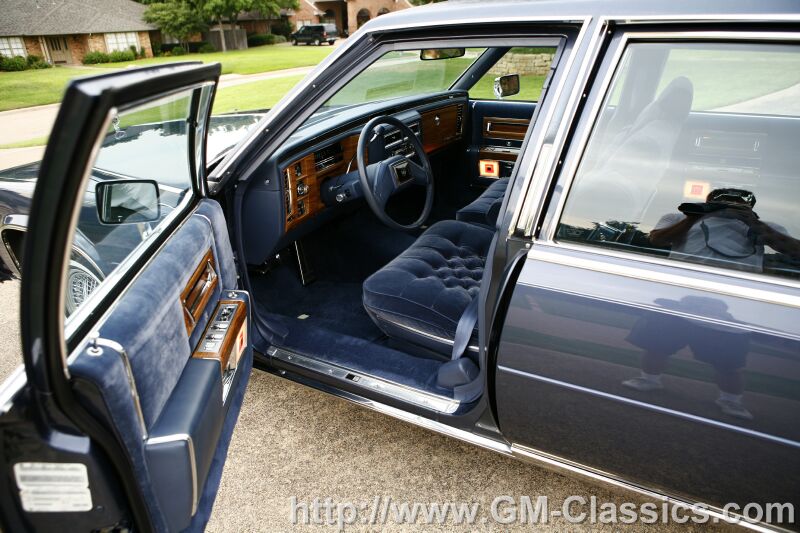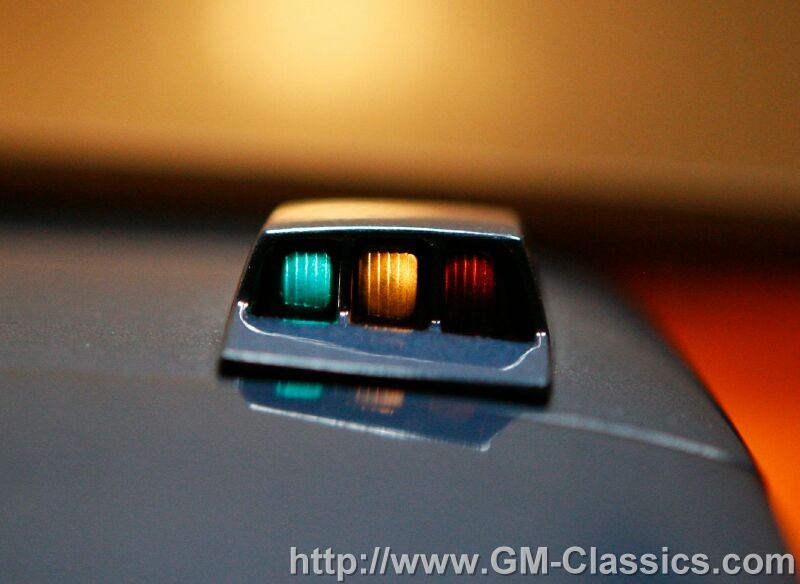 This is really neat.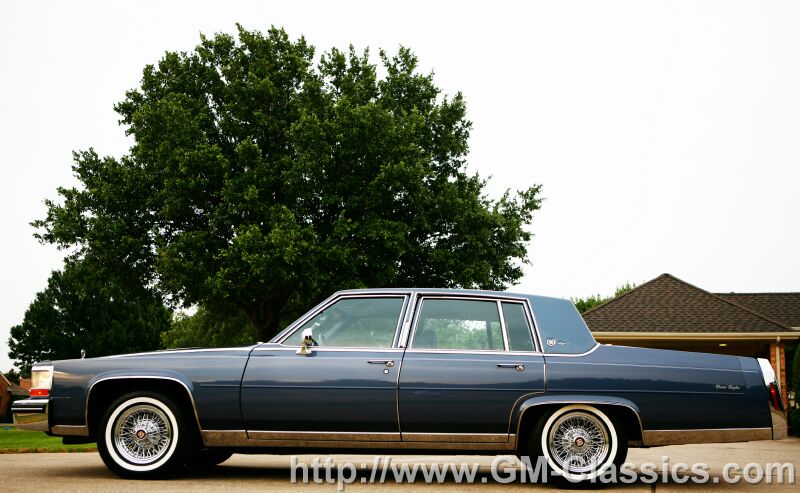 Click here for My Car Hobby Home Page
You can email me at Cadillacman@mcsmk8.com