If there ever was a car that automotive enthusiasts and non automotive enthusiasts alike will come together on, the factory Convertible Cadillac Eldorado Biarritz is it. Most will agree that this is one of the best looking cars ever created. It gets approving comments whenever it is driven from the young, old, male, and female about how great looking it is. That makes a strong statement about the future collectability of these Eldorados. In 1984 and 1985 Cadillac offered RPO production code YP8, a factory Eldorado Convertible, carrying an unheard of mid 30K price tag. Due to that fact, only 2100 were made in 1984 making it quite rare and one of the neo-classic staple investment cars.
The Convertible Eldorado was dropped in 1986 with the next Eldo body style change came for the worse. Because of that change, the 1979-1985 Eldorado Body style is one of the most classic looks sought after by collectors. I would consider any nice original low mile example of an 79-85 Eldorado a solid investment these days. The 1984-85 Convertible represents the pinnacle of that. Even though the RPO YP8 is a factory Cadillac sold at the dealer brand new, Cadillac actually contracted ASC/Mclaren to convert the cars, and then send them out to fill the orders to dealers from there. ASC is also the same company that built the Buick GNX and many other previous special American cars. ASC also invented the factory sunroof for most American cars. All 2100 cars were ordered pretty much totally loaded from the factory to ASC and boasted hardware special to the car before it was actually made a convertible. One of the things offered was an even heavier version of the "touring suspension" to compensate for the extra weight the convertible would carry and a 3:15 axle ratio to make it a bit quicker. A trans cooler and oil cooler was part of the HD cooling system that the RPO YP8 had too. Despite big misnomers with non car people, these year Cadillac Eldorados are actually a very light car in retrospect weighing just about 3600LBS. They are also not a big car, even compared to cars today. The only 2 options that the Convertibles did not get was the Bose sound system due to the fact there was no room in the rear for the larger speakers that came with it, and memory seats as the memory buttons used to lower the rear windows. Remember, no coupe has rear windows that lower, the convertible does.
The frames of these factory convertibles have been extremely reinforced with sub frame additions and bracing to almost a point of overkill. They really did a good job on these factory convertibles making the car structurally quite impressive, even more so than any other GM convertibles prior. The factory convertible Eldorado is actually more structurally sound than the regular coupe. Hard to believe but true. Many people that do not know these cars well will mistake some of the sub framing as parts hanging low on the car, but that is the way they are supposed to be. With the added framing and weight in the back, the car has a near 50/50 weight ratio which is a big improvement over the inherently nose heavy coupe. They drive great! The tops are quality with integrated heated glass rear windows, power controls and an incredibly nice headliner not found in any car I can think of better. The entire car is done to near perfection for what it is, in a time where cars were not really as good as they could have been.
As a whole, I feel that the Convertible Eldorado is about as solid investment in a collectible car as you can find. It's as least as good as money in the bank, but probably better than money on the bank over the long term. If you want a great weekend toy that is an investment, a factory convertible Cadillac Eldorado is about as good as they come. Unlike a 60's, early 70's car, you can buy an 84-85 convertible that is original and needs no restoration. As with any good example, they will cost a little money that way, but I highly recommend spending the money on a car like that rather than trying to restore one of these that looks like a good buy. You can get one of these cars for 9-12K that need help. You are going to get exactly what you pay for and you will not be happy. It's cheaper in the long run to buy a good one of these and keep it that way vs trying to fix one up I can assure you! Original goes a long way as so many people have learned with "restored" cars. There is no substitute for a factory original car no matter what people tell you.
This example here is one of the best you will see, if not THE best you will see with the 39K miles it has. A flawless striking example in probably the single best color combination that has collector history since new. Rare Hatteras Blue/White. Compare high and low, this cannot be duplicated even by one that has 10K miles on it. I know that as I own those too. This is a garaged, perfect paint, perfect interior, perfect mechanical car that you can take to the Cadillac Grand Nationals tomorrow and get top marks. You certainly will be the envy of local car shows. Car will pass for a 5000 mile car in every aspect. All i's dotted and t's crossed. Best of the best in a show level car that can be driven. Car will be for sale soon and is substantially less than the others I collect with sub 10K miles. It is as good, and actually better in many ways than those. This car completed my Red/White/Blue theme for the Eldorado Convertibles I have but recently I acquired a car many Eldorado enthusiasts know about that is not displayed on my site. The last Commemorative Edition Biarritz Convertible with 300 miles on it in Commodore Blue/White. It is a good one, but really shows no better than this car. I am selling this one as it is now redundant car for me. Although I tend to cater to that mega low mile crowd, that is not always the total indicator to a good car. This car will have you guessing differently. #1 condition perfect car here that can still be driven unlike others I have.
The basic questions you may ask are going to get you the redundant answer, yes or no here. Everything works, that means the AC and power antenna, and works good. All aspects of the car are aesthetically and mechanically excellent. Top is perfect. Look below. Headliner is perfect. carpet is perfect.. Car is really as it looks. Exhaust is factory, shinny and excellent. 2 additions have been done to the car, and they are two great additions that I think are perfect for any Eldorado The original radio was taken out and an 88 Cadillac factory CD player was put in it place. What a nice touch, as it looks 100% correct, goes in 100% correct, screw per screw, plug per plug, but sounds much better than original plus has a CD! This is probably the smartest thing you could do to your own example as the radios in these cars were not enjoyable at all. This is very much so. The other is the rear view mirror has an add on home link system in it. Aftermarket but excellent. Remember, none of the Eldorado convertibles have provisions for the garage door opener. This is the answer. This will open your garage, or 3 of them!
Now the catch to this car is as follows... Car was repainted. Repainted at the tone of $15,000.00 at show car level work, bare metal to base coat clear coat. Why? The original paint was not up to the original owners standards. If you do not know already, when these cars are made, they are back 1/2 painted at ASC when made into a convertible. That means from the rear doors back, but not the deck lid or the fillers. On metallic cars, this can cause a paint matching issue that shows a bit 30 years later more than it did when new. Even my others are noticeable if you really know what to look for and they were new too. The first owner of this car was bit with the hyper meticulous bug to the utmost extreme and really went overboard on paint and detail level of this car. He really got silly with this one, but the results are unarguable and what I would like to see every example look like. Because of that, this is the best paint on any 85 Eldorado convertible I have had and why this car looks like it does. So for all you original guys, here is the exception to the rule.
Remember You Can Click Each Photo for an Extreme Blow Up!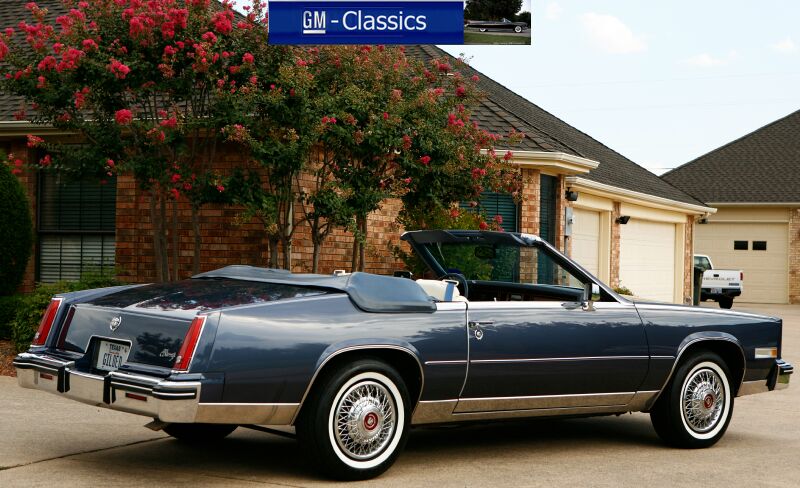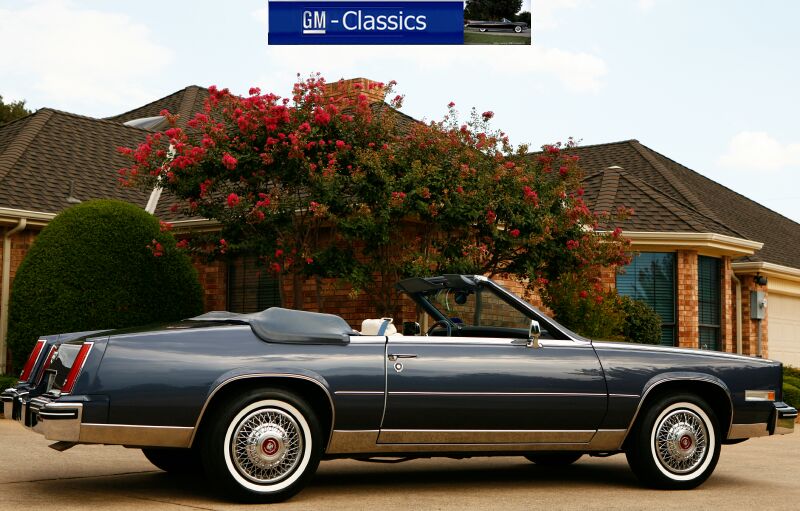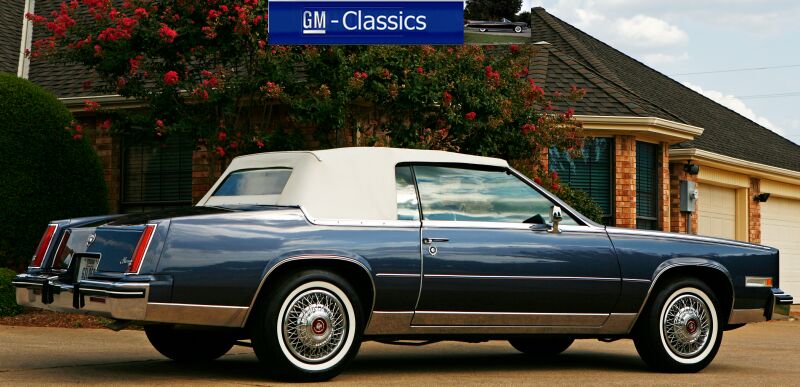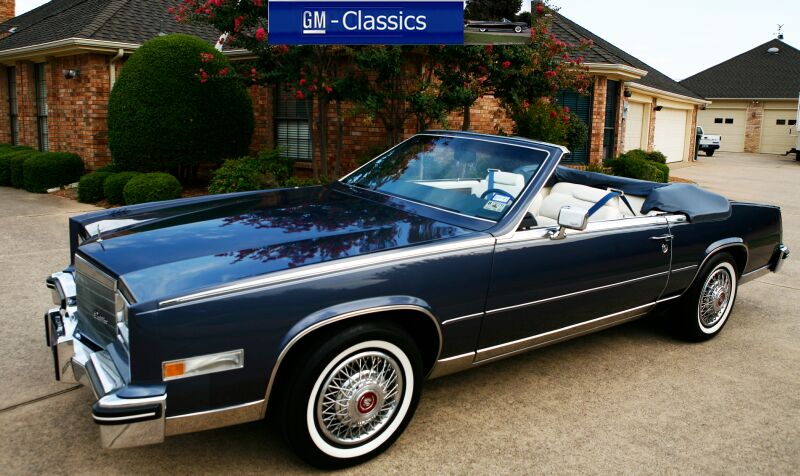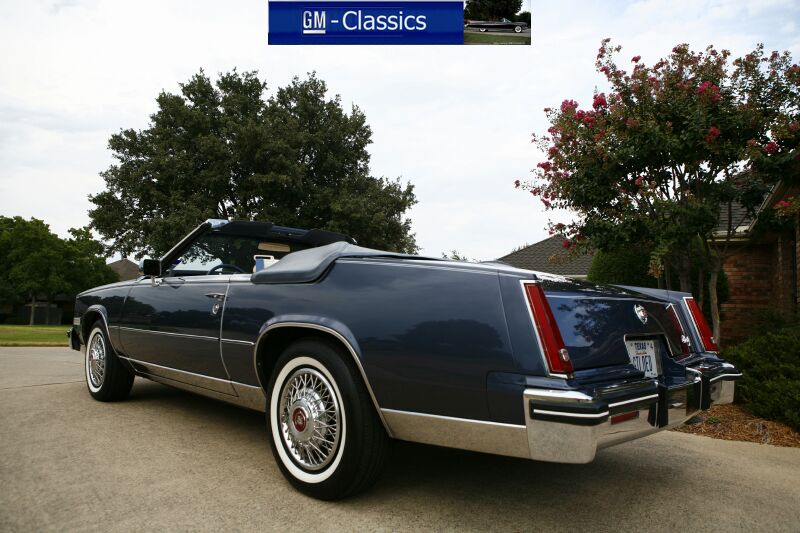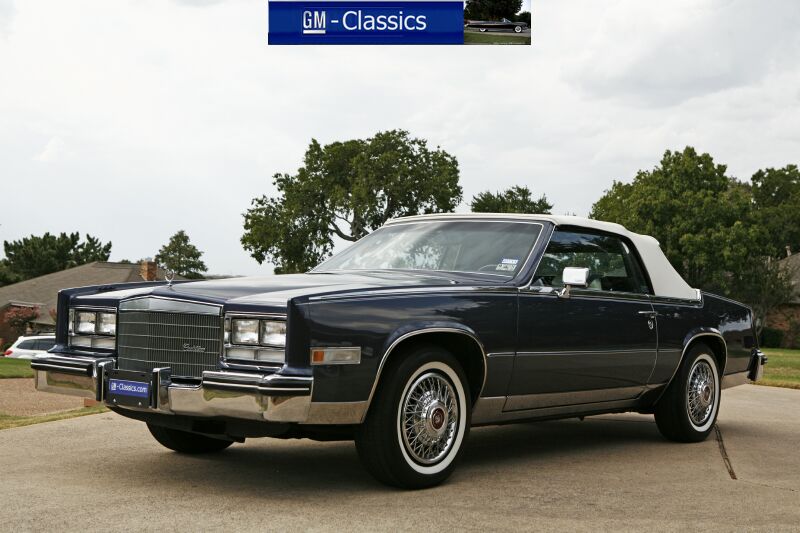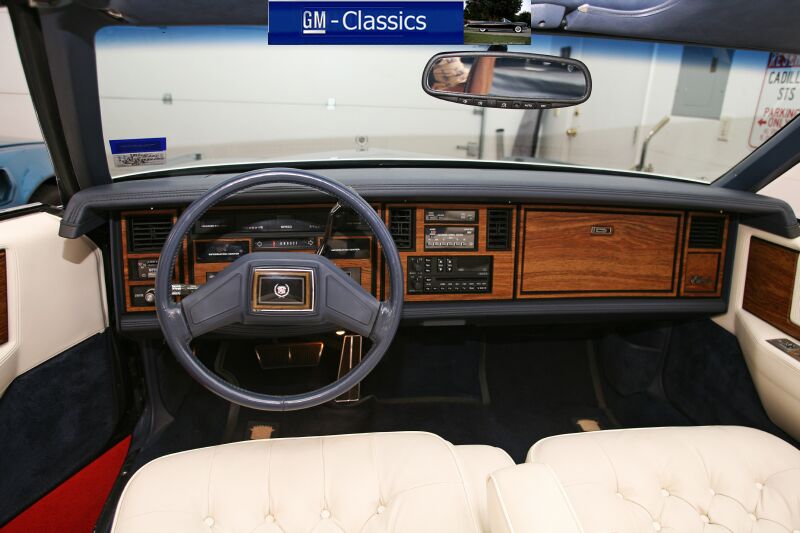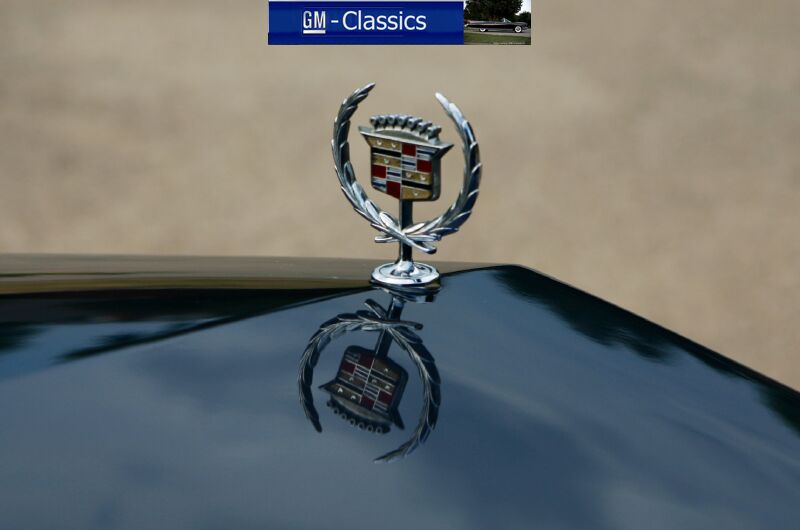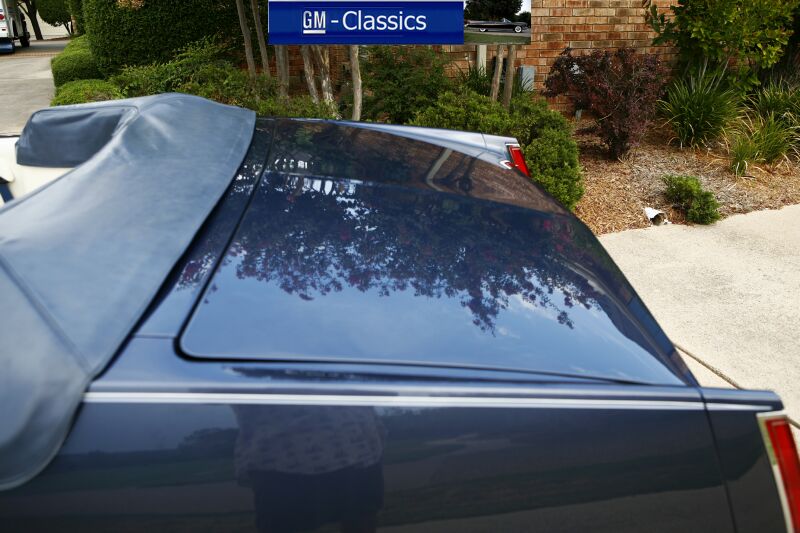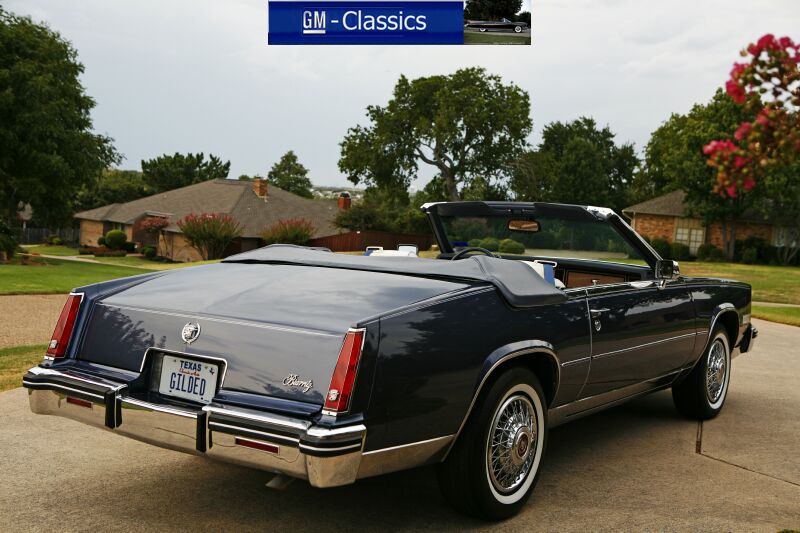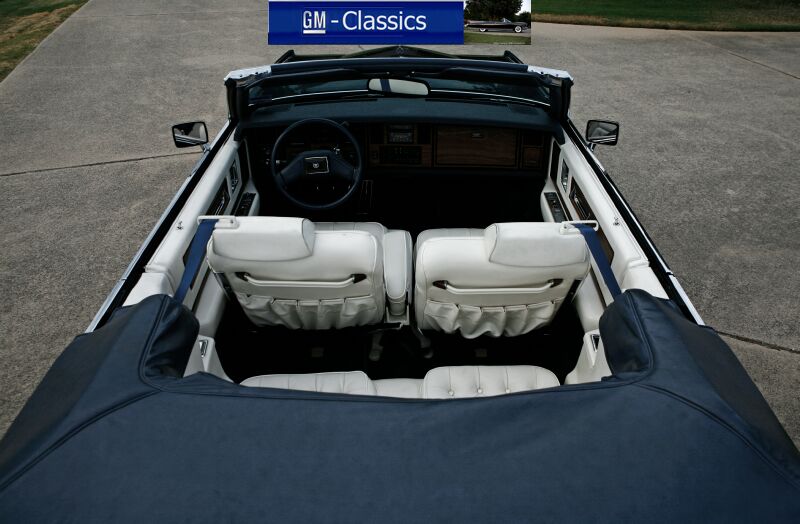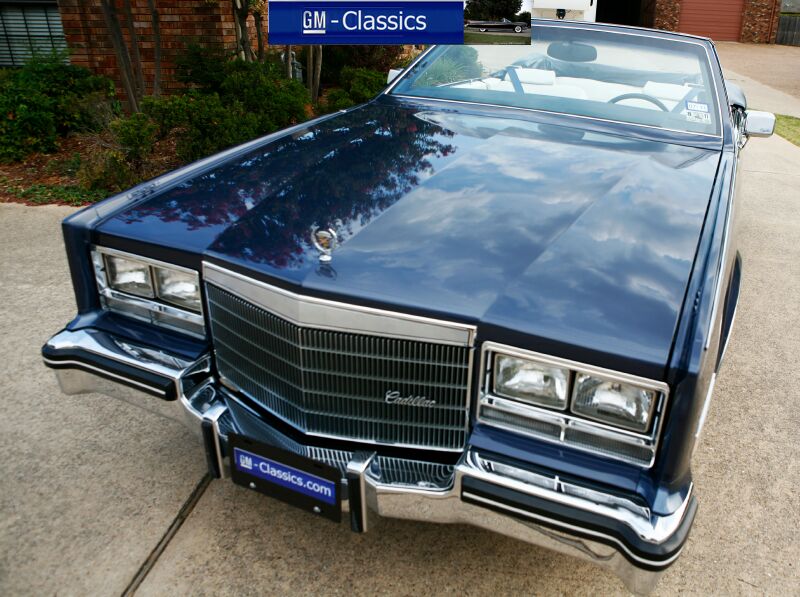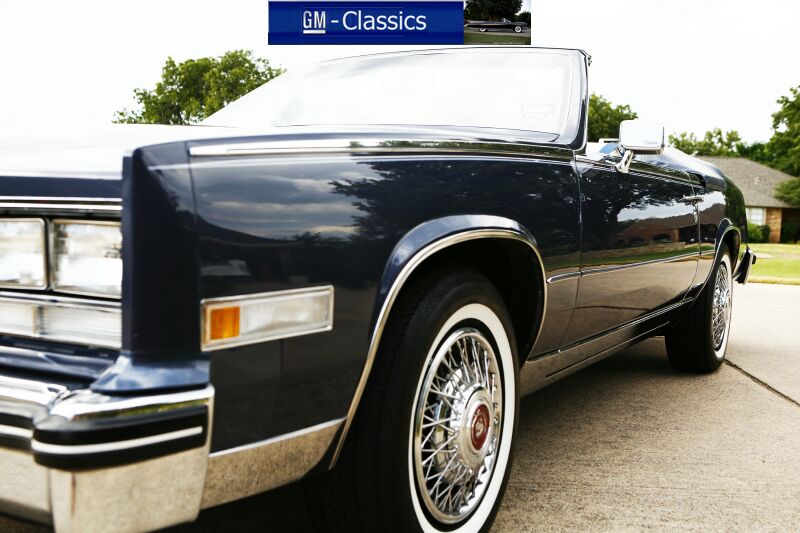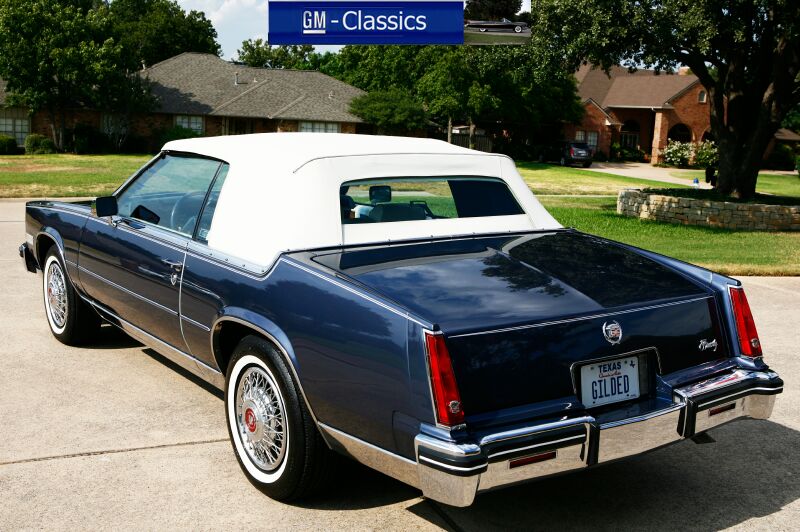 The Gilded One.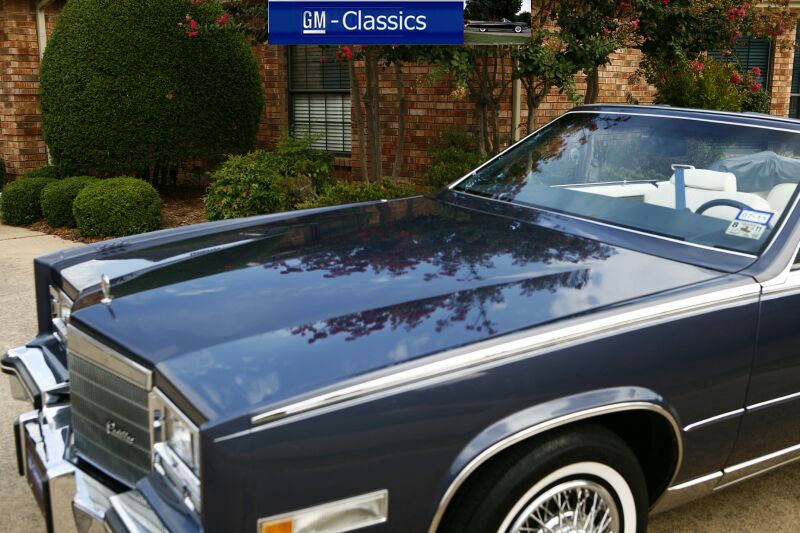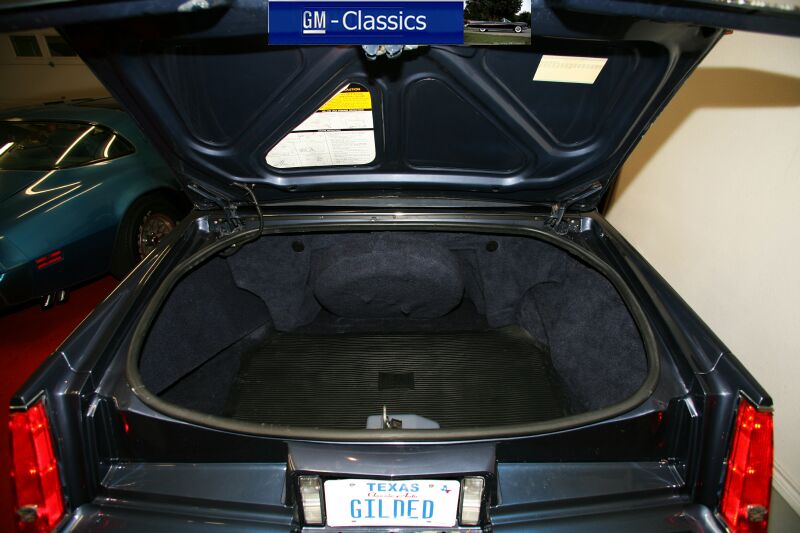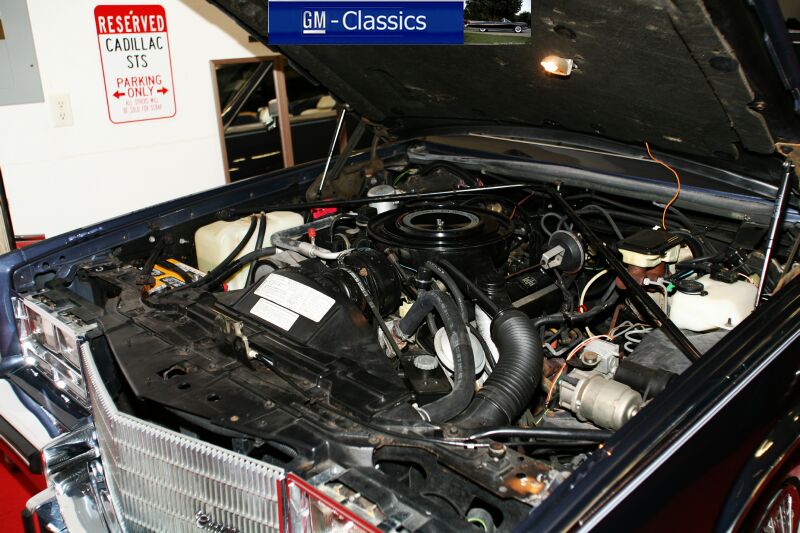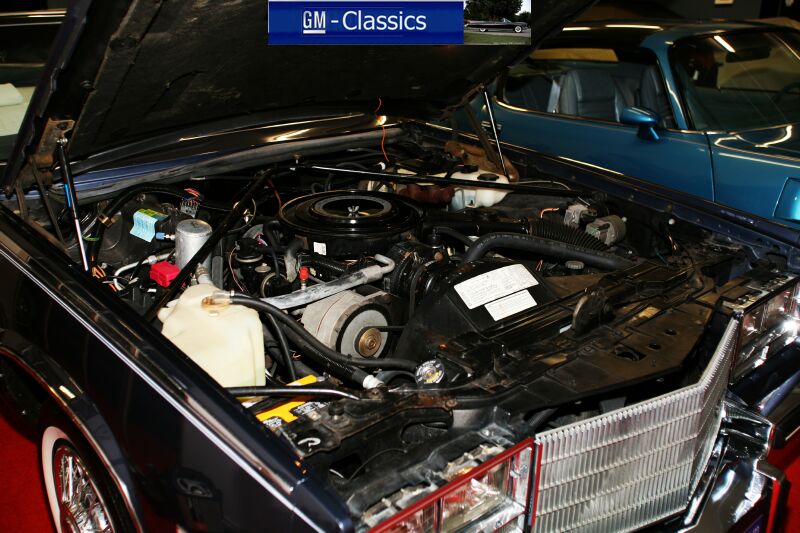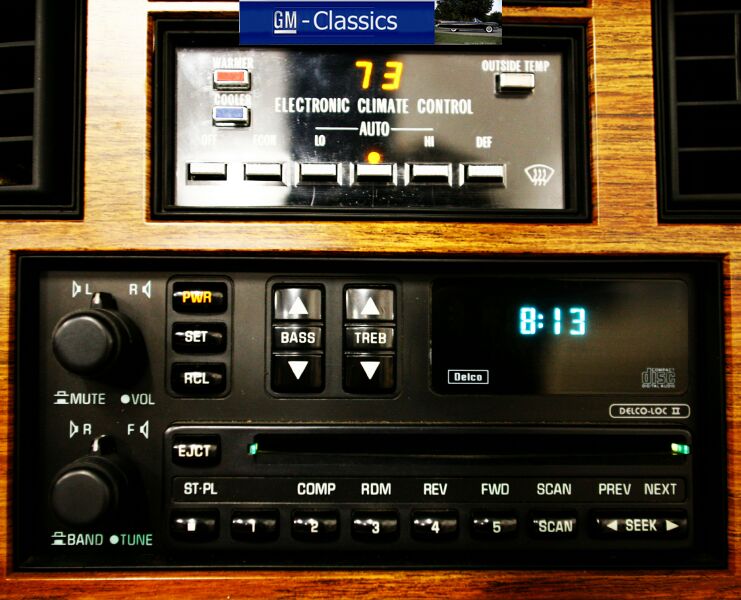 The GM CD Radio... what a nice addition.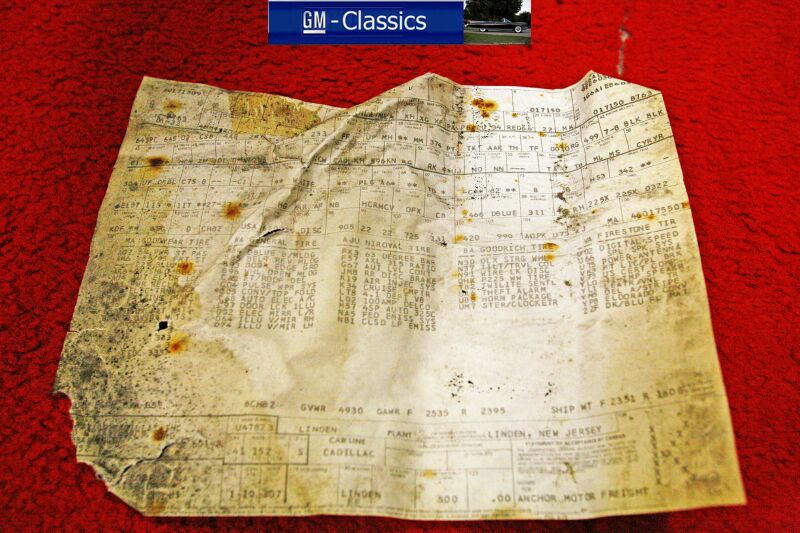 Build Sheet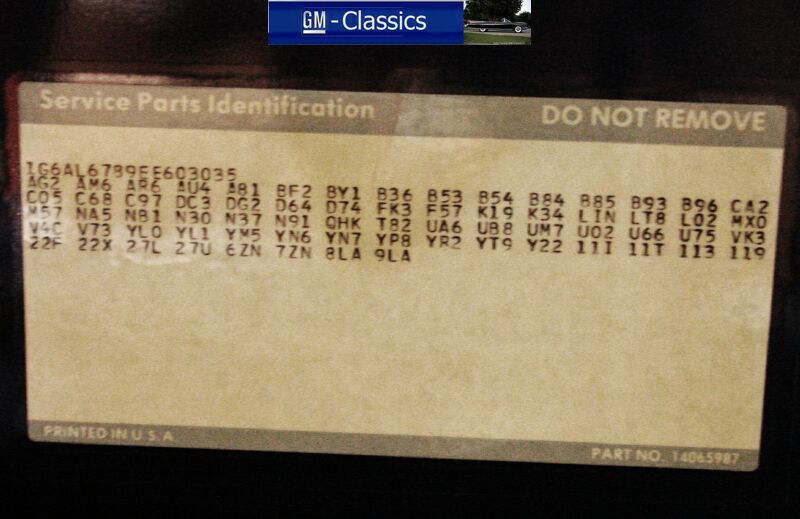 RPO YP8 Represents a Factory Convertible.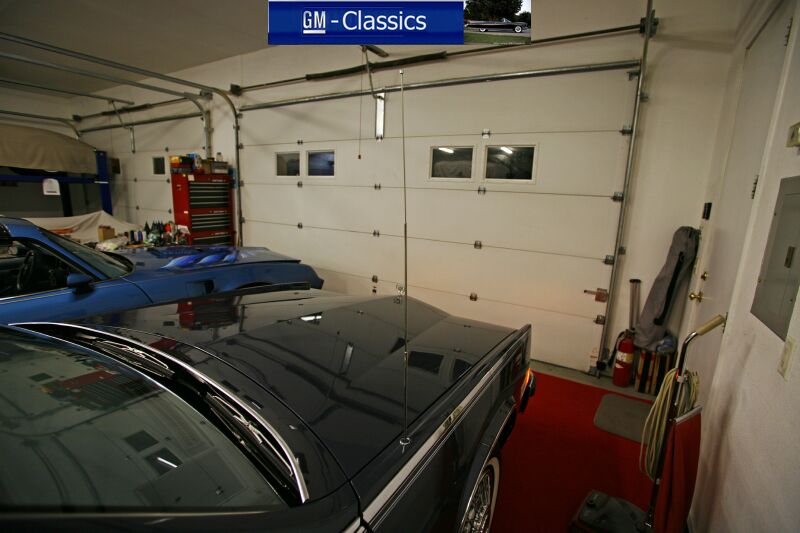 Power Antenna Up Above... This is the original....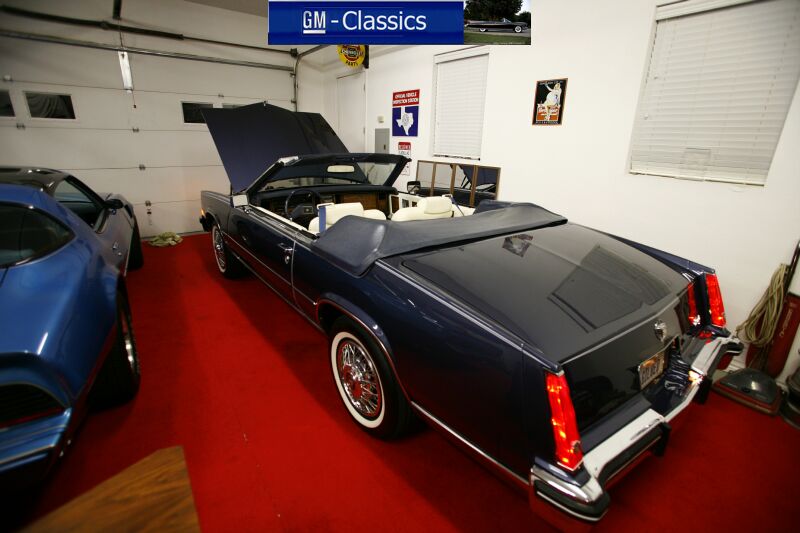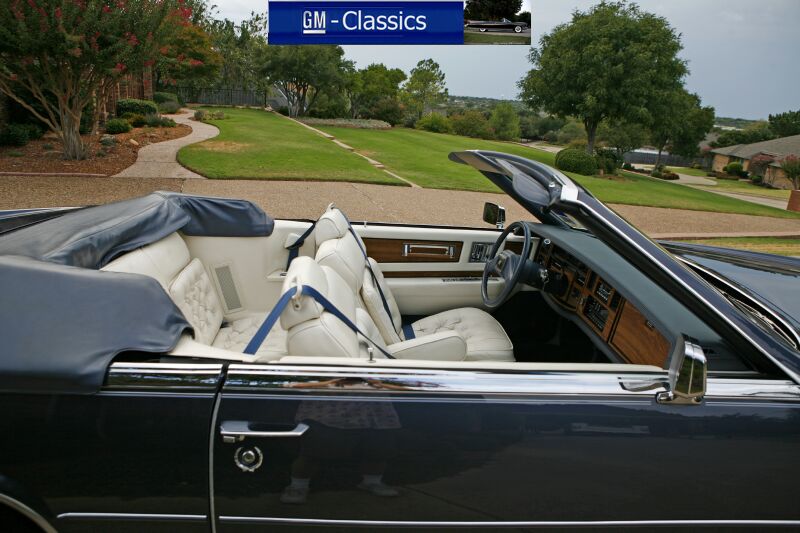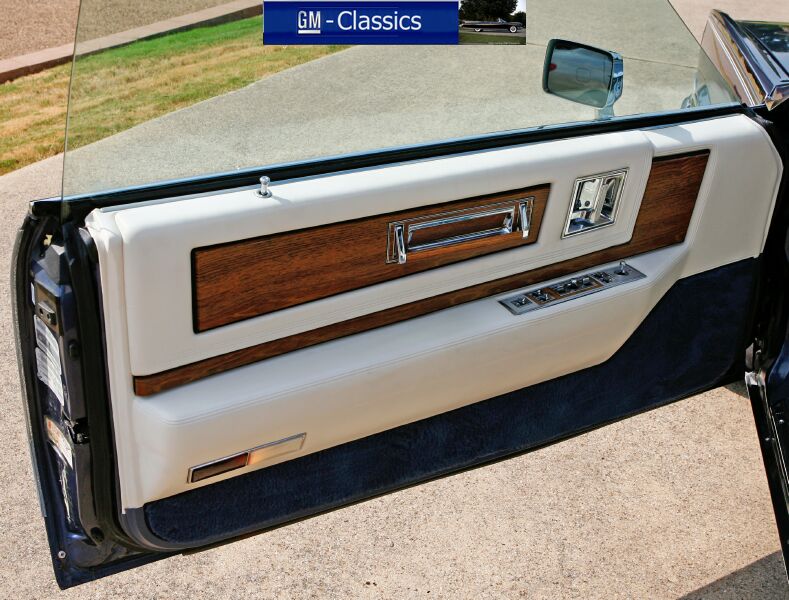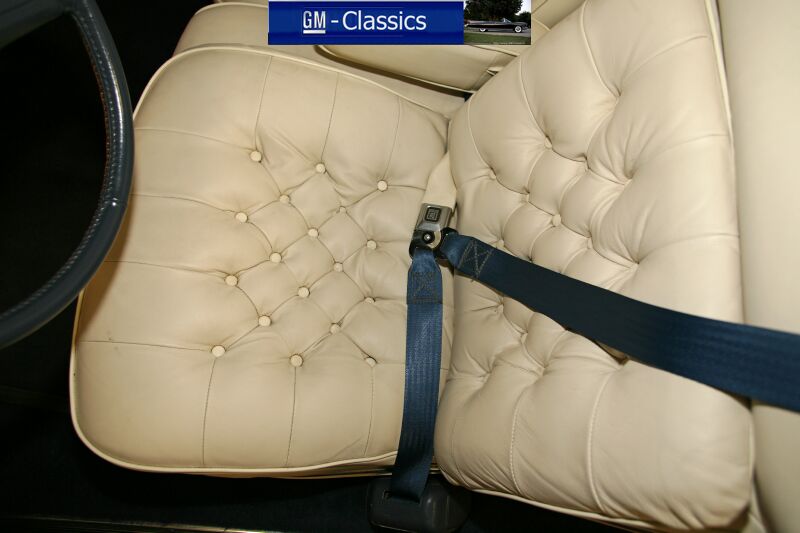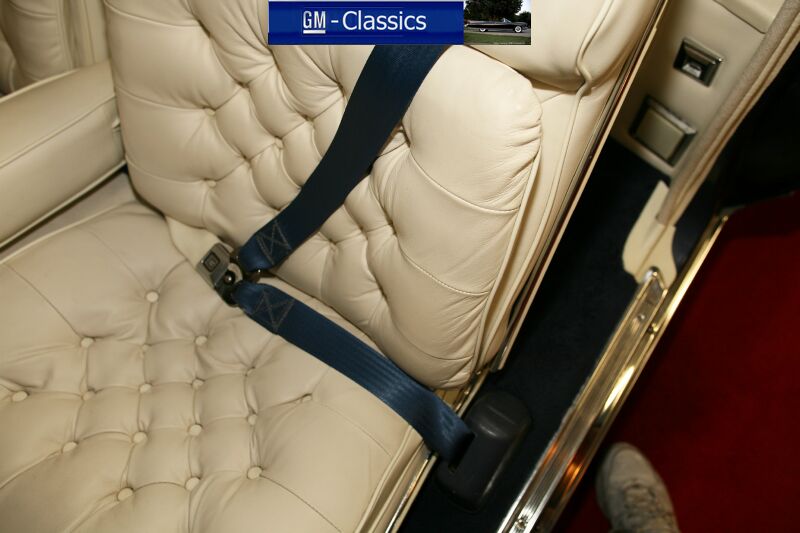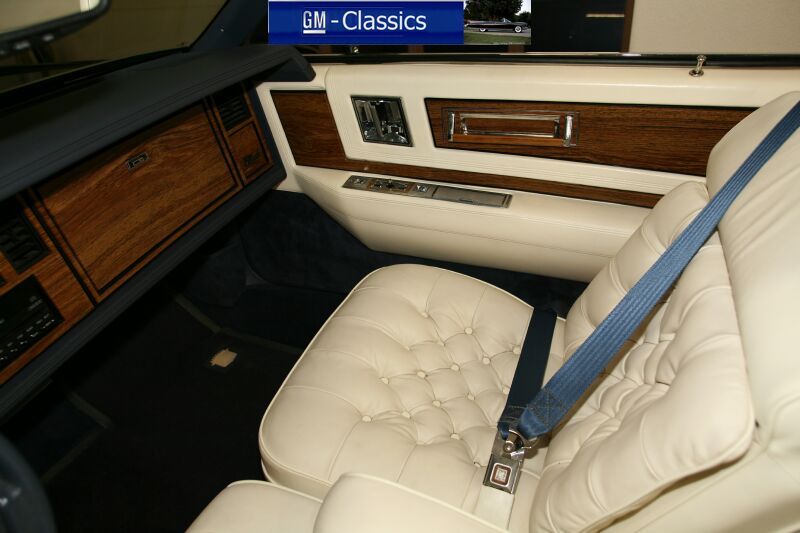 Seat belts have been changed to blue... A very nice touch being the white discolored bad....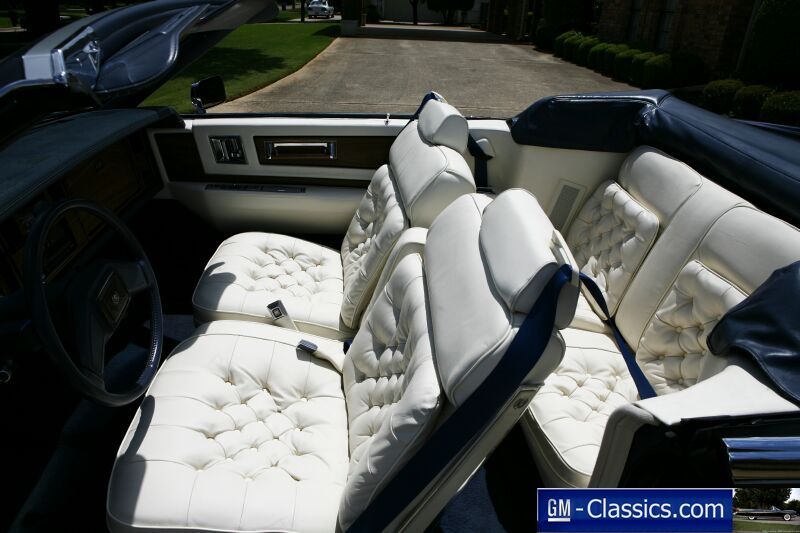 Mind blowing perfection.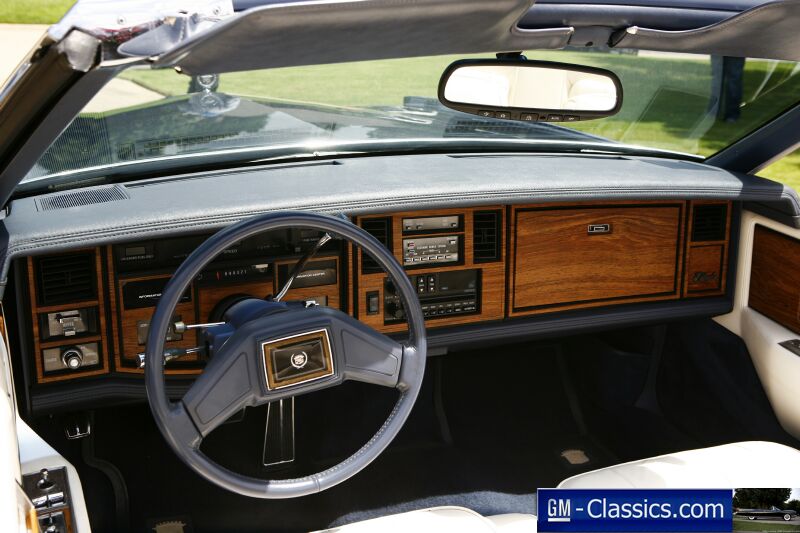 Added Dimming Mirror with Home Link (Nice) and 88 Cadillac factory CD radio, exact mount and match as original BUT sounds good. Best addition ever to one of these cars.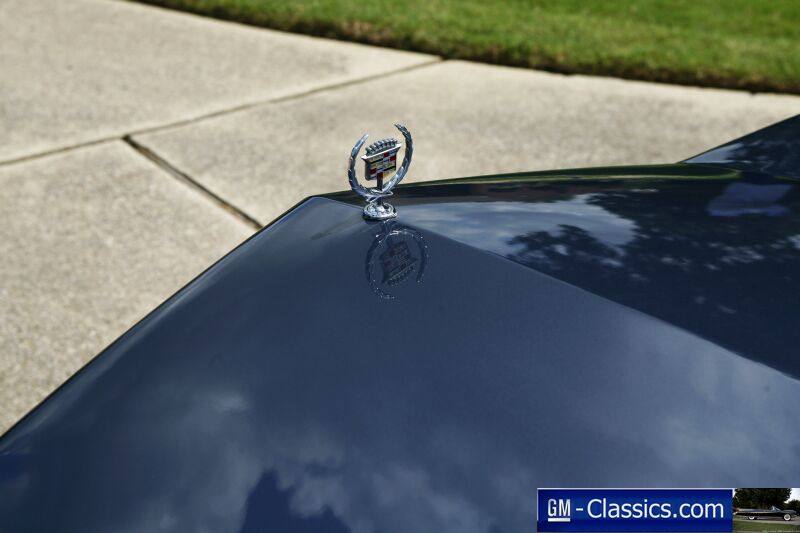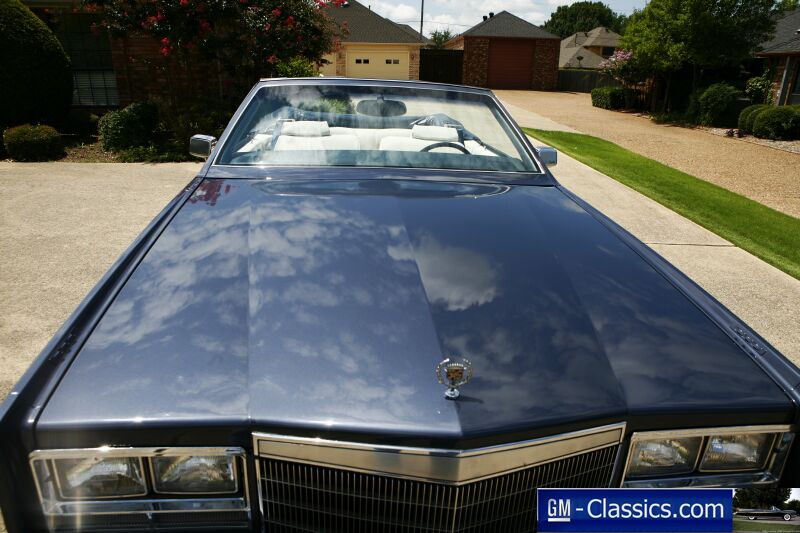 A NOTE ABOUT PIN STRIPES on YP8 cars for those that are not familiar;
All 84-85 Eldorado factory Convertibles DO NOT have pin stripes on the side from the factory BUT have one on the trunk from the factory. If you see a pin stripe on the side of ANY 84-85 Eldorado Convertible, including ones I own, the stripe has been added. The cars do not have the pin stripe from GM because the original Eldorado coupe pin stripe line interfered with the top line where ASC cut the convertibles in. So to answer the question; if you see a convertible without a pin stripe.. It does not mean the car has been repainted. If you see one with a pin stipe, it does not mean it was repainted either... It could have been added by the dealer the day the car was sold... BUT no pinstipe on the sides of factory Eldorado Convertibles were ever put on... at the factory... However ALL of them had the trunk stripe from the factory. I hope this answers that question for this and any car you see. Just know the car first is the best advice, and again, the side pin stripe is not a good indication of originality or condition of an Eldorado convertible... Now the trunk one is real important to look at and can give you a good indication of originality if it is missing or in the wrong location!
Some information below on Eldorado Wheels and Tires.
Vogue tires and a word about what people "think" they remember on tires of the 80s.
First thing I would like to point out that will be an eye opener to many is the fact 1985 cadillacs came with small white wall tires..... Here is the center picture of the 1985 Cadillac brochure;
Now the interesting thing is that 1984 was the last year for the 1.5" white wall, so yes, you have seen these cars with the bigger white wall on them, just not all of them. People tend to gravitate to the final year Eldorado in 1985 but all seem to think that the original tires are the big white wall. That is not correct. This particular car is an 84 so it came with the larger white wall. In 1985 SOME Eldorado convertibles may have had the larger white wall on them due to the fact they were built early on in mid 84 and sent to ASC before the larger white walls ran out. Later in the year, they did not have them and no coupe or sedan had anything but the thin white wall in 1985. Because many people did not like the thinner white wall, the Vogue tire was often substituted by the dealer for an additional cost. Vogue is a VERY good tire, but because they actually are plentiful and still available today, people have become tired of looking at them for many reasons. The top being gangster cars running them giving the tire a really poor image. This is a classic case of everyone wanting what they cannot have in other tires. You see many of my Eldorados on the larger white wall. These are mega low mile examples on their ORIGINAL tires of the day. Some 85s have original 84 tires on them, just because it is too hard to explain to those that "remember" only what they want to. I have even paid 3000 to get an NOS set of those Polysteel tires too, so keep that in mind when you must have original.
One thing needs to be understood on tire sizes is that the correct size and the best overall size for the 79-85 eldorado is the 225/70 15. Early cars had 205/15 75s, but this was really a poor size too and later became substituted for the nicer 225/70 15. Do not confuse a 225/70 15 with a 225/75 15. That 225/75 is nearly a 2" taller tire! That is a huge difference and will not work on these cars. If you try it, you are going to be asked by many to take the car off the road due to it being an eyesore to the rest of us. I mention that 225/75 15 size as it is available through companies like American Classic Tire today as a solution for a 1.6 white wall and is often mistaken as a size for the Eldorado. Bad news is as of this moment there are NO easy alternatives for a 225/70 15 in a larger white wall other than Vouge tires... Except one... You can custom make a tire through Diamond Back tire with a "glued" on white wall that does not look too bad. But 1000 bucks is what its going to take and then you end up with a tire that has no labels and up close looks kind of funny. A good tire though and a true alternative.
The reason I am going into detail with all of this is because I have been petitioning American Classic to build a 225/70 15 for the Eldo/Seville. After some time they have agreed to do so and the tires will be out in probably a year or sooner offering an actual "what you think" is correct tire for 85 cars and truly correct for 79-84. I look forward to this and hope to have a few of the first sets myself for cars like this one.
Now on to wheels.
What many people see that really attract them to a car are the wheel and tire combination. People all love them, but when it comes time to actually paying for what some of these vintage wheel/tire combinations cost, most get weak in the knees. Some people want to play the "infinite purist" part preaching only original, but they get shut down every time in side by side comparison of what is more appealing to anyone that views it, knowledgeable or not. Many of the Eldos you have seen me have that lots of people think are "original" are really era correct aftermarket wire wheels from days gone past. Duplicating these are not easy, and even on this very car in this link, it is subjected to the cheap caps because I have not found a set of wheels really worthy of the car. I will be doing that. Below is the line up of era correct factory and aftermarket wheel options available to these cars;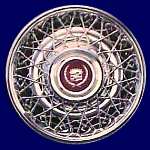 Factory cap.
Personally I hate hub caps on any car, I think they are a cheap solution from the mfr, and any automotive designer will tell you the same thing. Was the easy way to cut cost! But on these 79-85 Eldos, cheap wire hub caps slapped over thin steel wheels are generally what 99% of the cars came with. The factory had 2 other wheel options. The touring wheel, that are alloy wheels that actually had a couple of different styles over the years too, but as a whole looked like what is below;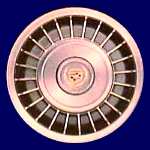 Much of the aesthetics driven crowd do not like these wheels, but they really are the best wheel on the car that is actually factory as they are alloy and have a better offset than the steel wheel with the cheap cap. They will drive better than all the rest of these wheels too. These were not offered on the 84-85 convertible but are really the best addition to a car but not widely accepted for what I guess to be aesthetics reasons. Really on a wide white wall, they look pretty good.
The other was a rare alloy fake wire. Kind of neat, but still a fake wire front over a relatively cheap alloy wheel and had as poor of offset as the steel wheels. This is a FWD wheel only and rare but corroded fast even on the best cars making it really impossible to find a good set. I would like to find a set of these worth while myself but do not consider them the best option to go with.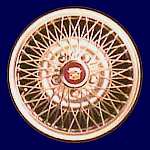 Others you see are aftermarket. Below is the Appliance wire on the red car. Click for zoom. Many people call this the factory wire wheel, but it is not. Many cars came new with them on, but the dealer added them just as they did Vouge Tires. However I consider this wheel the single best alternative for a Seville/Eldorado for the fact its wider, but not too wide, it has a better offset and its a real quality wire wheel, plus so many people already consider these factory. Appliance is also the factory manufacture of the cadillac RWD wire wheels, those were factory, these were not. The Eldorado looks GOOD on these wheels and no original preaching Nazi can take that away from the car. Finding a good set is going to be hard and a set that actually has a good set of center caps and trim rings can cost you as much as 5K for perfection. If you are sitting there with check in hand, these wheel are not easy to come by and this set took me years to put together with the caps being the hardest part.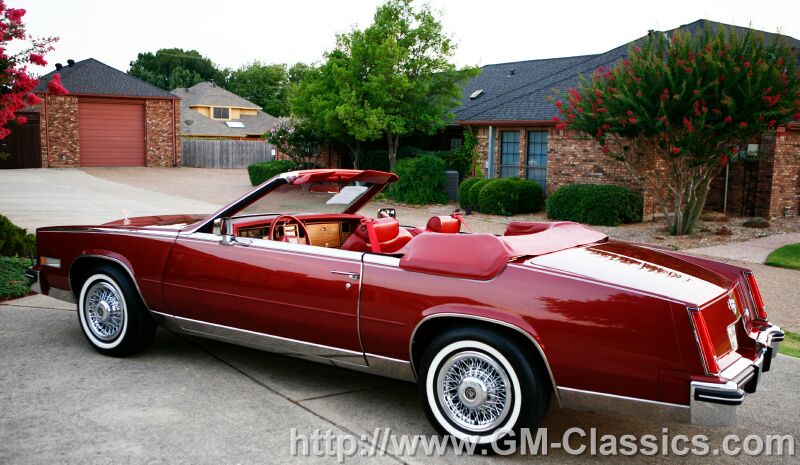 Another alternative that was available in 1980s and is still available today is the Dayton Wire. The Dayton wheel offers the best quality of all the factory and aftermarket alternatives in terms of the wheel itself. The bad thing about the dayton is the offest. They have a good negative offset that I like to see to them, but its actually a bit too much for some people's taste. Still a good wheel, a very expensive wheel, one you can even get today too. A nice turn key and available addition that is 1000 times better than the cheap factory fake wire cap;