1990 Cadillac Brougham Limousine
Armbruster Stageway Silverhawk
Matt Garrett - Dallas Texas - 214-878-3823
SOLD but Click Here for Current;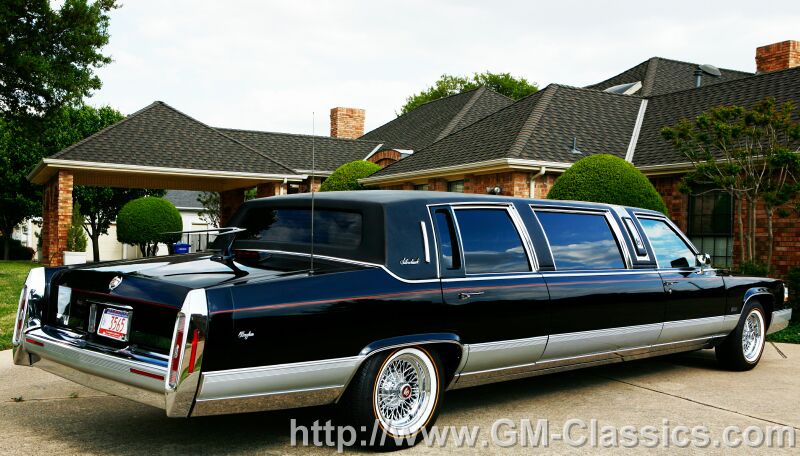 If this car will not blow you away, then there is nothing I have on my site that will. This is the dream limo for the hyper meticulous. You do not see limousines like this. 1990 Cadillac Brougham Armbuster Stageway Silverhawk Limousine. 5.7 Liter, Commercial Chassis RPO V4F. This is a special order car with many Heavy Duty aspects not found on any other Brougham. Armbruster had their own specs for these cars. This car is about as close to new as a classic Limo has ever been and quite possibly the best looking Brougham Limousine on the planet. The Armbruster Silverhawk was and is considered the ultimate luxury executive limousine of its era. These were not built to be airport, funeral, typical livery or large party limousines. They were built for the CEOs and mega wealthy executives as private cars and decked out as such. They are a manageable and proper proportion size with a 60" stretch between the front and rear door. This was a private car since new. It is the ultimate condition limousine, ultimate optioned car, ultimate color car with mega low miles. It is actually one of the nicest Broughams I have ever seen, limo or not. If you have followed my past cars, you know I have owned and own some good Broughams. This is equal to the best of those. This car is a result of a decade of searching to find the best 90-92 Executive Limousine as the collector world would release. I think I have it.
From 1887-1989 Armbruster was the premier limousine builder for the century and the longest running coach builder. This car is the last of the Armbuster line and represents what I consider the best Limousine ever done on the best looking sedan and chassis ever done, the 90-92 Cadillac Brougham. This is car # 105 built in 3-1990... Finished a few months after Arbruster Sold out to Federal actually. Car is known as the last Armbruster. Using the 1990-92 car also makes this car 25 steps up from the previous years having the 5.7 Liter/700R4/Corp 8.5 Drivetrain vs the 5.0s and HT4100s from 82-89. In fact, there are some nice 82-89 limousines out there, but having such a poor drive train in those years puts them in the category of "not good" to me. 80-81 were fine with the 6.0s, but 82-89 were the lost years to me. Notice I have an 80 Limo too because it has a good engine! 90-92 offered the "euro" style Brougham, but more important than the looks, this car has a good heart in it.... The motor. A motor capable of making a very long car have a power to weight ratio of a very fun driving car too.
The Silverhawk offers the rear Astro Roof, Rear Bar, Sink, Ice chest, best mobile entertainment system of its day, dual dividers, intercom phone, rear heat and air consisting of dual evaporators, dual condensers, dual heater cores, full rear controls, 6 rear passenger seating, rear illumination, 4 lamp distinctive coach lighting, large roof stainless trim banding, full padded roof, battery isolation system (drain one and start the car still) and much more. The car itself is set up from Cadillac with the 5.7 motor, heavy duty chassis, which has the thicker frame, large sway bars, 8.5" 3.08 ratio rear end, heavy duty engine cooling and transmission cooling, dual electric fans, dual stainless steel exhaust system, and much more there too.
Below are many photos of this car. At least in my opinion, it is a breathtaking car in every manner and one of the most beautiful cars I have ever photographed.
Remember You Can Click Each Photo for an Extreme Blow Up!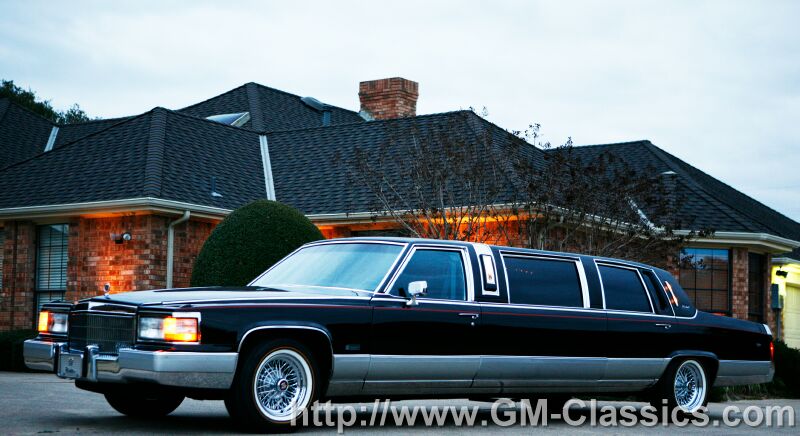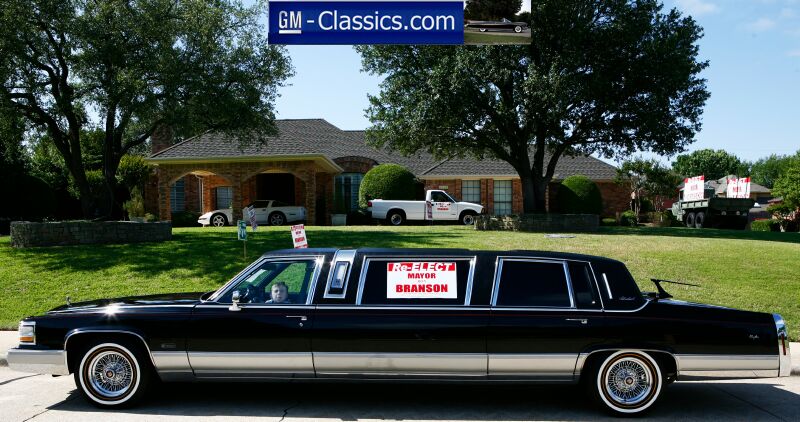 This is a current photo with the 235/70 15 Diamond Back tires that are built as Royal Seals but larger and better! Way better than Vogue!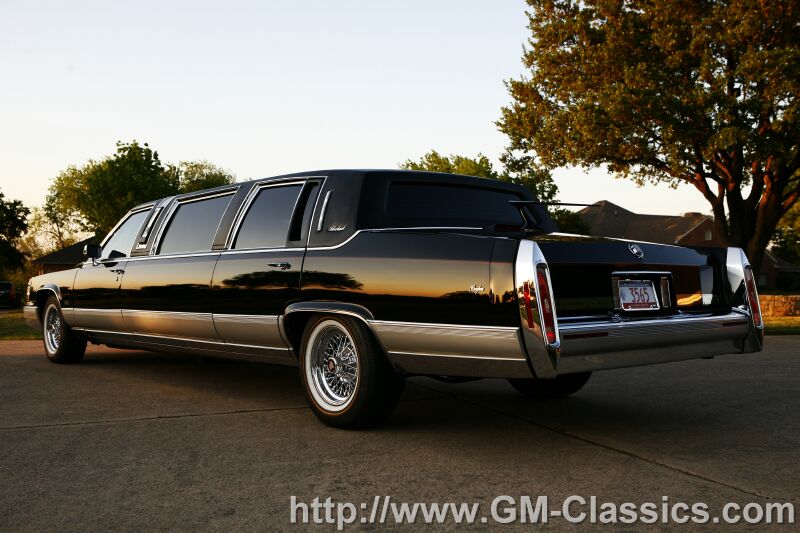 Paint on this car is simply beyond words. For a show car, its there with the best. For a limo, its mind boggling.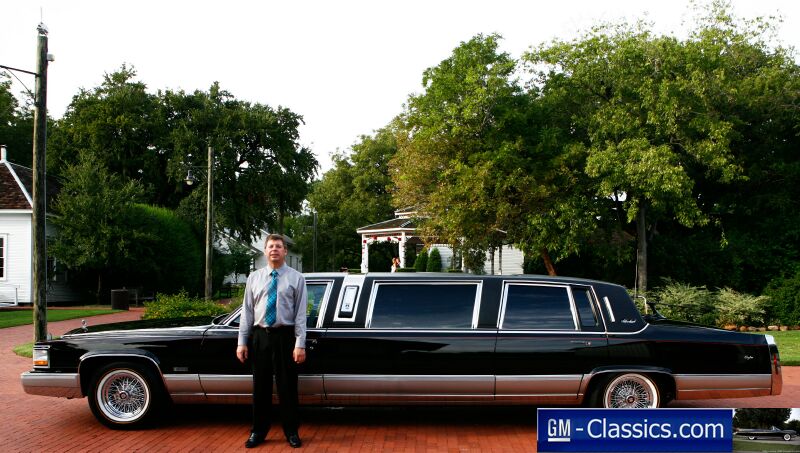 Matt Garrett playing Limo Driver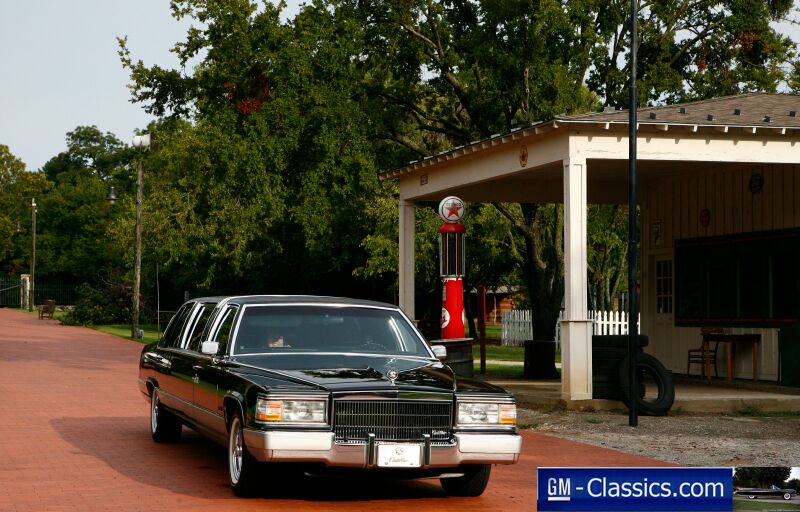 Limo at Historic Park for Wedding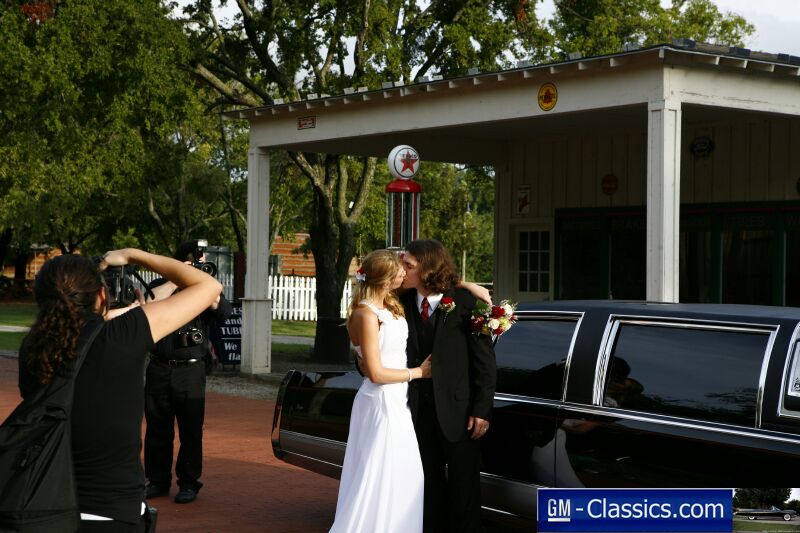 Media around event.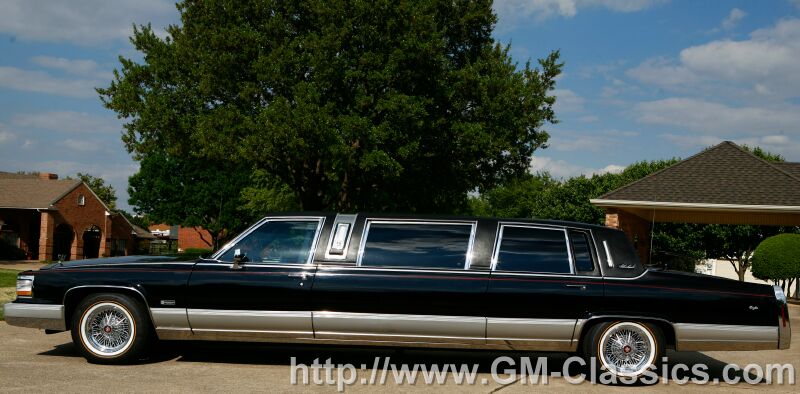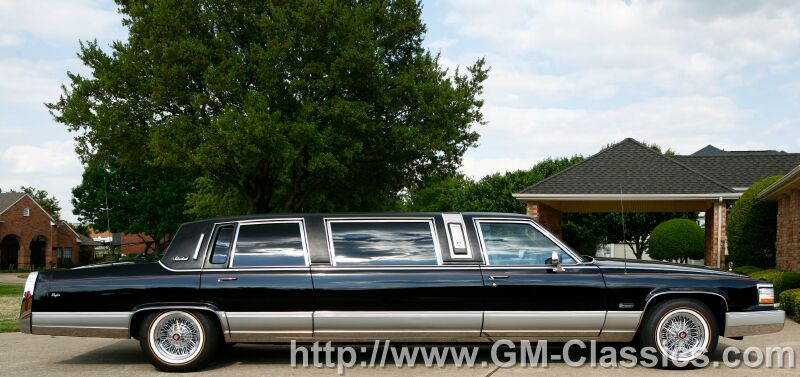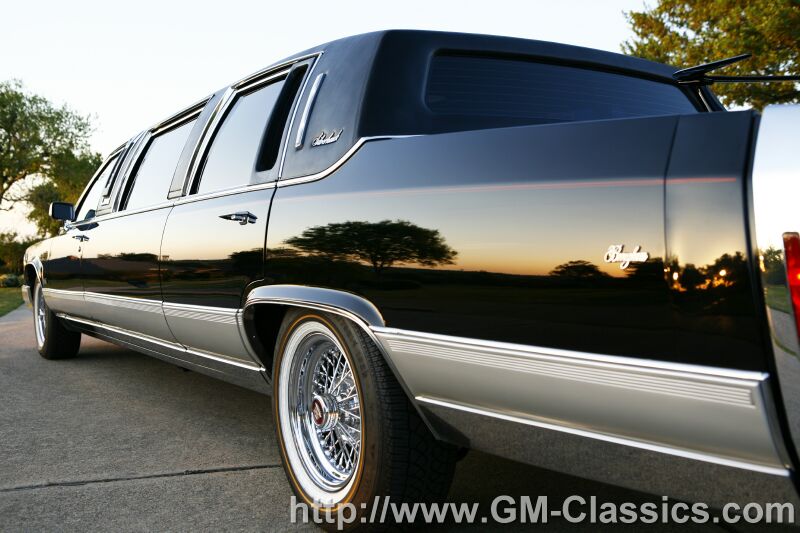 If you have ever looked down the side of a limo, you know what I am about to say. Waves, ripples, dents, poor fit-finish, etc. The above photo should shed a little light on the quality of this car. It is the straightest classic limo ever, period. The center section is high quality steel, not fiberglass like many stretch cars. It's there with the best show car in terms of body straightness. It was made this way.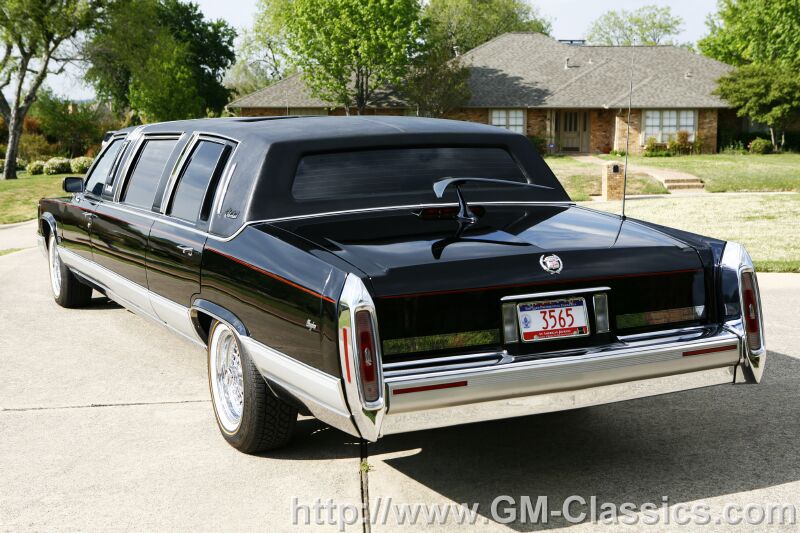 Armbruster added distinctive aluminum badge plates to the lower section of the deck lid. I thought they should have left the trunk normal with the stock "Cadillac and 5.7 Liter Badge", but these are very high quality pieces up close that the photos diminish a bit.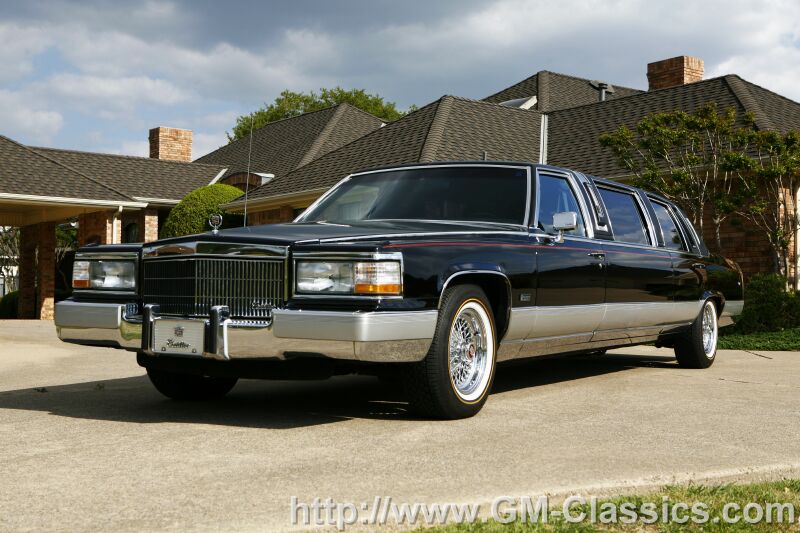 90-92 Brougham.... As good a Cadillac ever and the best looking sedan in the history of cars. At least to me.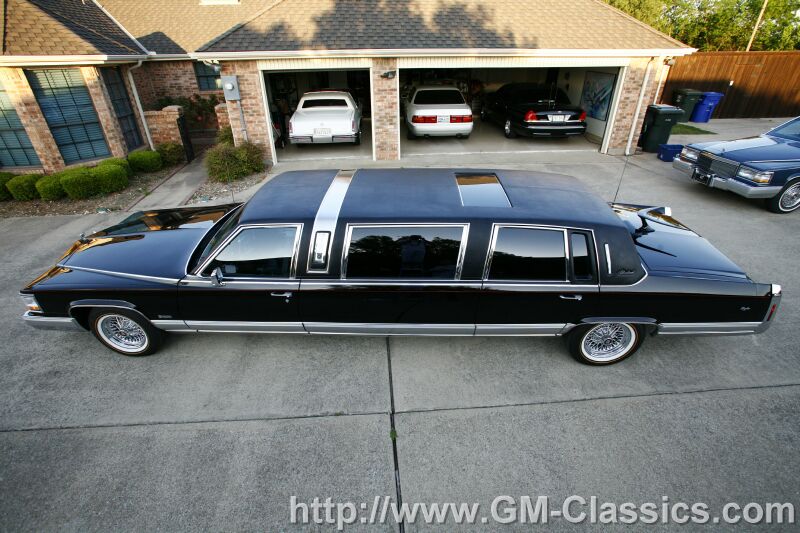 Wide angle lens, sort of distorts length of car here, but you can see the whole thing.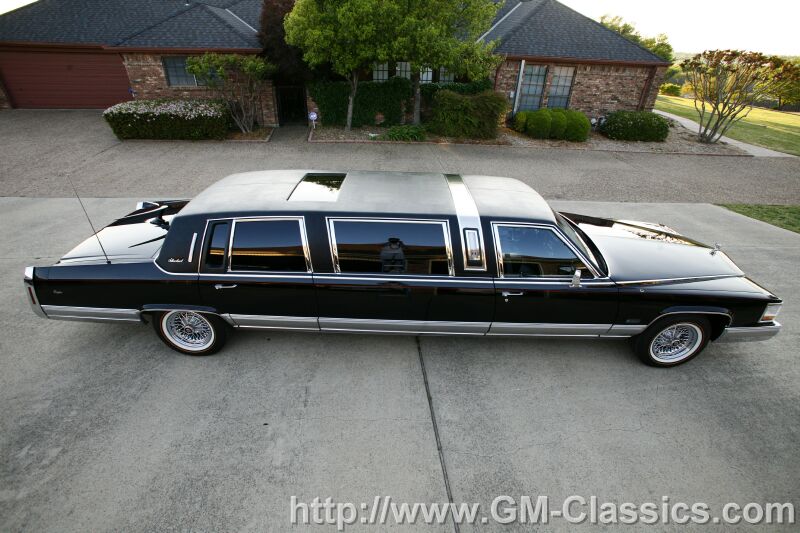 Wide angle shot. See the Astro Roof and the nice Stainless Steel Band.
The classic Boomerang, and note the integrated C4 Corvette Halogen 3rd Brake Light. Armbruster added this to the last Silverhawks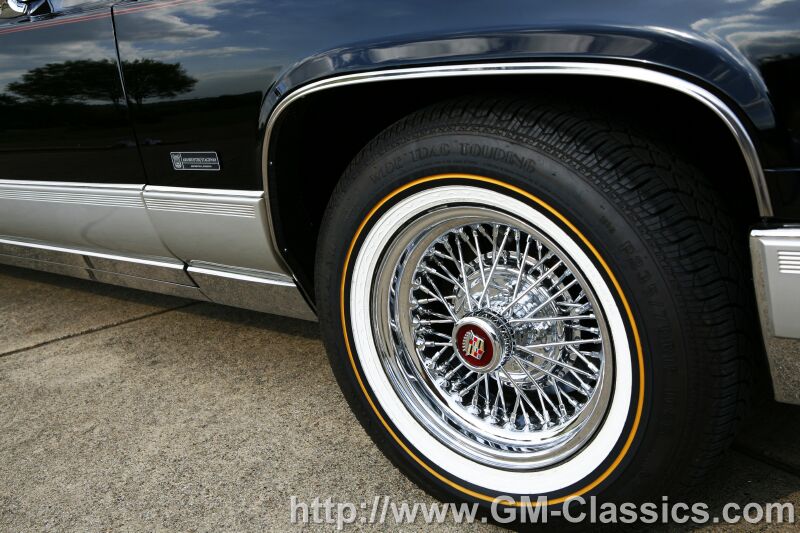 What a good looking wheel and tire and an even better looking car.
Heavy Duty 15x7.5" Wire wheels with Vogue 235/70 17s. Not your regular thin little weak cadillac wire wheel here.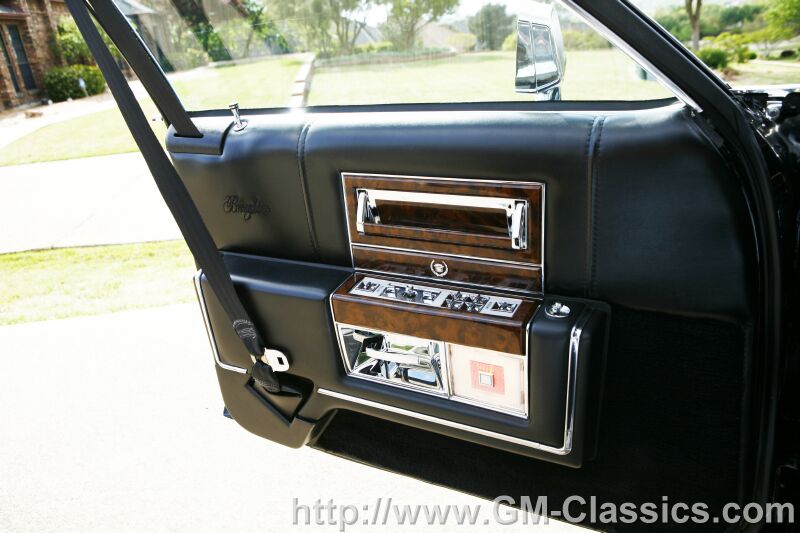 Perfection in every manner on this car.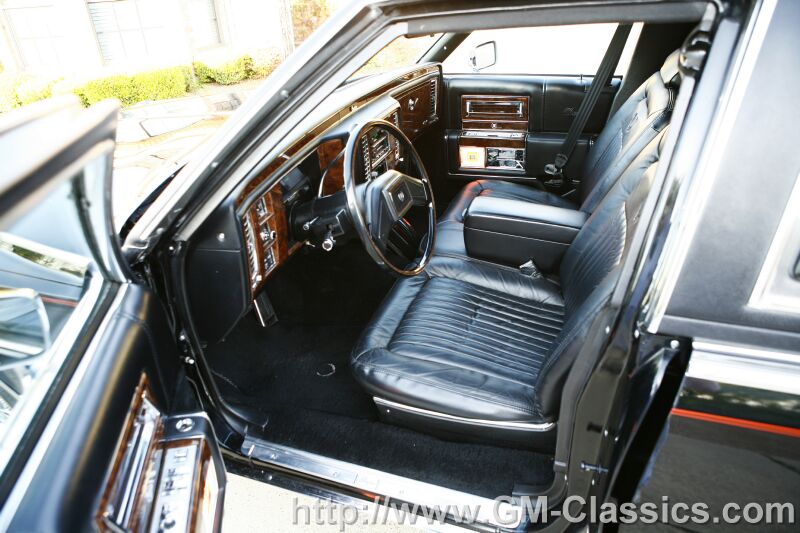 Perfect Drivers section. Note the steering wheel. Non leather. Only available on Commercial Car in 90-92. So much nicer too than the leather.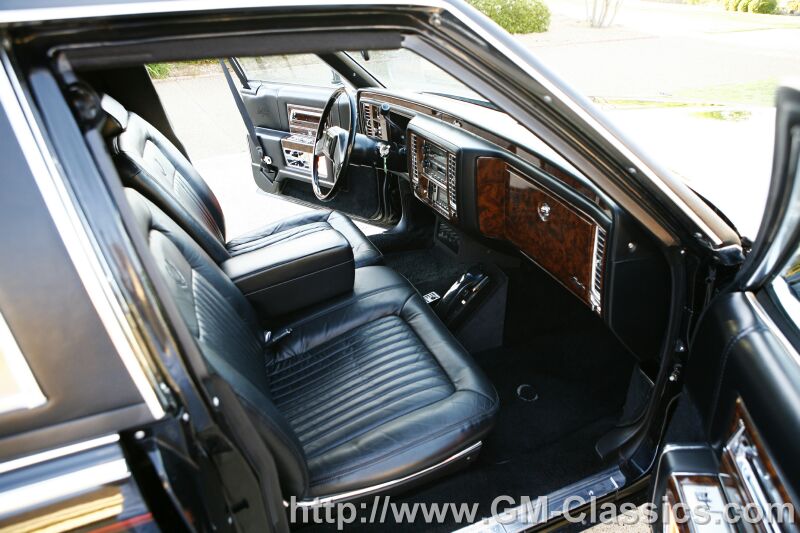 Just a new car everywhere. Pass seat is totally manual. Ever see a 90-92 Brougham with that? Part of the commercial thing. Behind the seats lies the Arbruster Equipment section. This is the relays, power, fuses, controls, motors, AC/Heating and entertainment hardware for the rear section. A very impressive setup in itself.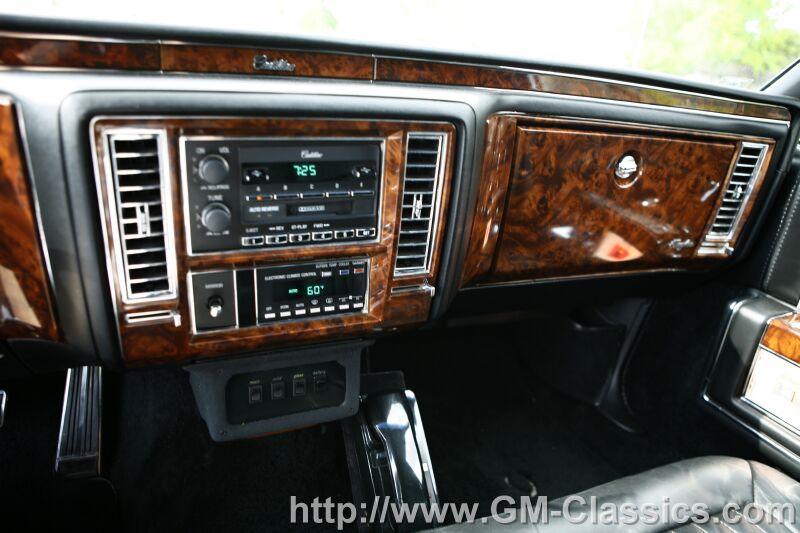 Limo Switches, Roof, Solid divider, Glass Divider, Isolation Battery (dual battery) Rear section Master Switch under Steering wheel.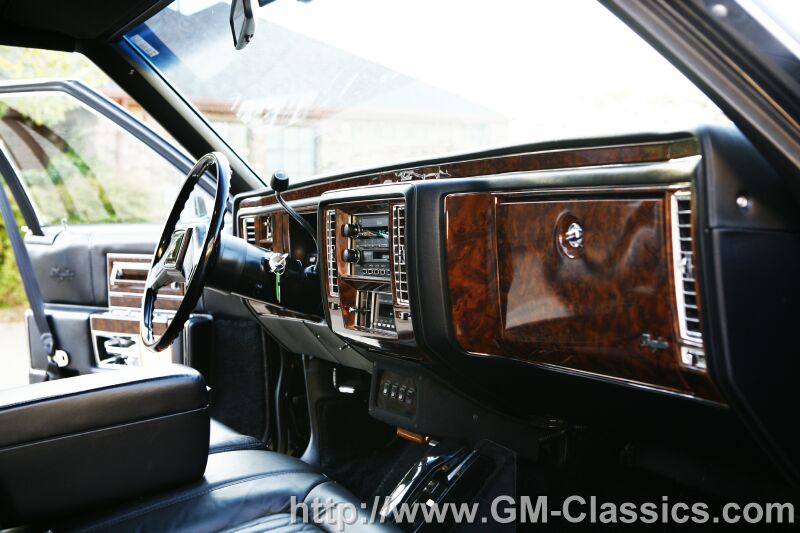 Brougham options, Tilt/Tele, Drivers Power and recliner, AM/FM/Cassette, Power/Heated Mirrors, Power Trunk, Windows, etc. No commercial car could have DeElegance. I do not think it would have been a good idea on the limo anyway with the sensitive nature of the DeElegance seating. They knew what they were doing on that.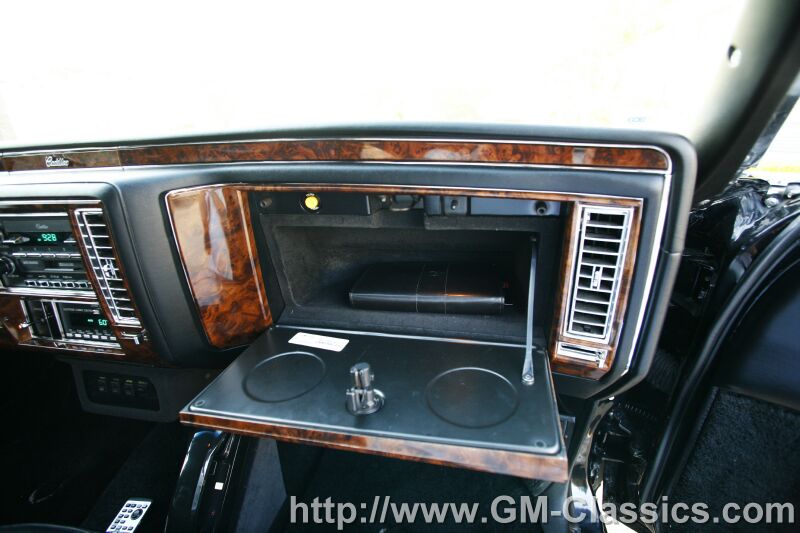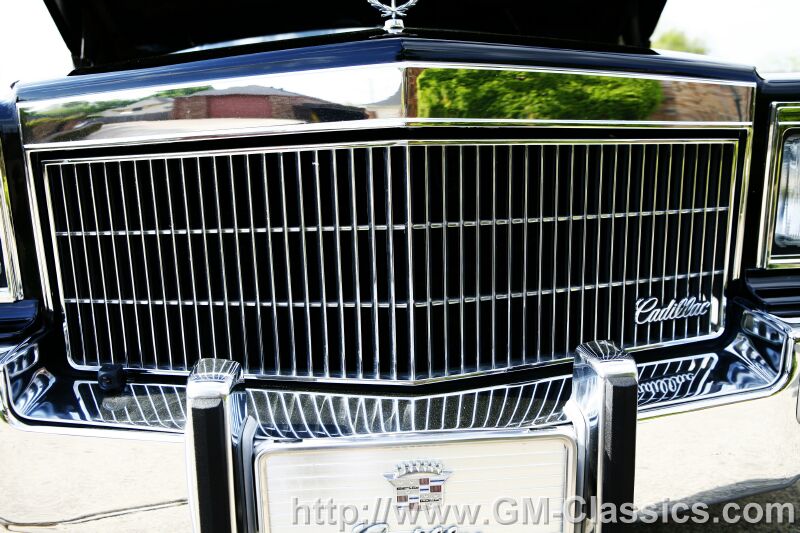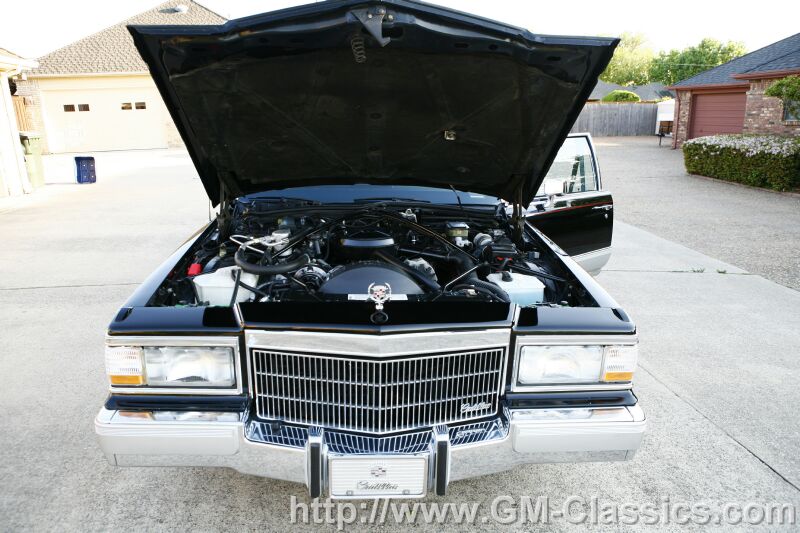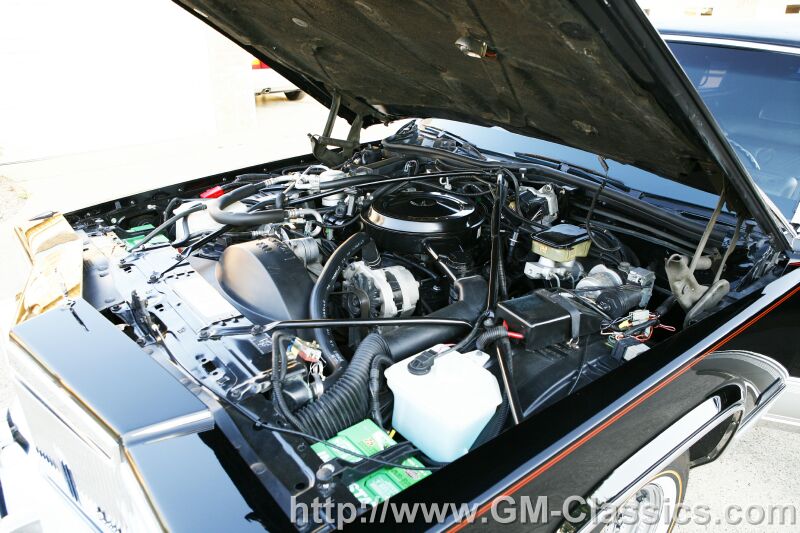 The 5.7 Liter Engine with HD Cooling, Oil Cooling, Dual Condenser AND Evaporator AC, Dual Isolation Battery System (switch in car)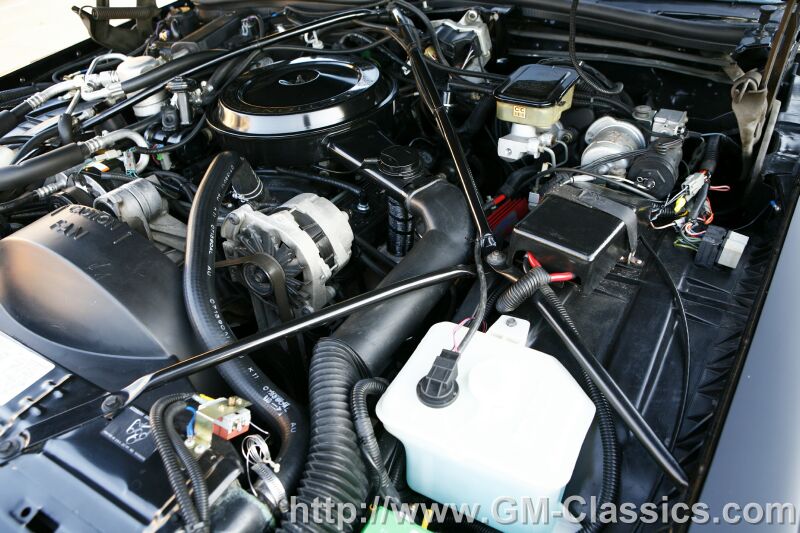 Note the condition here. This car is virtually new in every manner. You may notice many things different under this hood too vs a regular 5.7 Brougham.
With the gearing in this car and the 5.7... Is a fast limo too. With the HD chassis, large sway bars, high rate springs, its a stable and handling limo as well. Car drives great.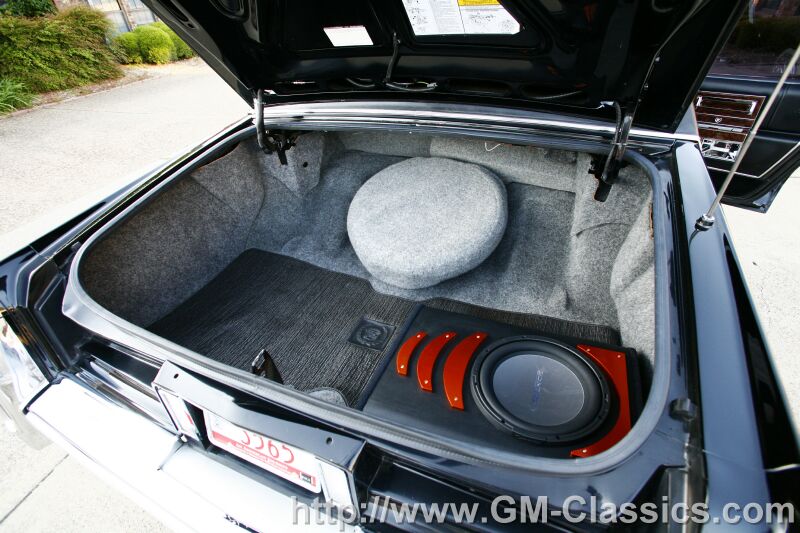 Perfect Trunk with added Subwoofer System. Totally removable, no car alterations. Makes for the best theater on the road.. You will see more down the page.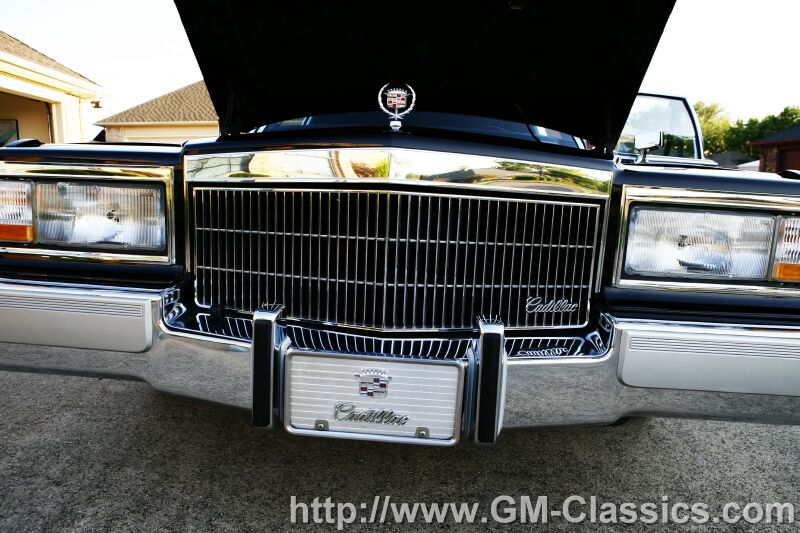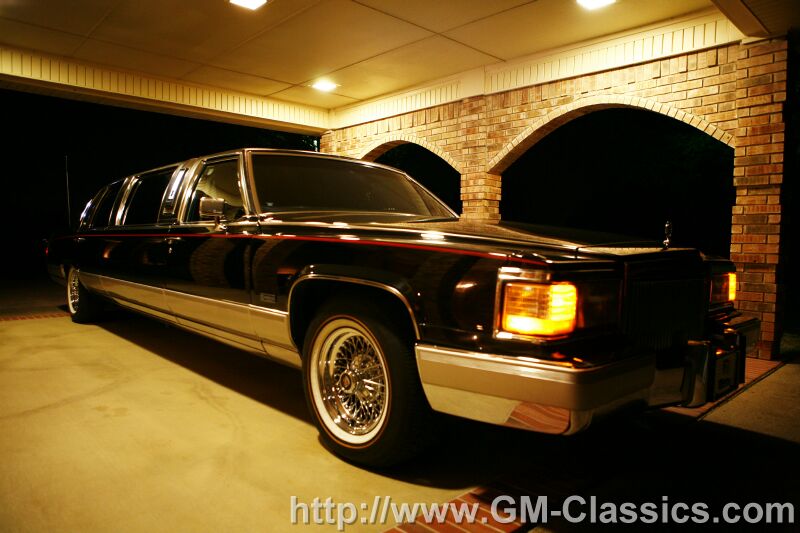 Night shot. Coach Lamps on side are LED lit with 21 bulbs each. They are a beacon and one of the nicest coach lamps ever with that quality electroluminescent look.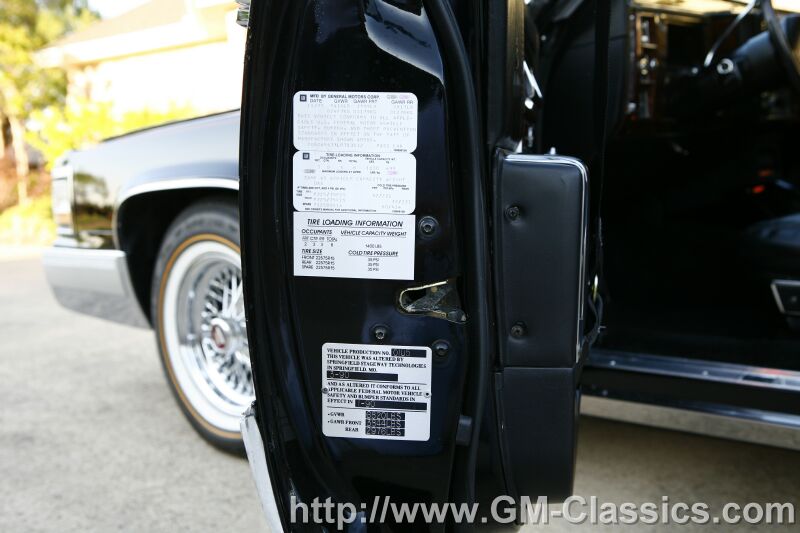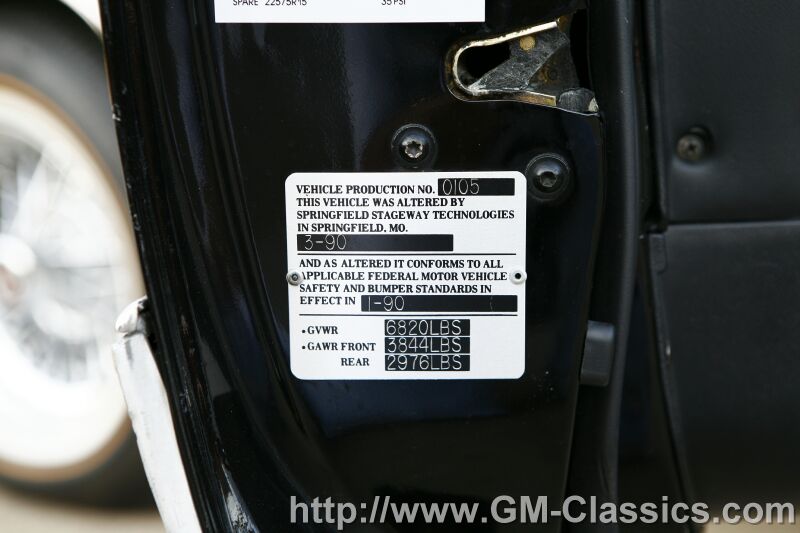 Car 105, Built in 3-90... 6820 lbs is loaded weight with pass, bags, etc weight. Car is about 5100 LBS... Light in today's world.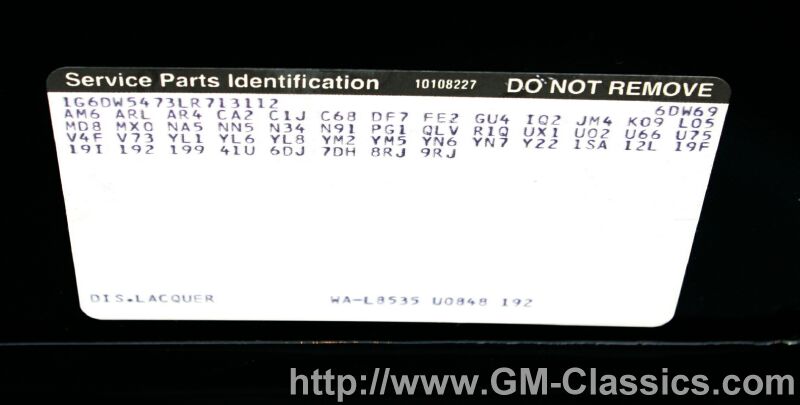 Note The V4F Option. Coachbuilder. Note all the other HD Hardware too.
NOW THE FUN SECTION, HOP IN BACK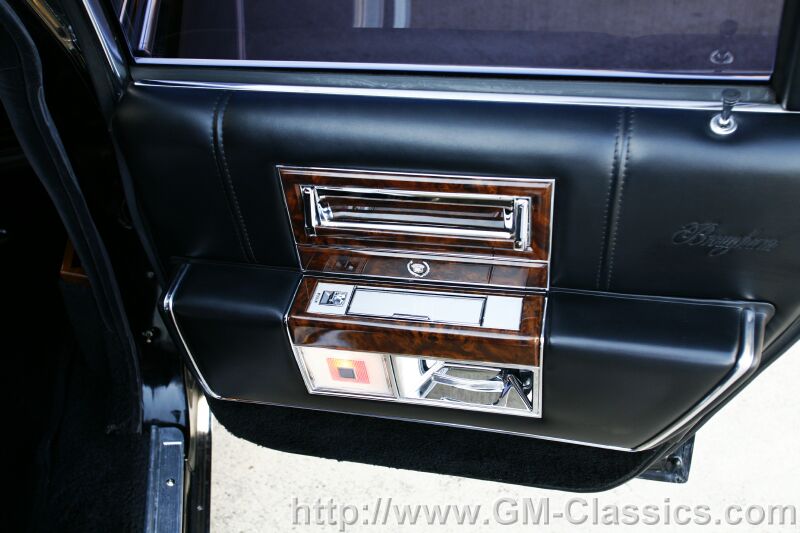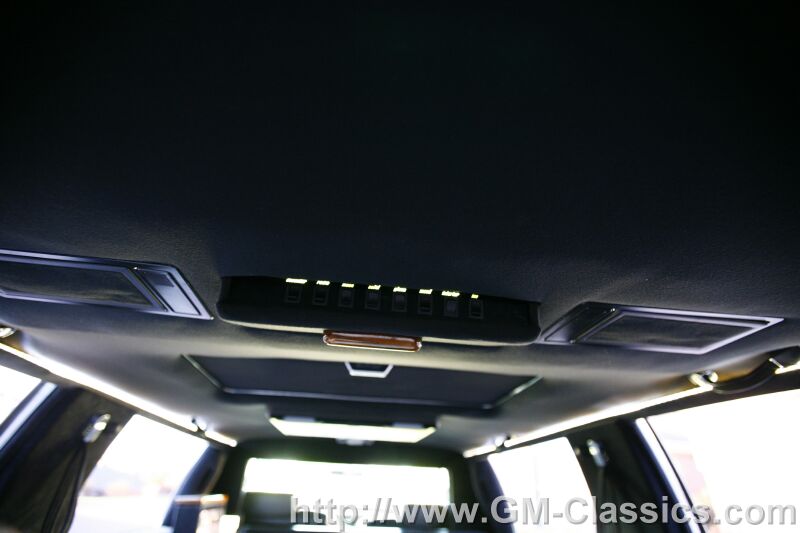 Drop Down Controls; Decanter Bar, Radio/Entertainment, Top, Solid Divider, Glass Divider, Mood Lighting, Interior Lighting, Ice Bar Lighting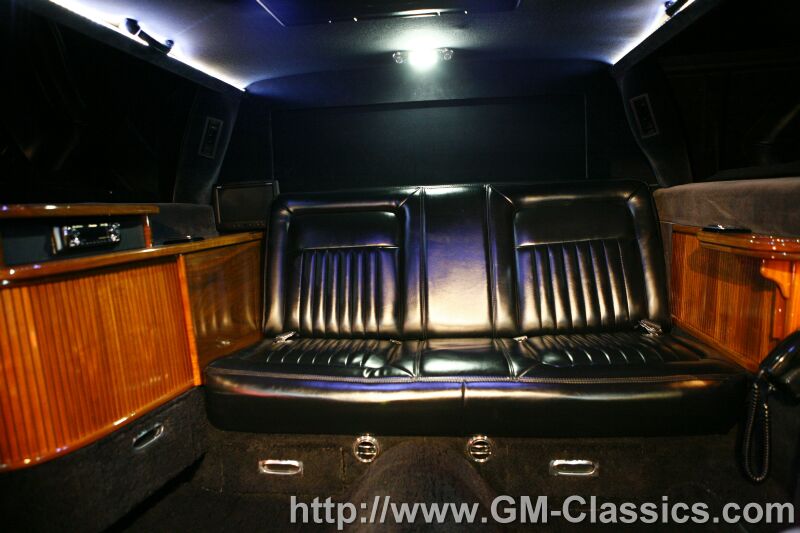 Above is the conservative, closed up look.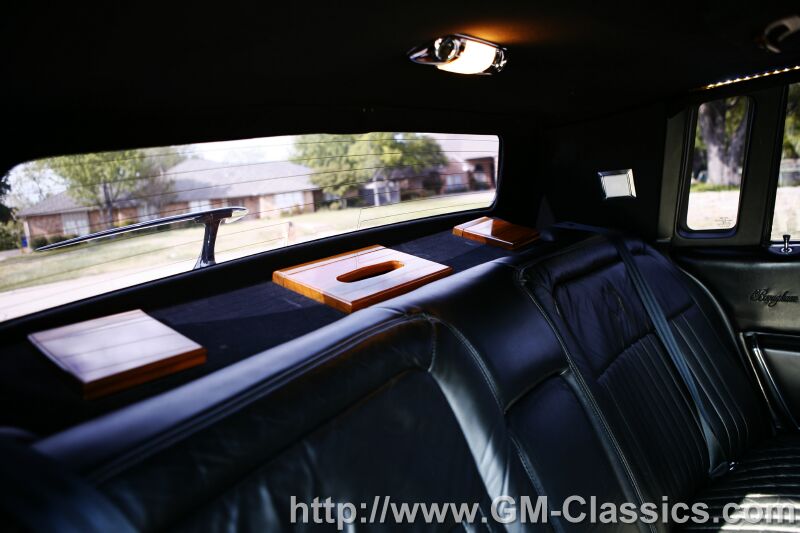 Rear Deck is wood panels' are; Trash, Kleenex, and Storage. The custom Silverhawk Rear Deck also houses a hidden set of Pioneer Audiophile Bi-Amped 6x9s. Also note no 3rd brake light. It is outside on the Silverhawk.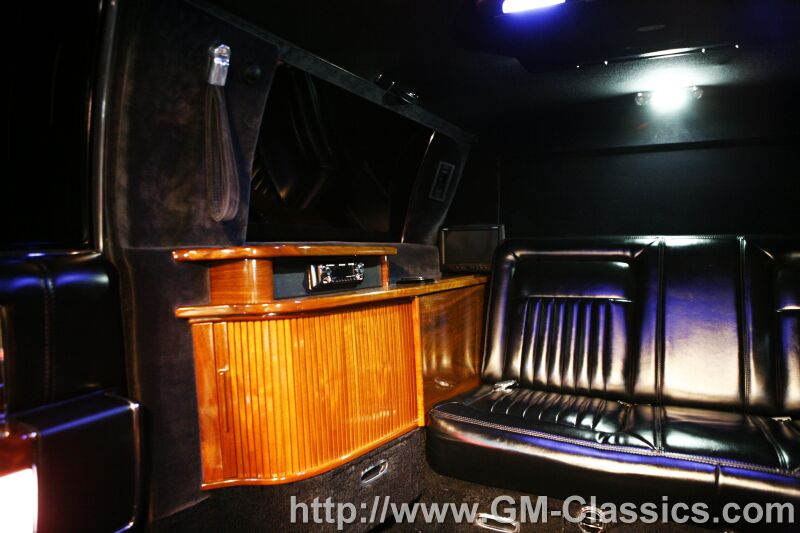 Above, Still closed up, elegant and tasteful. Woodwork in this car is impressive. Super high quality and perfect.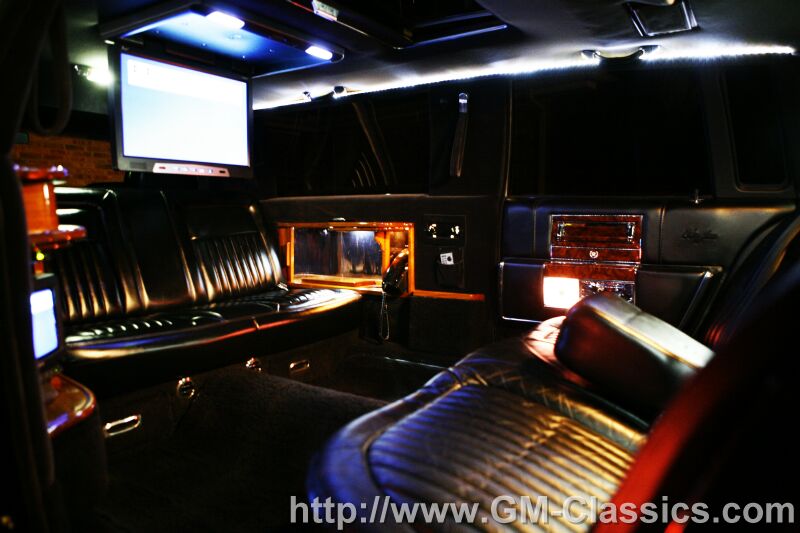 Ok, its fun time. Full Mobile Theater System Run by Pioneer Dual Zone Head Unit, 3 Pioneer Amplifiers, 6 Pioneer Audiphile Speakers and a 12" Subwoofer, 3 TVs, one being the original Sony CRT still in place but integrated to the hidden modern system and still functional as original with the hidden VCR. This is a high quality matching Pioneer Audiophile System in this car. Pioneer's best equipment and largest amps all mounted in the Arbruster Equipment Compartment as original. Bi Amped speakers, 4 channel, DVD, CD, Mp3, VHS, AM/FM, SAT. If you like quality audio, this car offers the best of that. What else would a limo be without it?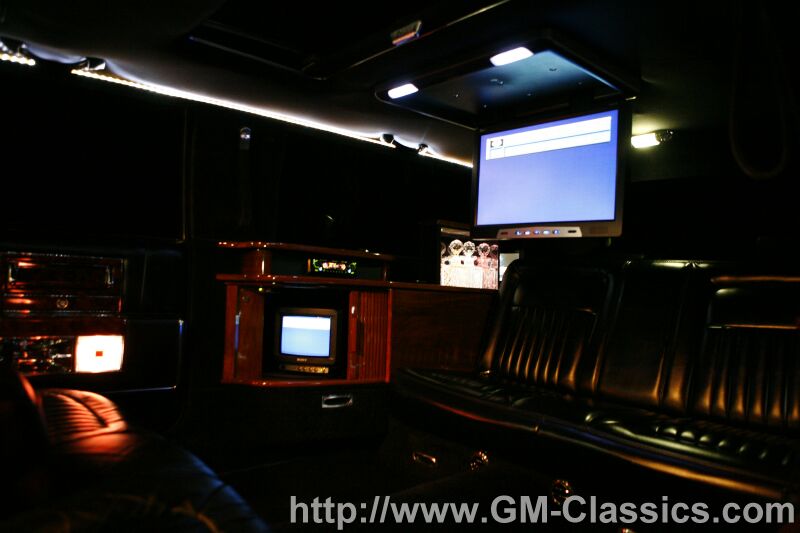 22" Flip Down TV, LED Mood Lighting, LED Interior accents. Rear Control AC and Heat. And it is a GOOD AC and Heat system!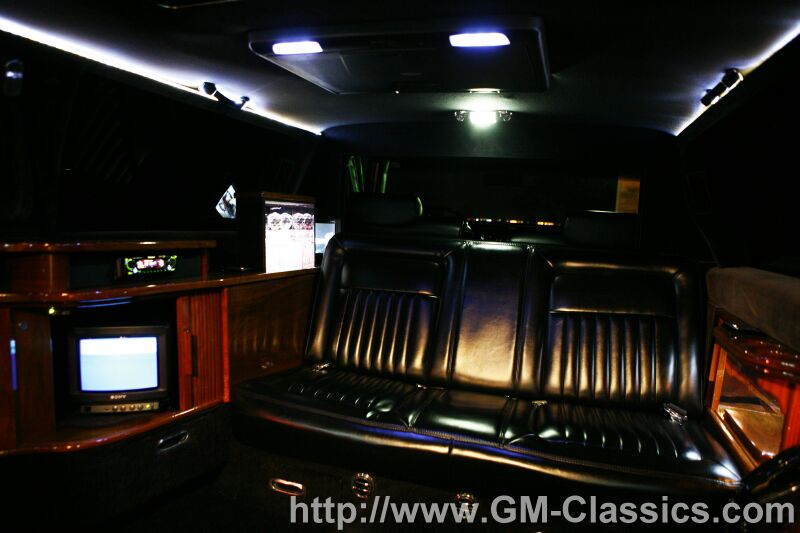 Left side is Sony TV, Floor section houses VCR, Top is DVD/Head Unit, Upper Left Bar, Right is Ice Bar, Sink and Intercom Phone.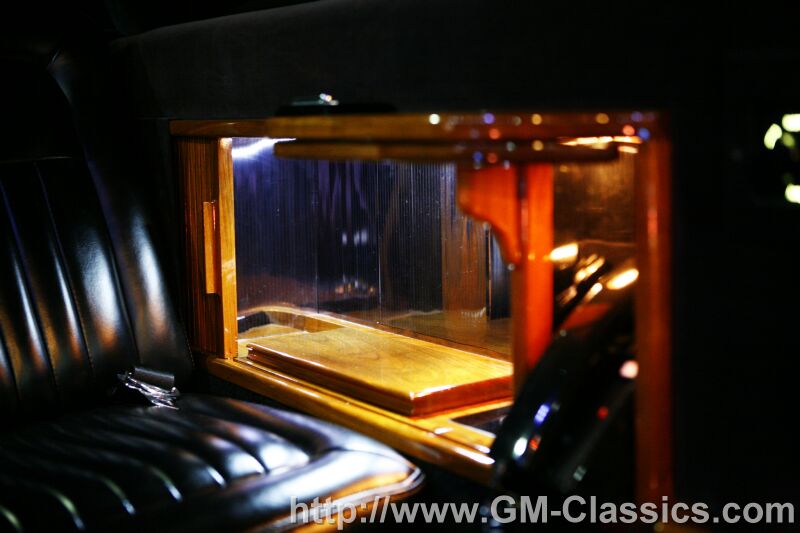 Ice Bar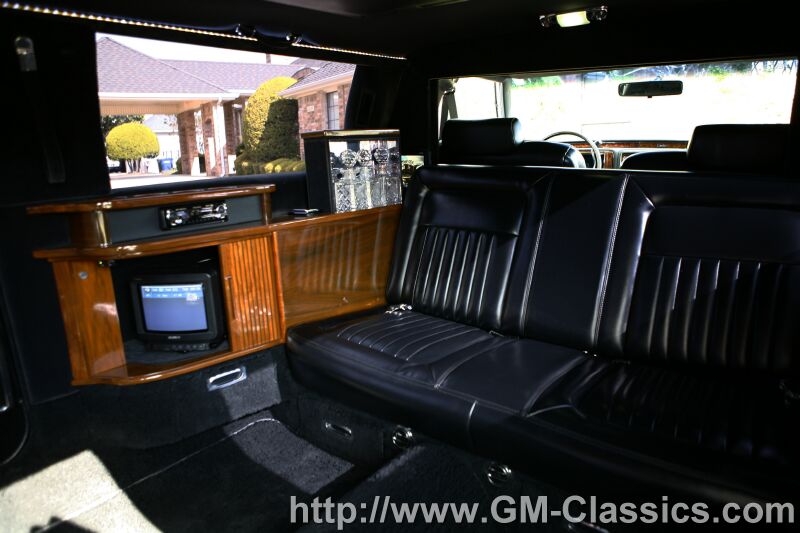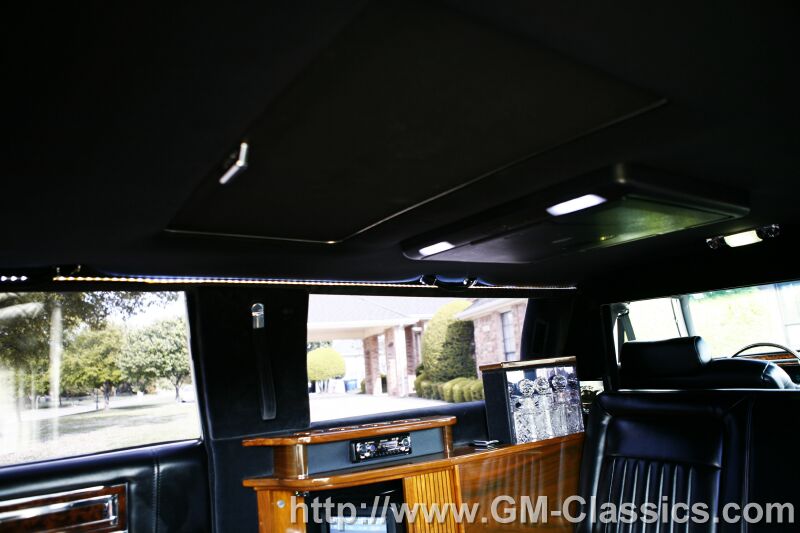 This is a Dual Divider Car with a Solid Divider and a Glass see through Divider.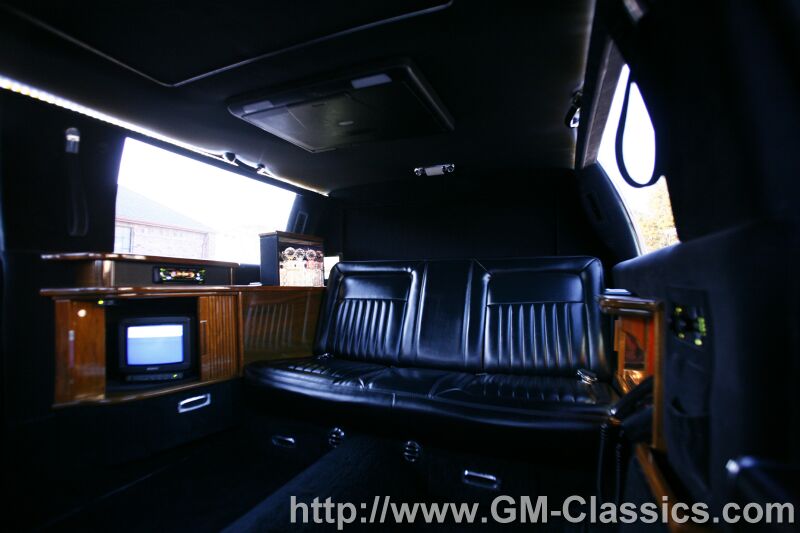 Solid Divider Up
Open Astro Roof and Vanity Mirrors open too.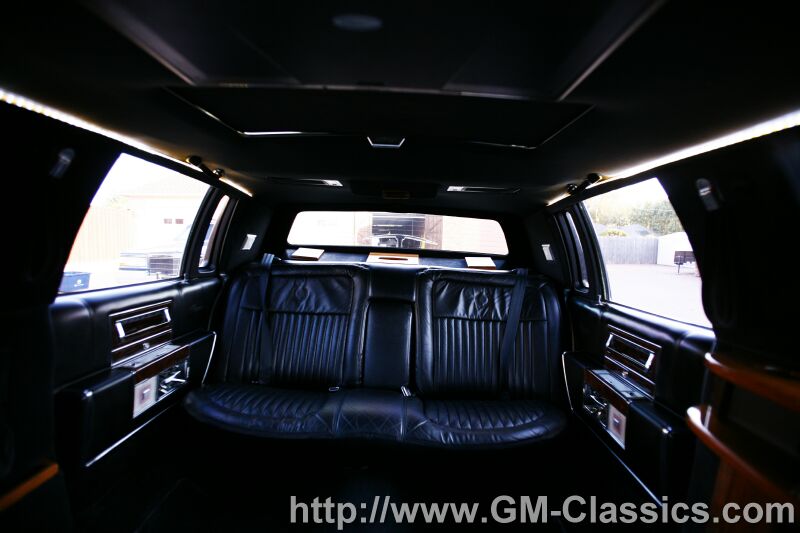 Facing Back with everything closed up.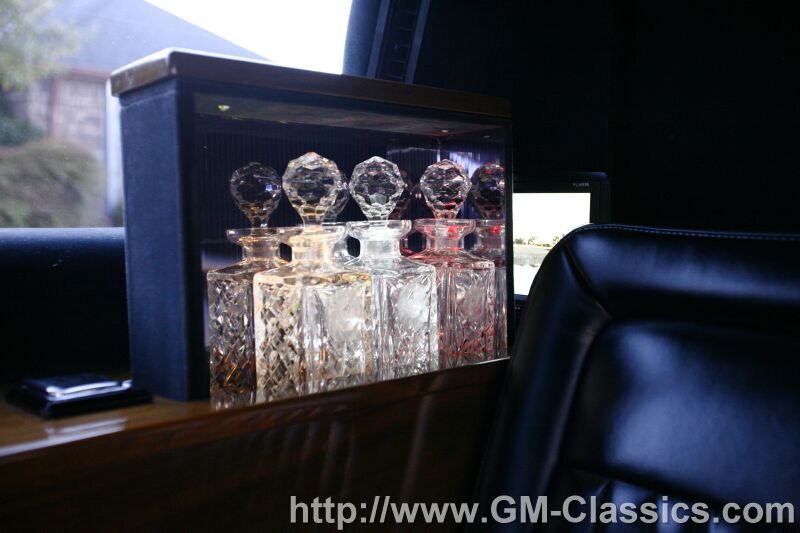 Decanter Bar. This is motorized and it lifts up and down off the rear controls. Each decanter is backlit. This is really neat and nice looking feature.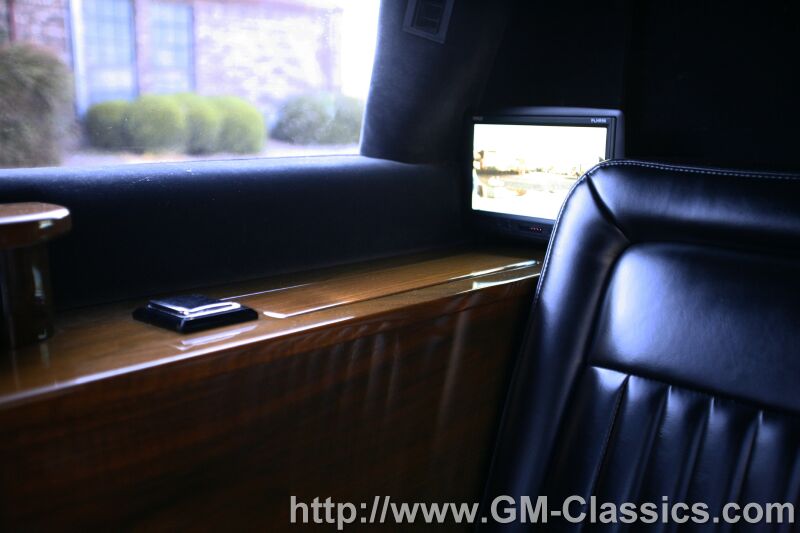 Motorized Decanter Bar in Down position.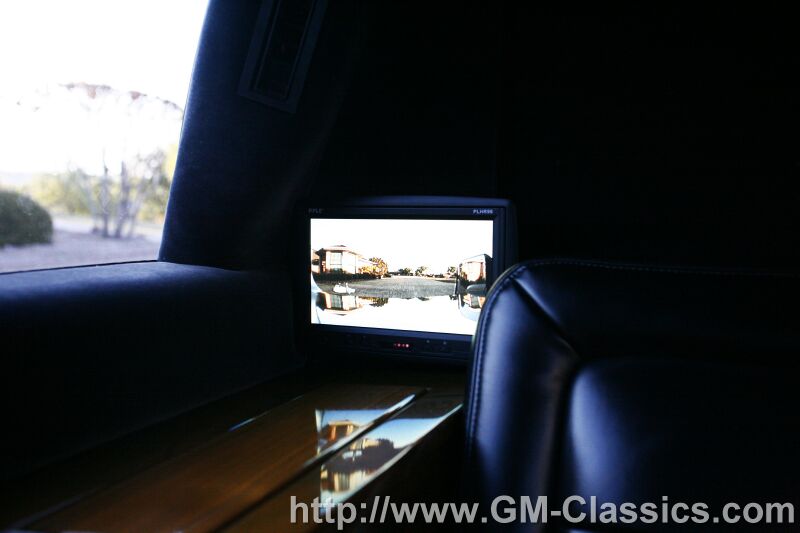 3rd screen, also displays front of car. You can watch where the car is going on this from a front mounted camera or it plays the DVDs too from the control unit.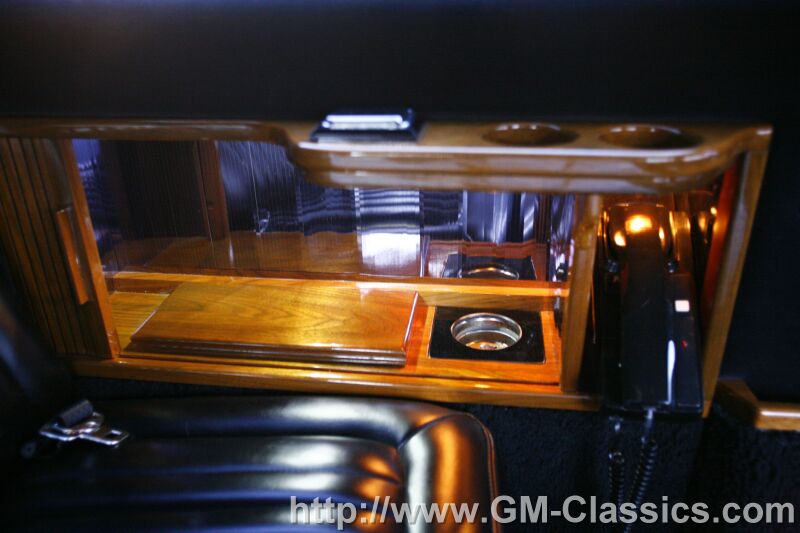 Ice Bar, Sink Drain, Intercom Phone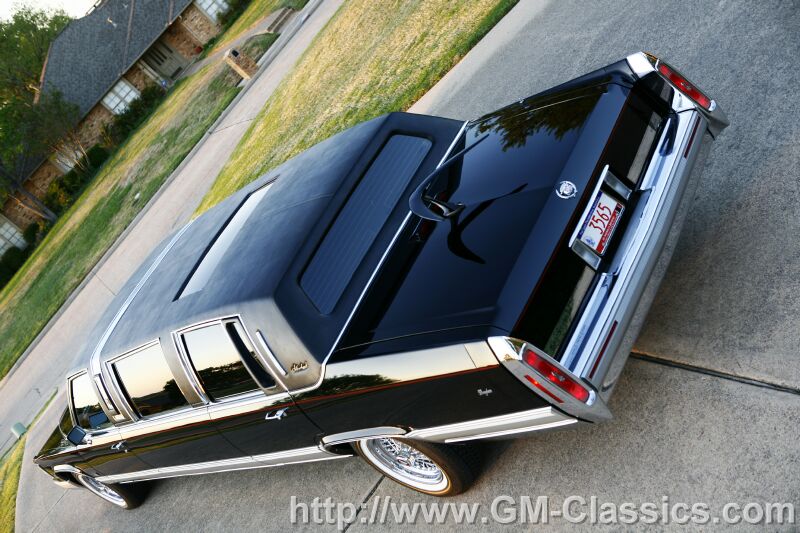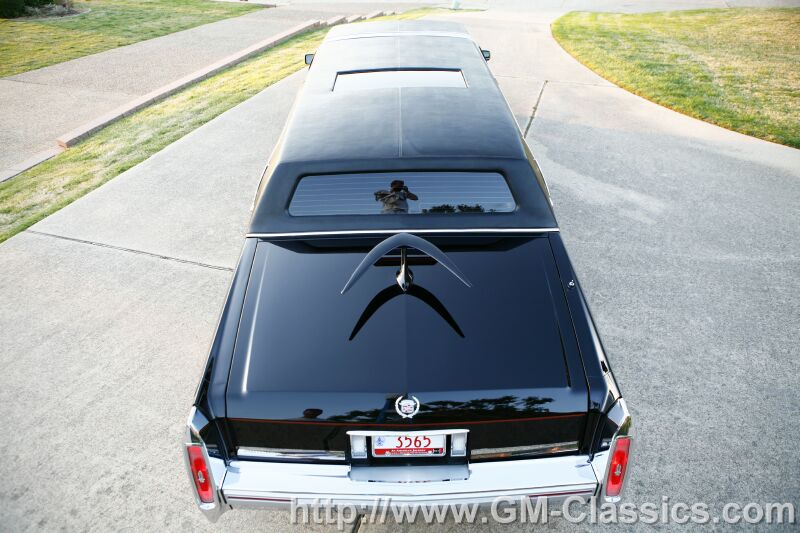 Another reflective Hello from me and the Canon 5D.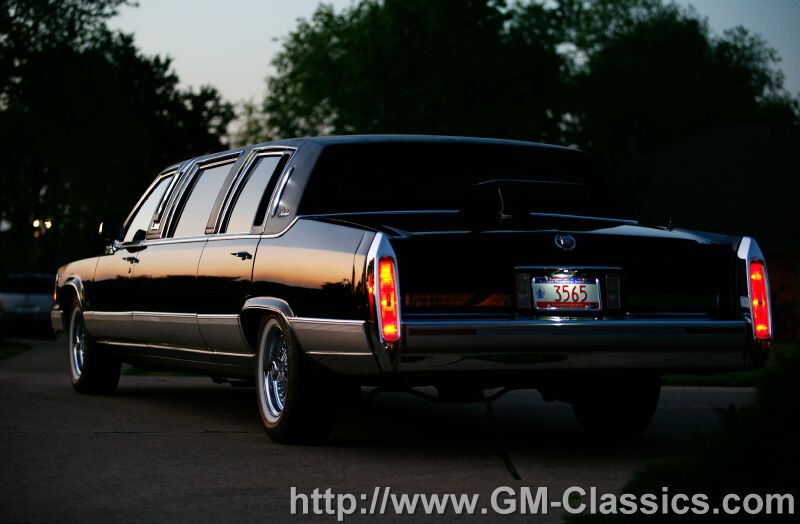 See a 1990 Cadillac Brougham on the start to finish of Route 66. Complements of Axel Catton.
Click here for My Car Hobby Home Page
You can email me at Cadillacman@mcsmk8.com