1994 Cadillac Fleetwood Brougham LT1. White/Black VIN 1g6dw52p9rr715023 24K miles, original mint condition. Coachbuilder option with HD cooling, suspension and 3:08 gears. A beautiful car that is in a condition that only a handful of these 94-96 LT1 Broughams may be left in the world. Because of what this car is and its history, this car was never someone's "driver". It was a chauffeured diplomat extreme security car, maintained and stored impeccably.
Weighing in at 6648 lbs, This car is Level III NIJ certified in the US and meets all European spec B5 for a Fully Armored Car. This was a $90K cost on top of the car done when new by the Safe Car armor company back in 1994. This car is NOT like what some manufacturers offer as a "protection package". This is the real deal and certified. The entire passenger compartment is fully protected. All doors, firewall, back, the roof and floor are fully armored. All of the glass is from Safe Car and is rated Level III/B5 as well. Windows are over 1" thick and the front and rear are about 2". All of the transparent armor used in the windows consists of double layers of dense ballistic glass laminated to a tough inner spall-shield of polycarbonate. It also has run flat inserts in the tires rated to drive up to 55mph so you do not have to buy special tires. To quote the manufacturer "it will stop the penetration of multiple bullets fired point-blank from all super-power handguns and sub-machine guns including such weapons as the .44 magnum and 9 mm machine guns." Level III NIJ is also Nato round approved. That is a .223 or a 7.62x39 round too. The floors and roof are armored by ballistic blankets too for grenades, etc. The armor is molded to the exact contours of the vehicle so that it does not alter the appearance or integrity in anyway. The armor setup on this car is intense, the doors are 300 LBS each. Its hard to see in photographs, but the windows up close have an ominous appearance to them with their thickness and depth. You know this is not a car to mess with after close inspection. Although the car has been modified, it is one of the best hidden full level III cars I have seen still maintain all factory integrity.
Even at its weight, the suspension is solid, tight and handles VERY well. Actually better that any stock 94-96 brougham I have driven as the springs have been upgraded. Having the LT1 engine moves this car out better than anyone reading this would ever dream. When I found out the weight of this car is 6648 lbs, I said it cannot be. It is too agile and has too much performance. It runs hard, handles well and it sure fooled me.
Not only are the passengers protected, but the gas tank has a blast blanket/fragmentation blanket covering it. The battery also has armor protection. According to specs on this car, all materials meet or exceed all UL 752 and NIJ standards. All armor is verified by spec with serial #'s and NIJ approvals. Check this link here more info on certified armor specs and ratings. Kind of interesting; http://www.ncjrs.gov/pdffiles1/nij/183651.pdf
In today's volatile world, a car like this is a small insurance policy that would be hard to duplicate. Although this car is a 1994, its looks acts and smells like a 1-2 year old car. The body style to the "got-to-have-new" crowd might be old-hat, but it sure beats ANYTHING Cadillac has today. Not only is it more capable, longer lasting and better looking car, its also RWD with a properly positioned LT1 engine that will outlast time. This car is in a class by itself. It's history included King Hussein of Jordan and other high ranking diplomats. It has been a private owner/collector since about 2000 for a wealthy gentleman in Texas. It is now in my collection in Texas. Not that I personally need a bulletproof car, (you never really know) the condition of this car is what sold me on it and the fact its a Cadillac Brougham. I have not seen an LT1 Brougham in this condition since they were still new. Top it off with Level III armor, it really is a unique car that I am proud to own, not to mention feel safe driving in.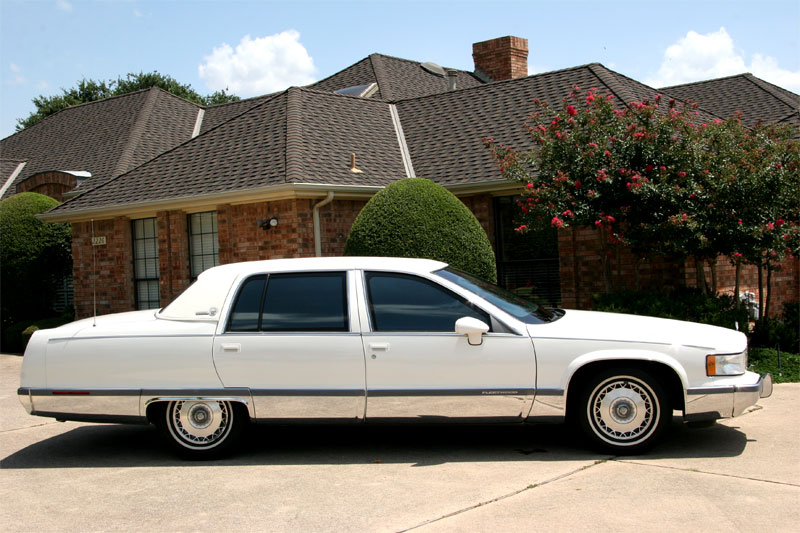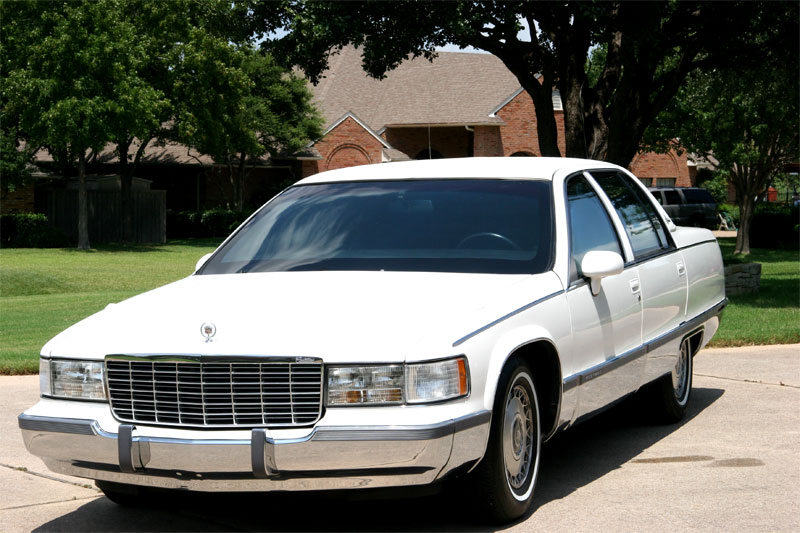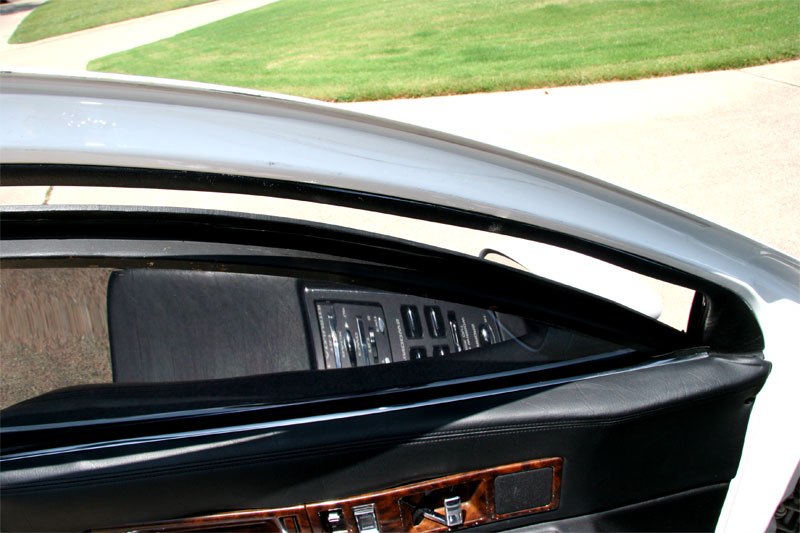 1"+ Door glass. This is the extent of the roll down.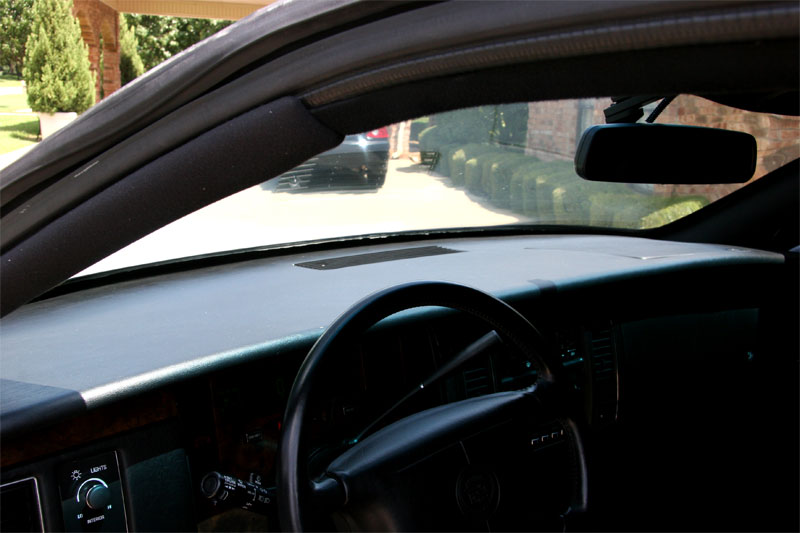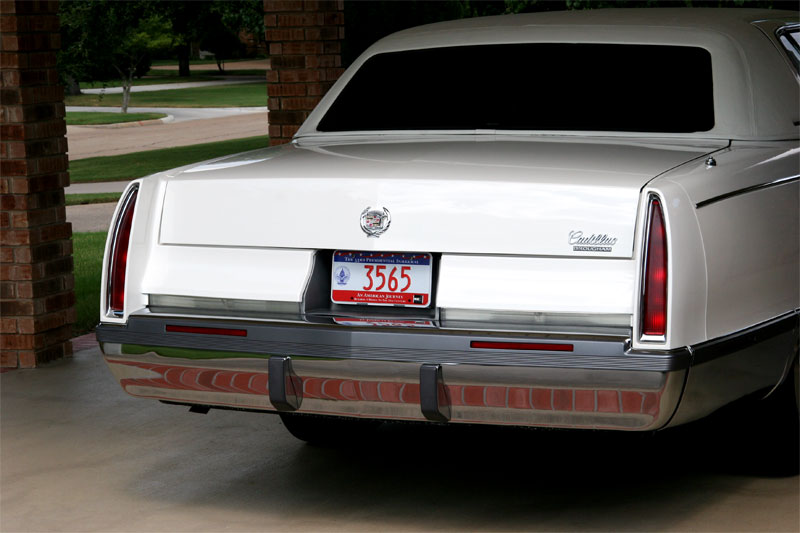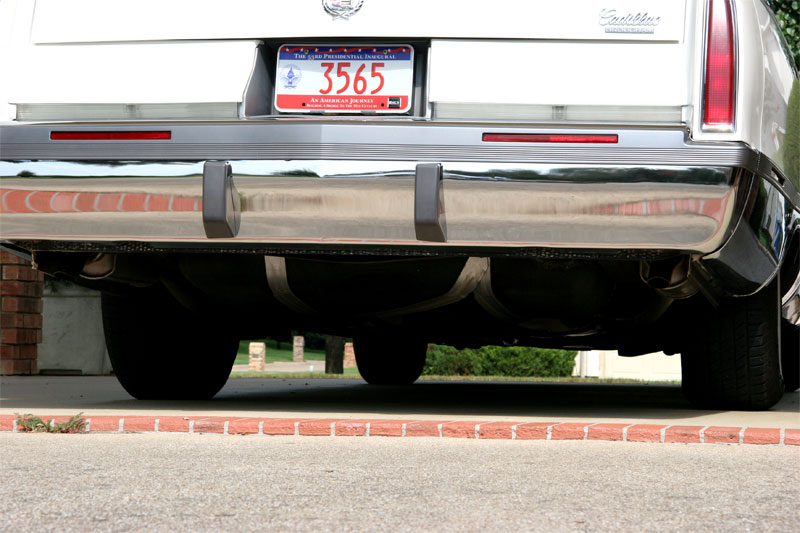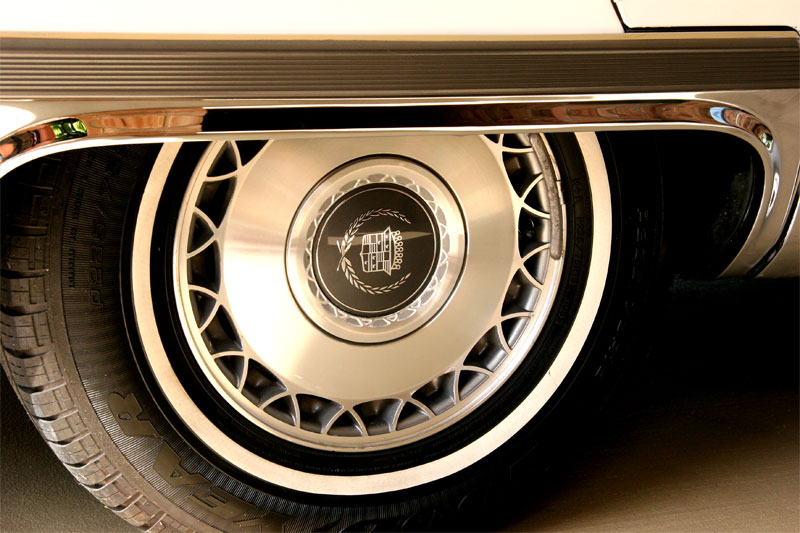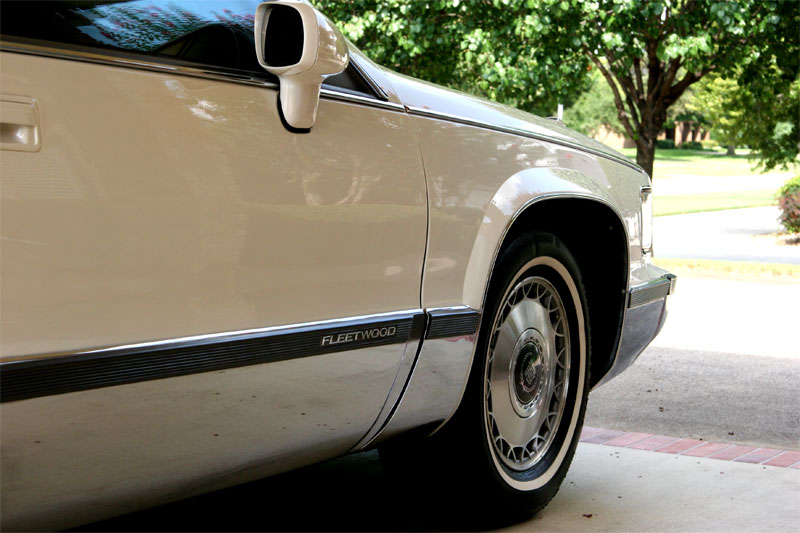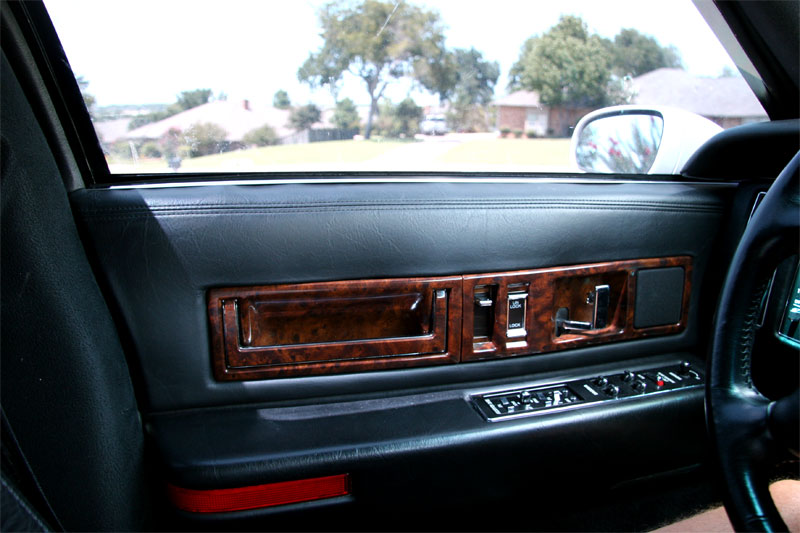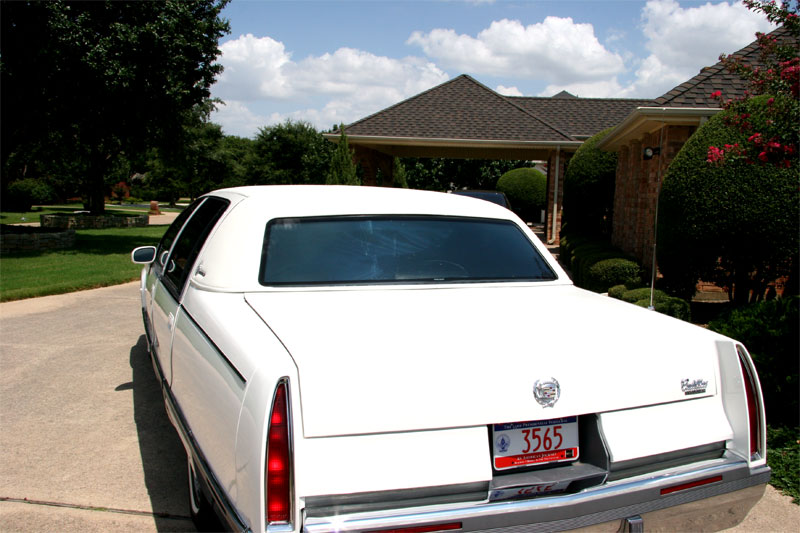 Rear 2" window shot, 100% flawless top too.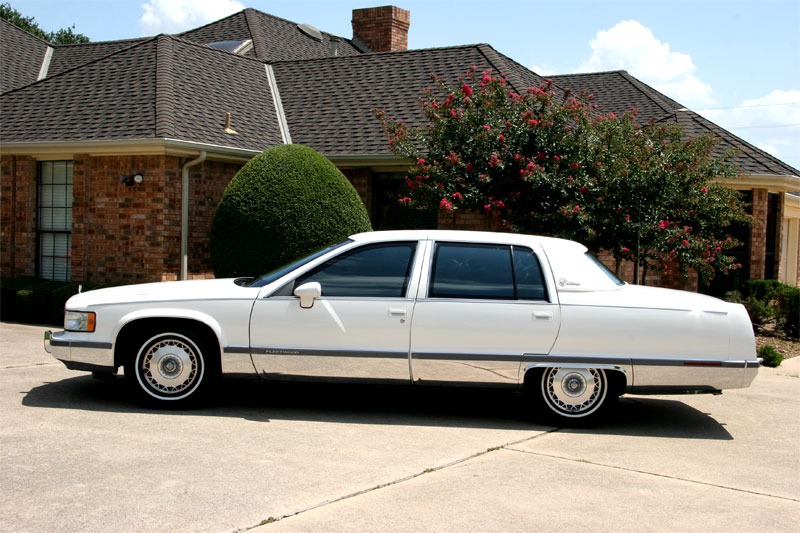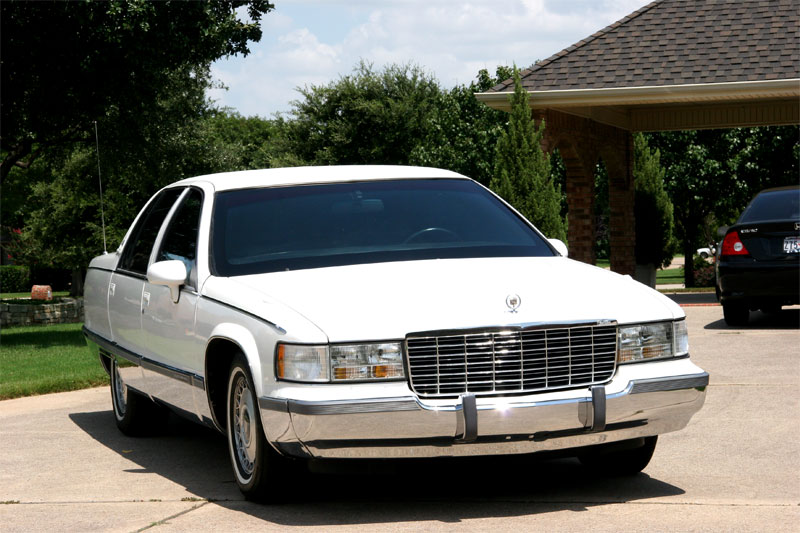 Wow, what a car.!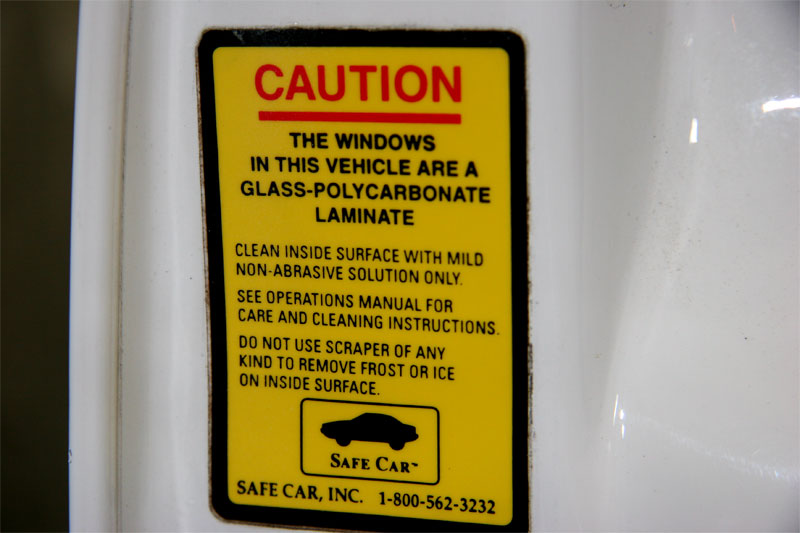 Door Jams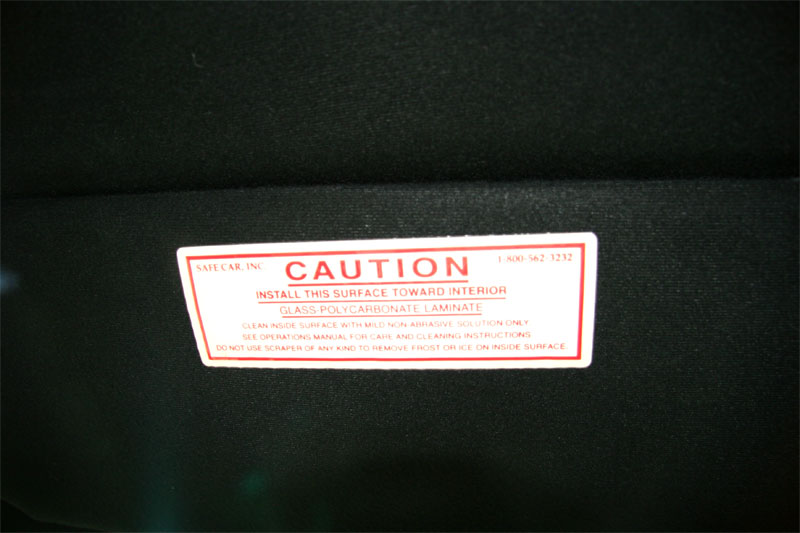 Installed on visors.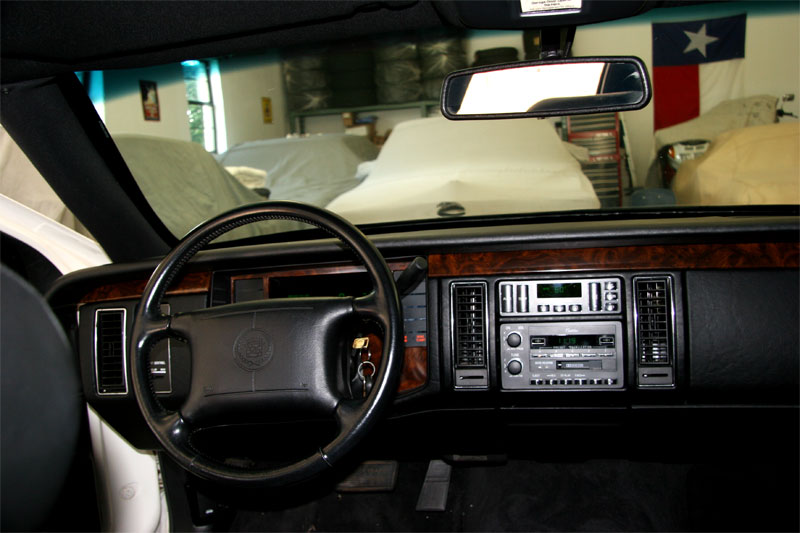 Dash Shot. This is a loaded car with the coachbuilder option too!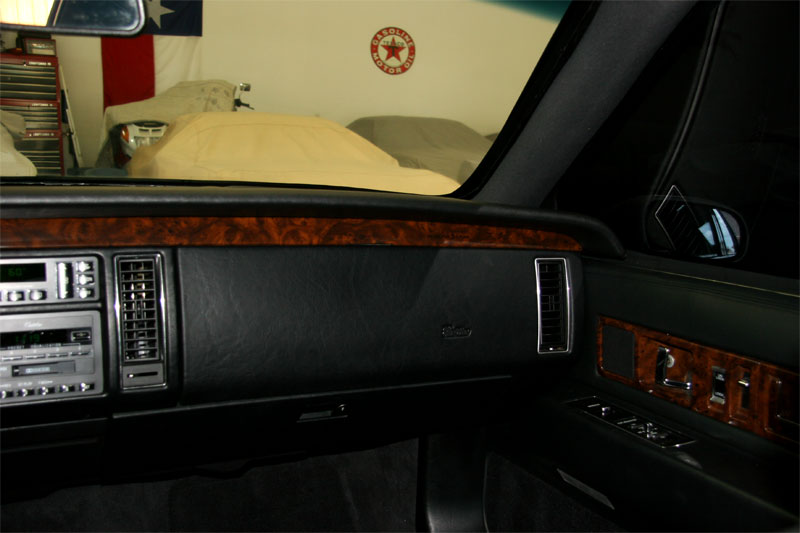 Dash shot.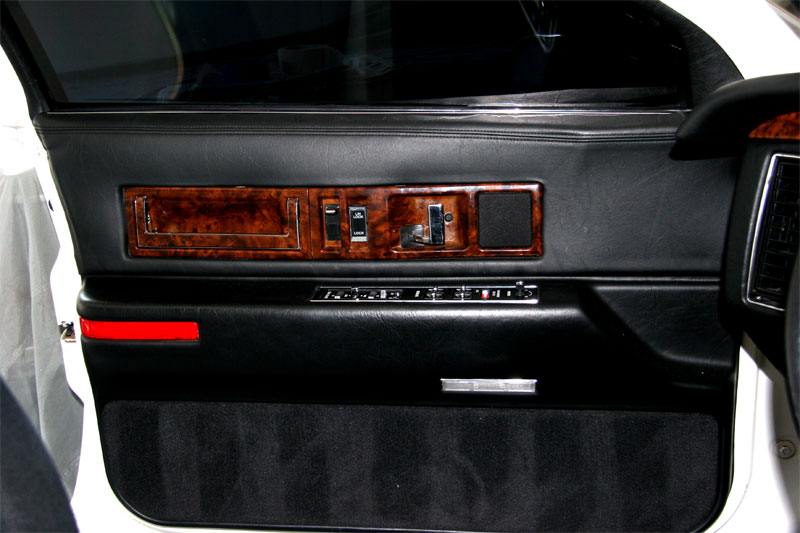 Drivers door panel. As new.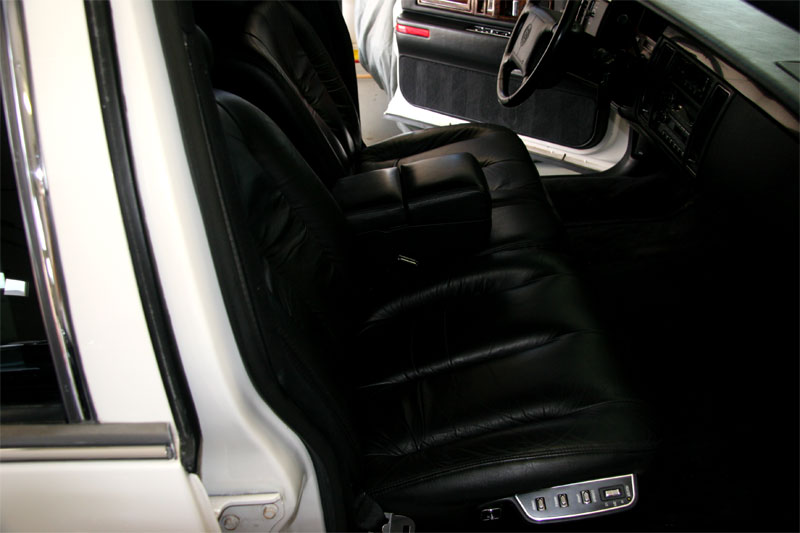 Pass Side shot.
Black interior, perfect dash and just perfect throughout.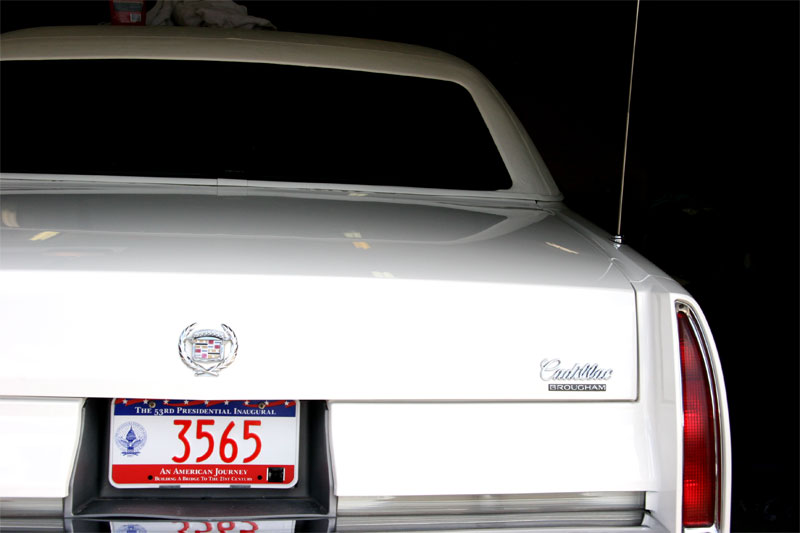 53rd Washington Presidential Plates.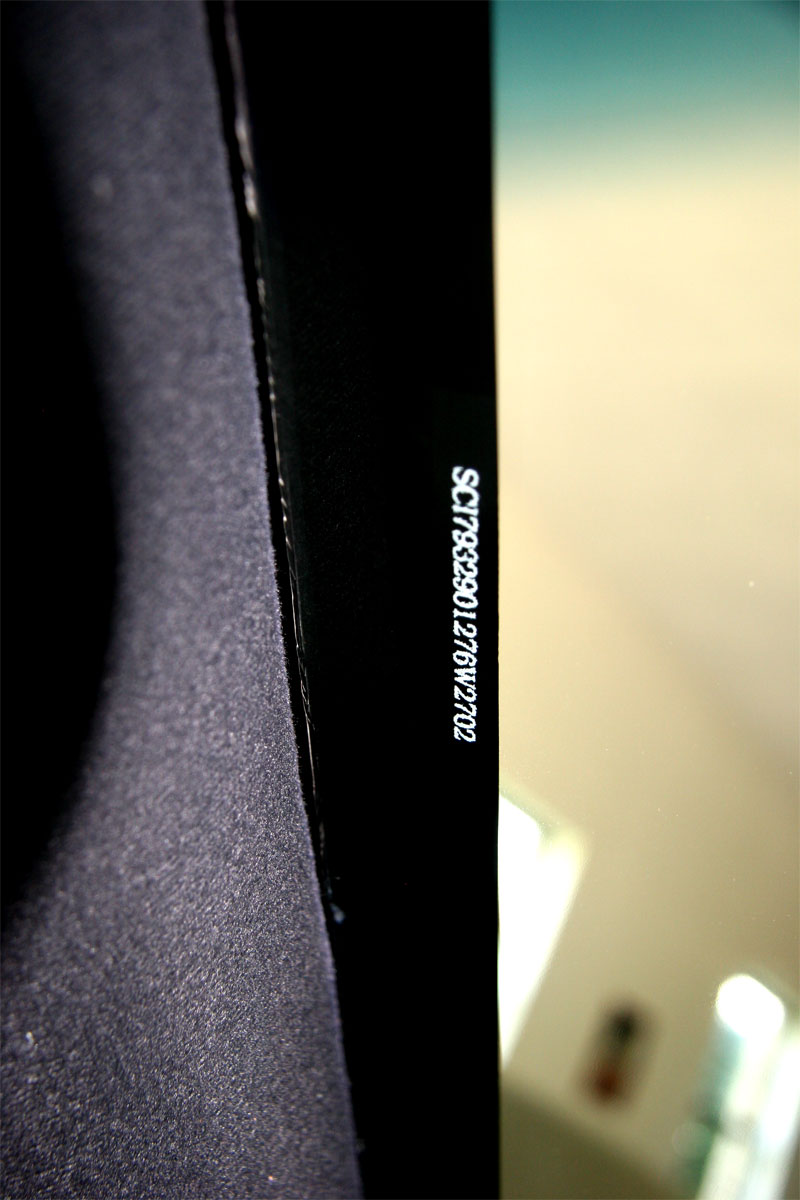 Armor Serial #'s on all parts.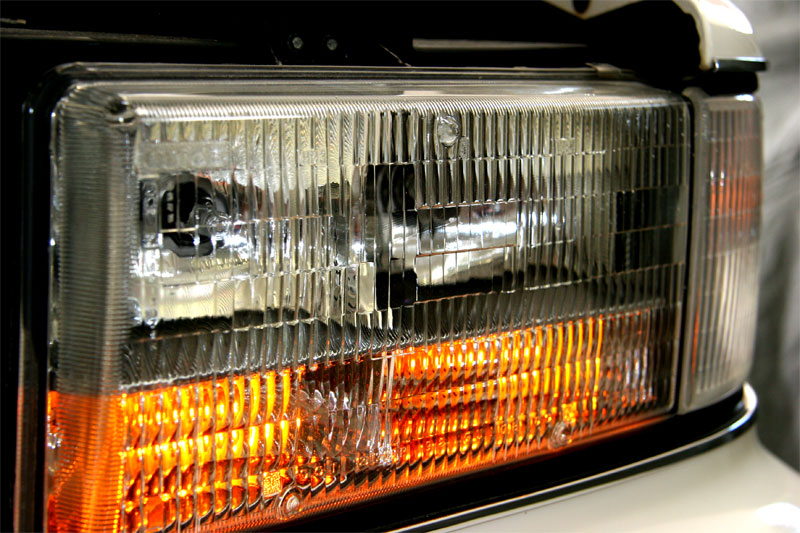 Perfect Glass Headlamps... Glass is an unfortunate thing of the past replaced with cheap fogging plastic on every car today.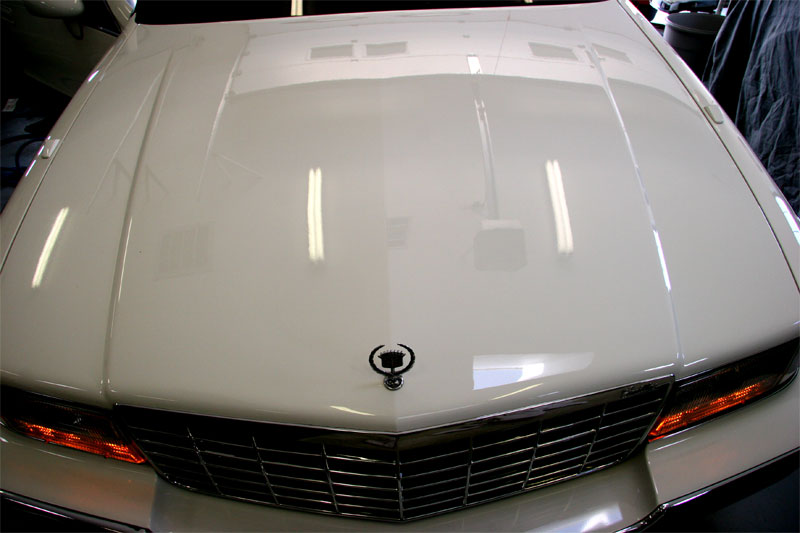 The paint of this car is what you see. As new.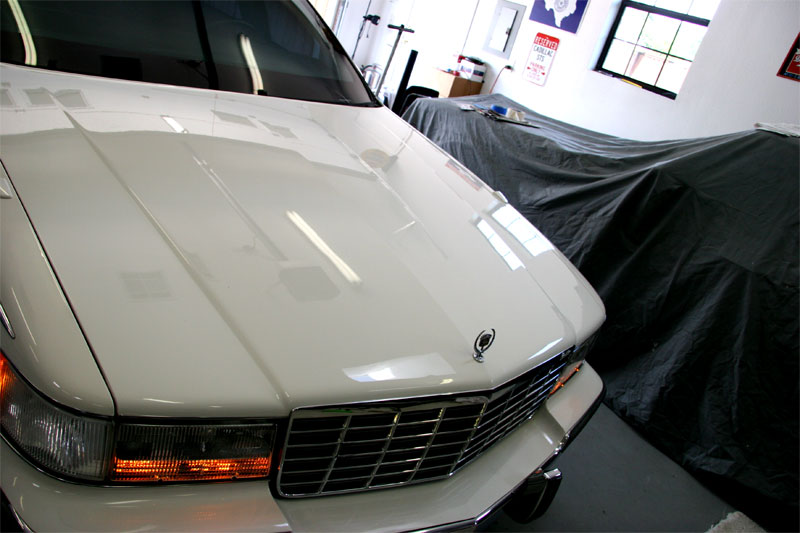 Paint speaks for itself.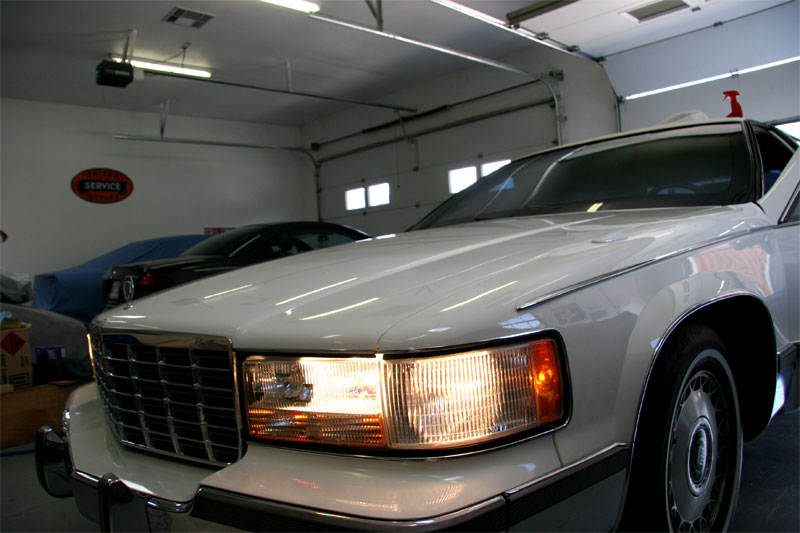 Glass Headlamps and lit side marker lights! A Cadillac Trademark!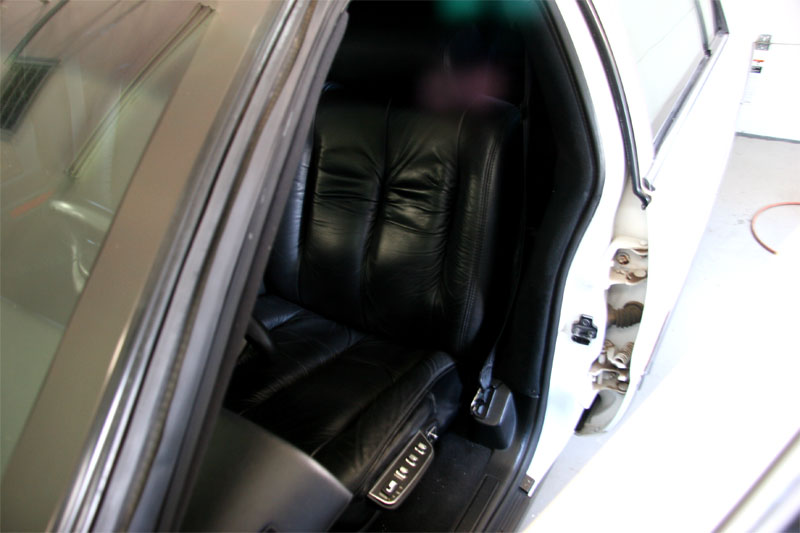 Perfect Driver Seat!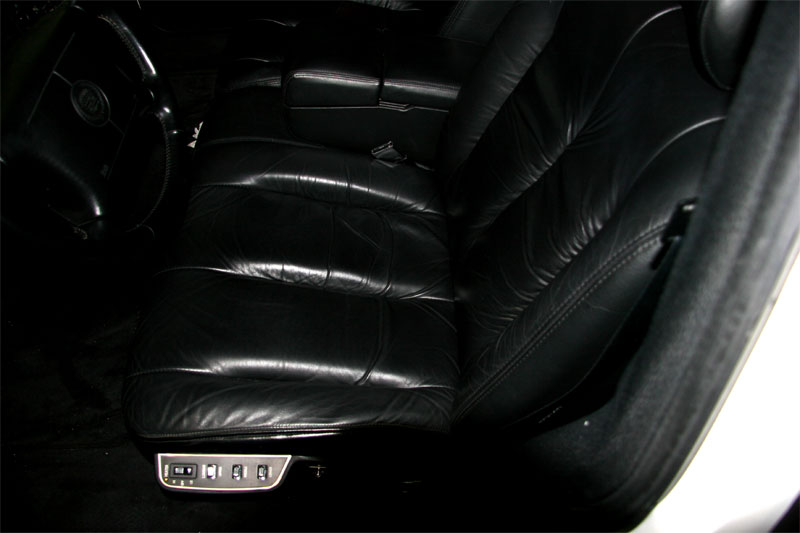 Perfect Driver Seat. Not seen often in Leather Broughams. Heated, recliner and 3 way lumbar option!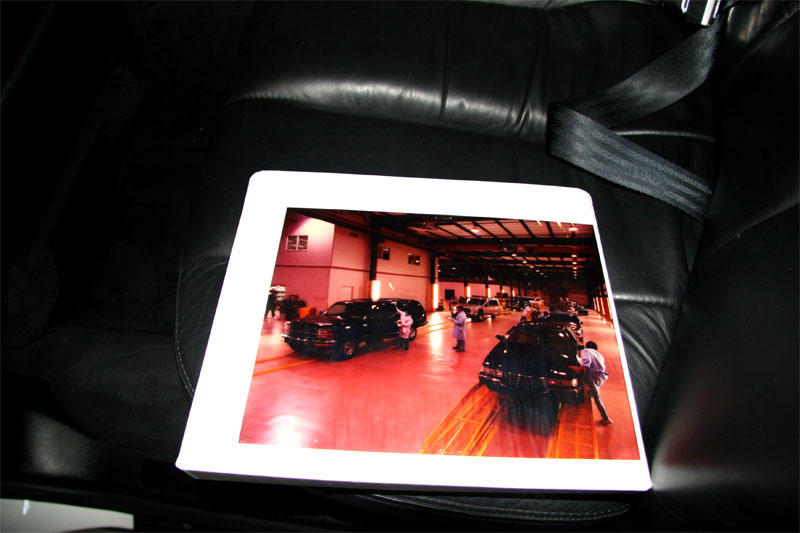 Safe Car manual/log - pictures of plant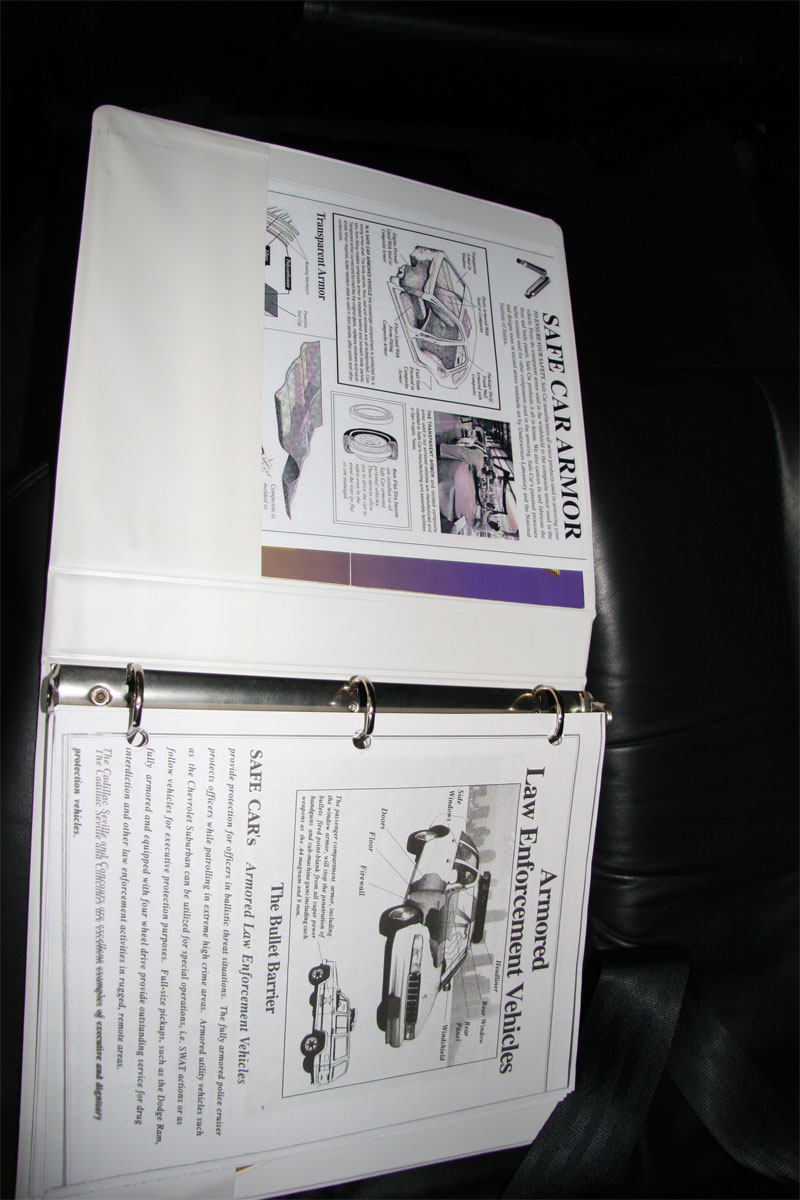 More Manual Shots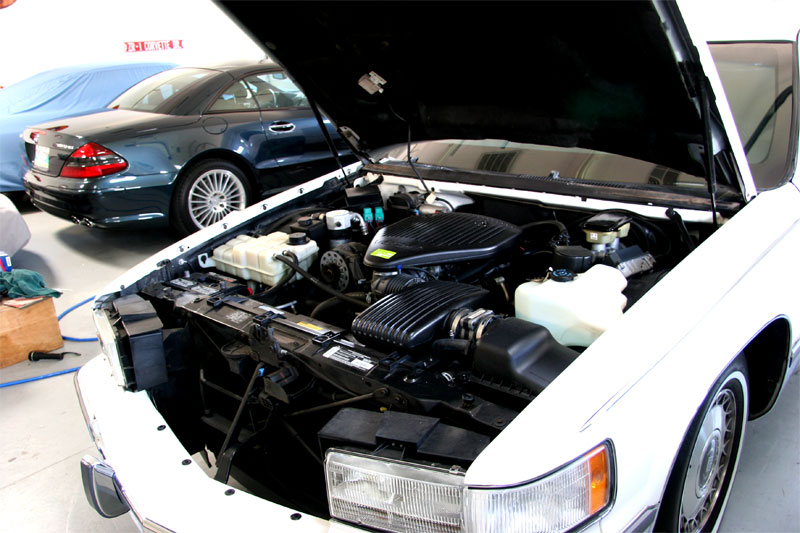 The famous LT1 power plant.
MORE PHOTOS SOON!
Click here for My Car Hobby Home Page
You can email me at Cadillacman@mcsmk8.com